When I work on single-monitor systems, I usually keep Bridge hidden unless I'm actually using it. On dual-monitor systems, I keep Bridge open on the second monitor all the time.
The simplest way to launch Bridge is to do so the way you launch any other application on your platform of choice. However, you have the following additional options as shown in Figure 6-1:
Choose Browse from Photoshop's File menu.

Click the Go to Bridge button in the Options bar (it's the icon that looks like a magnifying glass over an open folder).

Check Automatically Launch Bridge in Photoshop's Preferences>General tabthat way, whenever you launch Photoshop, Bridge automatically launches too.
Figure 6-1. Launching Bridge
Choose Browse from the File menu.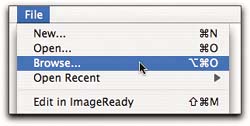 Click the File Browser icon in the Options bar.

Launch photodhop with the "Automatically Launch Bridge" Preference checked.