Camera Raw opens automatically whenever you open a raw image. In addition to the static elementsthe Tool palette, the histogram, the RGB readout, the rotate controlsit offers two sets of controls; one static workflow set that is "sticky" (the settings remain unchanged unless and until you change them) and another dynamic image-specific set that changes depending on which tab is currently selected (see Figure 4-3).
Figure 4-3. Camera Raw controls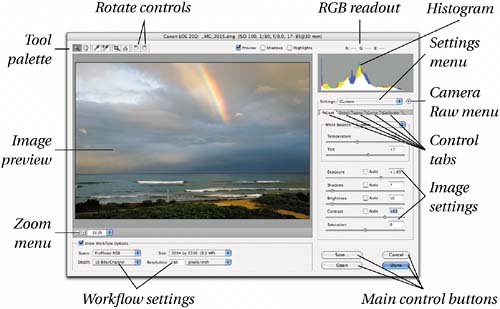 The static elements include the Tool palette; the Rotate controls; the Zoom menu; the Preview, Highlight and Shadow clipping toggles; the main Save, Open, Done, and Cancel buttons; the RGB readout; a live histogram that shows the conversion that the current settings will produce; and a Settings menu that lets you load and save settings. See Figure 4-4).
Figure 4-4. Camera Raw static elements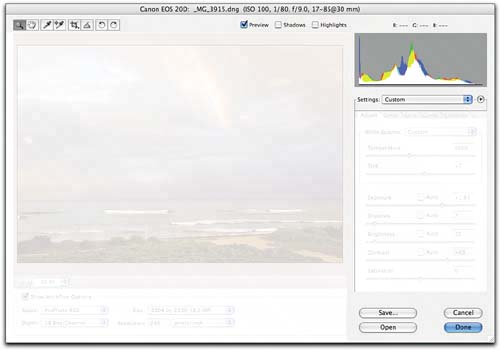 The workflow controls govern the kind of output Camera Raw will producethey let you choose the color space, bit depth, size, and resolution of converted images. You can choose whether to show or hide the Workflow setting by checking or unchecking the Show Workflow Options toggle. See Figure 4-5.
Figure 4-5. Camera Raw workflow controls

The image controls, which apply to individual images, appear immediately below the Settings menu. Camera Raw offers five separate panels, Adjust, Detail, Lens, Curve, and Calibrate, each with its own set of controls. See Figure 4-6.
Figure 4-6. Camera Raw image controls