by Glenn Thomas and Markus Niedermeier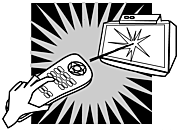 TOPICS COVERED IN THIS CHAPTER:
General television display issues

Understanding interlacing

Flash for non-broadcast TV: VHS, MiniDV, DVD

Flash for broadcast television

Flash for TV browsers

Flash for enhanced TV
The television is the ultimate device. Everybody has one and each one works the same turn it on and watch stuff. Content created for television in one country can, with minimal changes, be viewed in every other country in the world. The TV really is one of the most ubiquitous and powerful devices on the planet.
According to the Consumer Electronics Organization (www.ce.org) over 98% of American households contain at least one television, compared to around 50% of American households that have a computer. The average number of televisions is more like two and a half per American household. Americans have televisions in their living rooms, bedrooms, kitchens, and even bathrooms. It's a TV world.
Figures in the industrialized West are similar to those in the United States, while figures in the developing world are lower, but growing rapidly. If you really want to reach people on a massive, worldwide level, then use Macromedia Flash to create content that can be viewed on television.
Flash can be used to create programming for television in three ways. It can be used to create broadcast quality content that can play back directly on television. More and more creative professionals are using Flash to develop motion graphics and animation that can be played back on broadcast television, cable networks, VHS tapes, or DVD. Secondly, Flash can be used to create web-based content, such as navigational interfaces, home banking, chats, motion graphics, animation, and games that can be accessed by viewers through set top boxes equipped with TV browsers. The last way that Flash can be used is as part of enhanced TV broadcasts where the video broadcast triggers web-based content to appear. Viewers can enrich their television experience by exploring the enhanced material added to the broadcast.
There are both general television display issues and specific technical issues that have to be dealt with for each type of development. This chapter discusses these issues and uses examples to help smooth the transition to using Flash for television.
General television display issues

Flash for non-broadcast television

Flash for broadcast television

Flash for TV browsers

Introduction to Flash for enhanced television