ISPCompany started out as a service bureau. It is now also in the business of outsourcing IT services to companies who do not want to maintain a server themselves. Founded in 1985, ISPCompany is a pioneer in the outsourced IT management business for small and medium-sized companies. Recently, ISPCompany has recognized that companies are moving into the "e-business on demand" space and need variable amounts of computing capacity for certain aspects of their business computing. In the future, ISPCompany also hopes to outsource applications. The company has one site outside the city limits of Pancake City, New Jersey, on the east coast of the United States (Figure A-1) and one site in southwest Germany.
Figure A-1. ISPCompany's building in Pancake City, New Jersey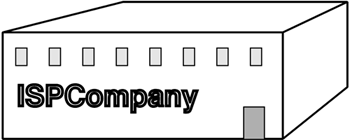 The company's core activity has been providing infrastructure, systems, and managed network services to large and medium-sized enterprises. Due to rapid changes and increasing complexities in information technology, outsourcing is an efficient solution for many businesses.
ISPCompany helps customers bridge the gap between their mainframe/legacy operations and the Internet with a comprehensive suite of IT-managed services that assure the highest levels of availability of mission-critical applications. The company also provides integration expertise to link customers' online businesses and e-commerce functions with existing proprietary back office systems. ISPCompany's ability to remotely monitor all aspects of a company's operations greatly reduces the number of people needed to perform the management function. Managed services are offered on an outsourced basis to companies seeking optimal performance, security, reliability, and scalability of their computer systems without the large cash outlays required to maintain this function in-house. In today's challenging business climate, when executives are looking for ways to cut costs and maximize their business potential, ISPCompany offers the expertise and advanced tools to effectively control their entire IT operation.
ISPCompany has two locations, but in this chapter we will concentrate on only one of them.
The customers of ISPCompany range from Fortune 1000 to Fortune 200-type companies.
A.1.1 Business objectives
The company's objective is to provide a comprehensive alternative to meet all or part of its clients' information technology and mission-critical Internet requirements. Typically, the company enters into contracts with clients providing for automatic renewal unless prior written notice is given. The contracts have varying terms, typically ranging from one to five years. The rates for the company's services vary according to factors such as the volume and types of services used by a particular client. Industry-specific outsourcing applications and services are developed so that the company's in-depth knowledge of a particular industry can be applied to servicing multiple clients in that field. The company currently provides outsourcing services to approximately 500 clients in such diverse fields as financial services, publishing, home health care, apparel, and consumer products.