---
To conclude this book, the author returns once again to his snapshot view of the PMO value proposition. See Exhibit 6. [2] This graphic captures the sweep of PMO responsibilities in one integrated view. In applying my suggestions, the reader may find it necessary to recast this picture in his or her own terms. Nevertheless, I hope that the value of the overall message remains. To succeed as an IT organization, you must focus on excellence in service and project delivery. Although many factors will contribute to your success in these regards, for most enterprises the establishment of a PMO will help to ensure that success.
Exhibit 6: The Project Management Office — Overview and Value Proposition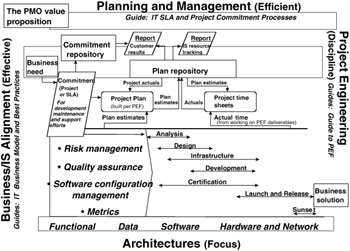 I have offered for your consideration stories of past experiences and examples of the methods and tools employed in the course of my work. In particular, I have examined those processes that focus on alignment of purpose, management of service and project delivery life cycles, measurement and reporting of results, and leveraging of corporate knowledge. The world of IT deployment and management is a tough and unsettling one in which to toil. If I have not entirely lifted the reader's burden, then perhaps I have suggested some useful ways to do a better job in trying circumstances.
[2]For an electronic version of this model, see The Hands-On Project Office, http://www.crcpress.com/e_products/downloads/download.asp?cat_no=AU1991, chpt9~1~the PMO Value Proposition~model.
---