Layer Markers can come in handy when leaving notes to yourself within a composition. You can save time by adding the marker and calling up its dialog box with one key combination.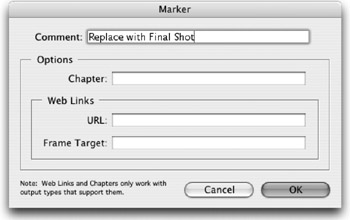 To add a Layer Marker with dialog, press Option+* (the multiply symbol) on the numeric keypad.

You can now add a comment, chapter marker, or Web link to your composition.

Click OK when finished.
Under AE 6.5 you can now add layer markers while previewing in the Layer Window!
This is an advantage as there are no previews to cache.

Markers will also carry to multiple compositions when you add the footage item.