If you want different footage items to use with the same Interpret Footage settings (such as Frame Rate or Looping), copy settings from one item and apply them to others.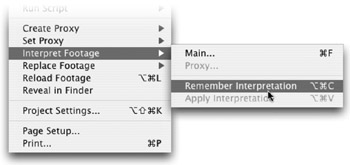 To copy and paste Interpret Footage settings:
In the Project window, select the item whose footage interpretations you want to apply. Choose File>Interpret Footage>Remember Interpretation or select the file or footage item, and click Cmd+Option+C (Ctrl+Alt+C).

Select one or more footage items.

Choose File>Interpret Footage>Apply Interpretation, or select the layer or footage item and press Cmd+Option+V (Ctrl+Alt+V). After Effects applies the footage interpretation options to the selected items.