E-commerce builds on the natural design of an ERP system since it provides electronic communication of basic transactions. Integrated e-commerce functionality is supported in several ways, including Biztalk transactions, reverse auctions, commerce portals, and user portals.
Biztalk Transactions for Sales and Purchasing The symmetry of sales and purchasing functionality is reflected in Biztalk transactions, as shown in Figure 10.1. For example, an outbound Biztalk sales quote and sales order confirmation can be sent to a customer. Conversely, an inbound Biztalk purchase quote and purchase order confirmation can be received from a vendor. Each inbound transaction can have an optional e-mail notification sent to the internally responsible person.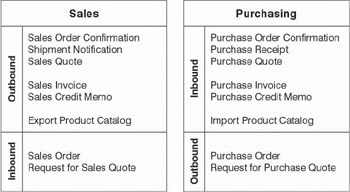 Figure 10.1:

E-Commerce and Biztalk Transactions for
E-Commerce Sourcing via Reverse Auctions A reverse auction provides an electronic approach to sourcing a purchase. It includes sending a request for quote to multiple vendors, obtaining vendor responses on a Web site, reviewing the quotes, communicating to vendors whether their quote was accepted or rejected, and creating a purchase order from the quote.
Commerce Portal and User Portal Supply chain activities often require interaction with remote users and external personnel. The Commerce Portal supports creation of Web pages for electronic access to information, such as handling requests for quotes and sending quotes. The User Portal supports information retrieval and task performance by remote users, such as sales tasks to create new quotes, sales orders, and customers.