You'll spend a lot of time and creative energy building a publication from scratch. Some of the design elements you choose might resonate for you after you've sent out a postcard, an office announcement, or a new product information flyer. And reusing design elements saves time, cuts costs, and adds a pattern to your work that is unique, personal, and identifiable.
A template is a model publication that you can use as a foundation for building new publications. For example, when you create a postcard, you can have Publisher save the layout, particular graphic objects, and fonts to reuse in all your mailings.
If you're using Publisher 2000 for the first time, you won't find a Templates button. To make a template, follow these easy steps:
Create a publication.
Change the settings to reflect your own preferences.
Click Save As from the File menu.

NOTE

---

Minute by minute, you're making choices that affect the design of your publication. You'll probably want to keep many of these modifications in your final product. Publisher automatically reminds you to save your work every 15 minutes by default. To change that setting, click Options on the Tools menu. The Options dialog box appears. Click the User Assistance tab, and change the minutes between reminders in the text box if you want more or fewer reminders to save. You can clear the check box for the Remind To Save Publication option, but that's living really dangerously!

Type a filename for your template in the File Name box. Choose a standard name, such as Postcard or Card Mailing, so that you won't confuse it with your other Publisher documents.
In the Save As Type list box, choose Publisher Template. Your publication will be saved in Publisher's Templates folder.

When you want to access your template to use it as the basis for another publication, you will find a Templates button in the Catalog dialog box, as illustrated here: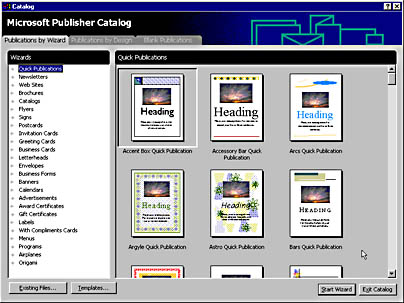 To use a template as the basis for a new publication, simply click the Templates button, select the file you want to use, and begin your new publication. Save it as a Publisher file. The template will remain unchanged in the Templates folder.