AC/DC Power Supplies
All portable systems at one time or another must depend on an external power source either for operation, to recharge their batteries, or both. The most commonly used external power sources are
120V 60Hz AC wall current (USA)

240V 50Hz AC wall current (Europe)

12V DC current (auto/airplane)
The internal electronics on most portable systems run on DC (direct current) power of voltages from 2V to 24V, depending on the system and battery design. Some systems can accept several different types of batteries, and some may even supply different voltages. The actual voltage used by the motherboard and processor is much less than what the batteries supply. This is because battery voltage drops as the batteries discharge , and the system requires an absolutely steady voltage to operate . To facilitate this, a higher battery voltage is used, which is regulated down to the lower level that the motherboard, processor, and other components need. Also note that the voltage that the external power adapter provides is different from the internal batteries as well. This is because the external power adapter must not only supply power for the system, but it must also be able to recharge the batteries, which requires a higher voltage than the batteries themselves put out.
Because the battery-charging circuits require different voltage levels than either the wall outlet or vehicle power systems will supply, some type of external power adapter is required. When designed to convert the 120/240V wall current, these are normally called AC adapters , because in addition to transforming the voltage they also convert or rectify AC (alternating current) to DC (direct current), which is then input to the system. Those that run on 12V DC are normally called DC or auto/air adapters , because 12V DC is the power provided in most automobiles and airplanes. Sometimes these AC or DC adapters are called power bricks , because they can weigh easily up to a half pound or more and be the size of a small brick. A few laptop or portable models incorporate the AC/DC adapter internally within the unit, meaning only a power cord is required to plug them into the wall. This means that all the circuitry normally associated with the adapter is now built in to the system, adding considerably to the size, weight, and heat load of the system. Some laptops don't even have internal batteries and use only an external power source instead. These systems can only be operated when plugged into either a wall or auto/air outlet and are normally sold as portable desktop-replacement systems.
AC/DC
AC (alternating current) is the type of power supplied by wall outlets. AC is so named because it reverses direction at regular intervals, normally 60 times per second (60Hz) in the United States, and 50 times per second (50Hz) in other countries . DC (direct current) is the type of power supplied by batteries, and it maintains a constant direction. Vehicles such as automobiles and aircraft run on DC power, and a portable computer's built-in batteries also supply DC power. Power adapters are used to convert AC to DC as well as to convert DC to the proper voltage level required by each particular system.
When an AC or DC adapter is used, it converts the 120/240V AC or 12V DC to the proper DC input voltage for the system. The problem here is that the actual voltage required can vary from 2V to 24V for different systems (although most are 15V or 16V), and many different types of physical plugs and connectors can be used. Sometimes even the same type of plug can be used on different systems but have the opposite polarity! The fact that different voltages and even polarities can be used on similar plugs means that it is possible in some cases to actually damage a portable system by plugging in the wrong type of power adapter, even though the connector might physically fit. As you can see, it is important to keep the proper adapter with the system for which it is designed. If you lose the adapter or it fails, ordering a new one from the original system vendor or manufacturer is one way to ensure you will get the right one. Normally most system manufacturers make AC adapters available, and some also offer DC (auto/air) adapters as well.
You have four main issues to consider when plugging an external power adapter into a device:
Voltage output " All portable systems I know of require DC input from 2V through 24V, with most using either 15V or 16V. If you supply the wrong voltage, it may or may not cause damage to the unit, depending on the design of the internal regulators and battery charging circuits.

Current " Most devices (such as portable computers) require DC power input; however, some devices use AC current. Plugging in an adapter with AC output into a device requiring DC power (or vice versa) will likely cause damage to the unit.

Tip size and shape " Obviously the correct size and shape tip is required for the tip to fit into the receptacle and make good contact.

Tip polarity (DC only) " A power tip will normally have an inner and an outer conductor. The inner conductor may be positive or negative (most use a positive inner conductor). If you get this one wrong, it will most likely do permanent damage to the device.
If you study the small writing on the adapter, it normally tells you the voltage output, current capacity and type, and tip polarity (via a small diagram). Unfortunately, although most adapters carry all this information, they don't usually identify what device they came with, and the devices themselves are usually not as well marked for power requirements as the adapters. This means that if you get several adapters mixed up, it can be difficult to determine which adapter goes with which device. For that reason, I recommend labeling each adapter so that you know exactly which device it is intended to power. I also recommend labeling the device as well. Merely affix a small piece of tape to the device and label it with the power output specifications from the adapter, as well as the adapter make and model.
If you mix up or lose adapters, and are unsure of which adapter goes with a specific device, you may need the manual or documentation for the device to determine the power requirements. In some cases the documentation is inadequate. As an example, I was recently trying to use an external FireWire drive that required an external power adapter. The original adapter was lost, and the manual only indicated that the unit required 9V of DC power, but nothing about the tip polarity. I purchased a universal adapter that came with multiple tips and the ability to set different voltages. I determined which tip was required by testing each one, and I set the voltage properly to 9V. However, I didn't know for sure what the tip polarity should be because it was not marked on the unit or in the documentation. Because most devices use a positive inner conductor, I set up the universal adapter that way and plugged it in. After only a few seconds, visible smoke began coming from the drive, and it was destroyed ! Obviously the tip polarity was incorrect, but it was too late to change. All this could have been averted had I properly labeled both the adapter and device when I first unpacked them.
Although it is usually best to use the original power adapters that come with the computer or other device, several companies make universal replacement AC (wall current) or DC (auto/air) power adapters that feature interchangeable tips and voltage settings (see Figure 7.1). Perhaps the best of these is the ChargeSource adapter created by Comarco and distributed exclusively by Targus.
Figure 7.1. ChargeSource universal AC adapter with interchangeable tips.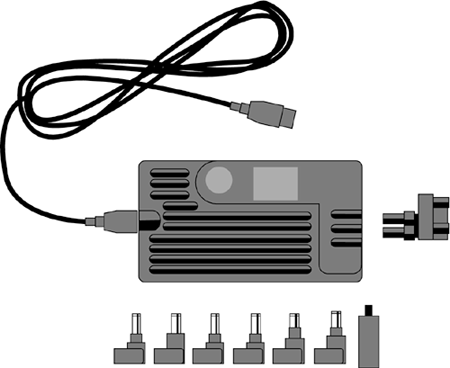 The ChargeSource adapters incorporate a patented design with interchangeable tips (called PowerTips) that automatically selects the correct voltage and polarity for the intended unit. Interchangeable wall socket plugs allow the unit to operate on any type of wall socket, either in the United States or overseas. A DC (auto/air) version is also available that will plug into any standard 12V automobile or airplane socket (see Figure 7.2).
Figure 7.2. ChargeSource universal DC (auto/air) adapter with interchangeable tips.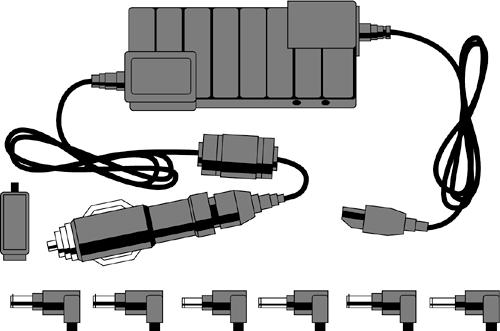 The ChargeSource power adapters are only a half inch thick and weigh 8.5 ounces (including the cables) and will work with almost any laptop, PDA, or cell phone on the market. They are rated at 70 watts of output power, which is enough for most laptops. Note that there are some laptop models that require up to 120 watts of power, and using more power than the adapter is designed to supply may cause it to overheat. Some versions are sold with specific tips, whereas other less commonly used tips are available separately to cover most of the systems on the market. With the right tip, this type of universal adapter can even power cell phones, PDAs, digital cameras , portable printers, and more. The PowerTips are also interchangeable between the universal AC adapter and the universal auto/air adapter, allowing operation from either the wall current or the 12V DC in an automobile or airplane. Both of these adapters are distributed by Targus and are sold by many vendors .
For more information on the ChargeSource adapters, you can visit these sites:
www.comarco.com

www.chargesource.com

www.targus.com
I recommend having at least one spare power adapter because, as with most power supplies, they take a lot of stress and can potentially fail, leaving you without the ability to run your system or recharge your batteries. I like to take two with me when I travel, and I leave a third behind in my office along with a port replicator. This way, when I return from a trip, I can merely connect the unit to the port replicator, and everything else is already connected.