There are so many new add-on gadgets for the iPod, the average consumer might be forgiven for forgetting all about its music-playing abilities .
If you have a digital camera, you know that once your memory card is full, the fun's over. You can't exactly duck into a drugstore to buy a new SmartMedia card to tide you through the rest of the day at Disney.
Plenty, thanks to the Belkin Media Reader (Figure 14-8, left; $100). You attach this device to a dock-connectable iPod, and then insert your camera's memory card (Compact Flash, Secure Digital, Smart Media, or Memory Stick format).
When the importing is complete, the onscreen commands offer you the chance to erase the memory card so that you can insert it back into the camera for more shooting.
In general, the Media Reader doesn't import movies or sounds "only still photos. So be careful with the Erase Card option, which carries the risk of nuking movies and sounds before you've rescued them from the card.
You can't look at the photos on the iPod itself "black-and-white screens are funny that way "but if you choose Extras

Photos, you can see a list of the rolls you've imported. (Each batch of transferred pix is one roll.) The roll number information also tells you things like the number of photos and size of the roll.
To get the pictures onto your computer, connect the iPod. If you're on a Mac, the images arrive in iPhoto, exactly as they would from a digital camera. If you're using a PC, grab your pictures from the iPod's drive just as you would from any other removable hard drive. (Open it up in My Computer, for example, or use Windows Explorer to locate and copy them over from the DCIM folder.)
The Belkin Media Reader runs on four AAA batteries, so it doesn't draw its power from the iPod's battery (although copying files onto it may drain a little iPod juice as its hard drive whirs away). Depending on the size of your iPod's hard drive, you can save thousands of pictures on it at a time between pit-stops back at your computer.
NOTE
The rap against the Media Reader is that it's bulky (bigger than the iPod, thanks to that big battery compartment ), and it's slow. By mid-2004, Belkin plans to release the Media Reader's successor, which is smaller, cheaper, and faster "and it doesn't require pulling the memory card out of the camera. The new gadget plugs directly into your camera, connecting it to the iPod.
14.4.2 Voice recorders from Griffin and Belkin
The white, oval-shaped Belkin iPod Voice Recorder (Figure 14-8, lower right) and its rival, the Griffin iTalk (http://www.griffintechnology.com; Figure 14-8, lower left), plug into the top of the iPod (2003 and later models, though not the iPod Mini). Presto: You've got yourself a handheld recording studio for voice memos, classroom lectures, and other audio opportunities. You can listen to yourself through the recorder's built-in speaker or on your computer.
NOTE
At least as of this writing, the Griffin iTalk offers three advantages over its rival from Belkin. First, it has a microphone jack that can accommodate a fancier external mike. Second, it has a headphone jack, so you can monitor your recording as you make it (or privately review that art history lecture you just slept through). And third, it costs $40 instead of $50. They're both offered at http://www.apple.com/ipod/accessories.html.
All your vocalizations will sync up and land back in iTunes when you hook up your iPod, whereupon you can store, edit, or even email your thoughts to unsuspecting people.
These voice recorders create mono audio files in the WAV format "not exactly booming rich stereo sound, but look at the bright side: you can save hundreds of hours of recordings on your iPod. Why limit yourself to a mere hour or two of Deep Thoughts to Myself like those wimpy digital recorders offer, when you can recite your life story and still have room for the complete works of Smokey Robinson and the Miracles?
You plug the Belkin or Griffin voice recorder to the iPod's headphone and remote jacks . To start recording, go to Extras

Voice Memos

Record Now on the iPod, and press the

button. (Press it again to pause.)
When you're all done, press the iPod's Menu button. Your new sound file gets saved with the date and time and stored on the iPod. To play back one of your recordings, go to Extras

Voice Memos and select the one you want to hear.
If you have the iPod enabled as a hard drive (Section 9-4) and it's connected to your computer, you can find your voice memo sound files in the iPod's Recordings folder. Drag and drop anywhere you'd like to save them.
NOTE
Want to use your iPod and Voice Recorder together as an alarm clock? Just connect them and then turn on the iPod alarm the usual way. (Go to Extras

Clock

Alarm Clock

Alarm and choose On. Set your desired alarm time at Extras

Clock

Alarm Clock

Time.)
Then go to Extras

Clock

Alarm Clock

Sound and pick the song you want to wake up to "or better yet, a voice recording of your mother yelling, "You get out of bed THIS INSTANT!!" When the alarm goes off, the sound or song will play through the Voice Recorders speaker until you hit the Play/Pause button on the iPod to turn it off.
14.4.3 NaviPod
Sure, everyone knows that you can hook up the iPod to a home stereo (at least, they do if they've read Chapter 12). But how are you supposed to control it? Surely you're not going to get up off the couch and walk across the room. Let's not be absurd!
No, what you need is the NaviPod remote control from Ten Technology (Figure 14-9). It comes with a chrome stand, an infrared receiver that plugs into the top of the iPod, and a round, five-button remote control that lets you command your wee white jukebox from a comfy chair .
Figure 14-9. The NaviPod lets you command your iPod from across the room. Its distinctive round white remote stands out among the typical bouquet of magic wands for the TV, DVD, VCR, cable box, and TiVo. NaviPods for all iPod models cost $50 at http://www.drbott.com
or

http://www.apple.com/ipod/accessories.html.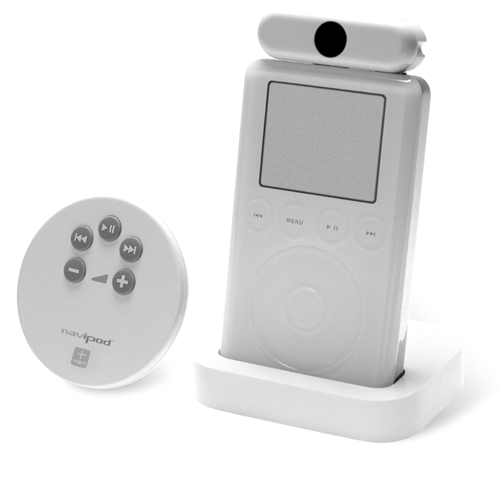 14.4.4 Digisette iPod 5430 FMXT FM Radio
Complete with neck strap and earphones, the Digisette 5430 FMXT radio offers another option for supplementing your own music collection with live FM radio.
Its stereo miniplug fits in the iPod's headphones jack (any model), and its radio can automatically scan for stations . $30 at http://www.welovemacs.com/lovemacs/ipod-stuff.html.
14.4.5 Dashboard Stands
Several companies make mounting hardware to secure the iPod to your car's dash-board. The auto mounts keep your iPod within comfortable reach of the driver's seat and also keep it stable, so you don't have to worry about it sliding off the passenger seat or bouncing out of the cup holder when you drive through road construction.
14.4.5.1 Gripmatic iPod Mount Kit
The Gripmatic cradle holds the iPod in place with cushioned pads on either side and mounts on the console or dashboard. The kit comes with a choice of methods for attaching it to the car " adhesive or screw-in, depending on your preference. $30 at http://www.everythingipod.com.
NOTE
Some iPod casemakers also sell swivel clips that mount on the car's dashboard, so that you can detach the iPod from your belt clip and stick it on the dash without taking it out of its case. Check the manufacturer or dealer 's Web site to see if your model has this option.
If you want to outfit your car all at once, you can get a case and dash-mount swivel clip, plus an FM Transmitter and a car charger, in the $40 DLO iPod Auto Connection kit at http://www.everythingipod.com . There are kits for all iPod models and a version that comes with a cassette adapter instead of a wireless transmitter. See Chapter 12 for more iPod car accessories.
14.4.6 Cup Holder iPod Car Mount
If you can spare a cup holder slot between the front seats, try the Cup Holder iPod Car Mount: an adjustable plastic stand that plugs into most standard-size cup holder holes. It holds the iPod up for use by both driver and shotgun-seat passenger. The iPod rests firmly in the cushioned Gripmatic cradle atop the stand. $35 at http://www.everythingipod.com.
14.4.6.1 Belkin TuneDok
The iPod snaps into the cradle, and the TuneDok's suction cup anchors the mount firmly into your car's cup holder. The TuneDok lets you adjust both the height and angle of the iPod and has a clip to keep cables out of the way. Shown in Figure 14-10, it works for both old and new iPod models and sells for $30 at http://www.belkin.com.
Figure 14-10. Just plant the Belkin TuneDok in the nearest available cup holder (shown here with and without the iPod bracket ), and you and your iPod are ready to hit the road. Belkin also sells FM transmitters and cassette adapters that let your iPod's playlists pour forth from the car radio.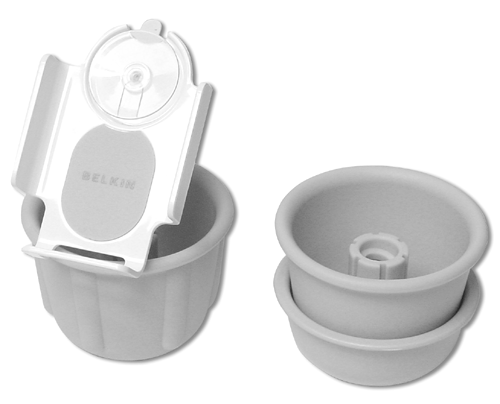 NOTE
Just in case you don't have enough wires coming out of your head already, meet the Skullcandy LINK. When a call comes in on your cellphone, the LINK throttles back the iPod music volume automatically, so you can still groove to your tunes while chatting away. (Your conversation partner, of course, doesn't hear the music.)
The gizmo attaches to a pair of headphones or earbuds (your choice) and is available to fit five different types of cellphone audio connector jacks. $30 at http://www.skullcandy.com.