Match the Site Structure to User Expectations
The most effective sites at directing people to the right place are those that match user expectations. We know that users won't spend the time to memorize or learn the navigation of different Web sites. Allocating adequate resources to design the best IA for your site ensures that customers find answers they need in the places they expect. The more natural the design feels, the more likely users will return to it.
People don't like to wade through many ambiguous links to get to content. They expect sites to organize information in a way that makes sense to them. Use a navigational structure that reflects their view of the site and its information and services. Remember, the operative word is "them," not "you."
You might think that your site's organizational structure is intuitive. One of the biggest mistakes organizations make when categorizing components is to use schemes that are familiar to them, such as arranging products by brand or mirroring sites' content to their organizational charts . As a result, it's common for sites to make perfect sense to the creators but not to their end-users.
Why? Because how you and your company structure and organize information may be very different from how your users envision it. If you're selling flashlights, for example, it's better to organize by attributes that users may be looking for, such as travel size , than by brand names , such as Xeon. While Xeon may be a familiar line of flashlights within your organization, it may not be to your customers.
Trying to design the structure of your site without the input of your customers is a huge mistake that can cost you thousands to millions of dollars. No matter how good and fancy your site may look, it's useless if it doesn't make sense to your target audience. Design for their convenience, not yours.
If you're interested in learning about the methods of planning and structuring the content on your site, we recommend Information Architecture for the World Wide Web, by Louis Rosenfeld and Peter Morville (O'Reilly, 2002). Sometimes called the "polar bear book" because of the big polar bear on the cover, it is the classic in the field of information architecture. If you want to save money, the first edition is available for free on the Web and it contains more useful information than most new books on the topic. But it's well worth the money to pay the full price for the newest edition.
Trying to design your site's structure without the input of your custom-ers is a huge mistake that can cost you thousands to millions of dollars. Design for their convenience, not yours.
How should your site be organized? Although we strongly advise you to design your structure to reflect your users' thinking and tasks , we can't offer you a cookie- cutter method for doing so. What people need from different sites varies, so each site's optimal IA is dictated by the unique purposes and goals of the organization and its users. The topic of creating usable IAs and navigational schemes canand doesfill entire books. We bring it up here simply to stress its importance. When users can do what they set out to do on your site, you will reap the benefits.
The guideline to avoid structuring a site around a company's internal structure only applies to Web sites targeted at an external audience. When designing for an internal audience of employees , other rules apply.
A company's employees often do know how the company is structured. Also, many of the tasks that employees do are naturally related to the company's structure. Employees often need to look up the organizational chart to find out who runs a department and how various departments are connected.
It is a good idea to have an explicit representation of the company's structure on the intranet. But it is still best even for intranets not to structure their IA around the org chart. Most of the best intranets we have studied use job performance, workflow, and frequent employee tasks as the foundation for their IA.
(Facing page, top) This site is too brand centric. To figure out what billiard table best fits their needs, people who are unfamiliar with the brands must click each of the three options: Mizerak, Murrey, and Mosconi. This is a waste of their time. And the marketing descriptions for each brand don't provide the kind of information that might help people get closer to finding what they want.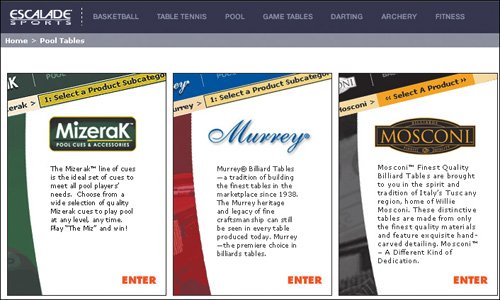 www.escaladesports.com
(Facing page, bottom) Even though the Escalade site does provide information about different types and styles of equipment, users missed it because the prominent logos and branding overshadowed links to that material:
"I found that it was difficult. Once you got to the manufacturer, that was the end of the road. You couldn't look at the product individually.... I didn't particularly like that."
"Each individual product label is selling the company that sells the product, instead of the product."
"I can't find it. I would go to a different Web site. I would go to Google."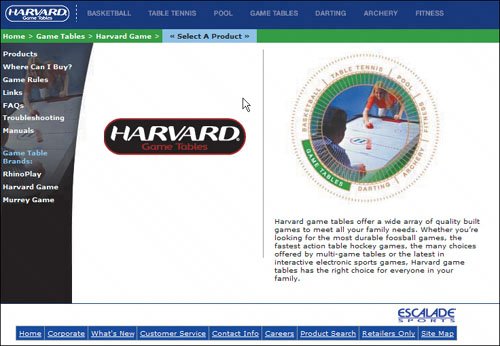 www.escaladesports.com
This site tries to meet the needs of a broad audience by categorizing bicycles by both brand and type. Those who are already familiar with a brand can access it by name , and those who are looking by function or other features can search by type. Unfortunately, this site doesn't make the latter option readily apparent. Users must select a brand before they're offered a place to search products by features such as type and price.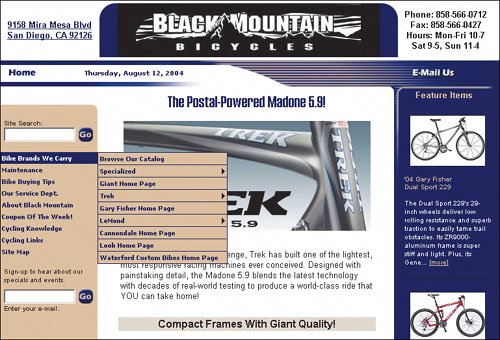 www.blackmountainbicycles.com
(Facing page, top) Proper categorization: In our testing, people using the City of San Diego site didn't mind the massive number of links on the homepage because it is organized with short, meaningful headers; users prefer short descriptive links to long, detailed descriptions. Notice how the subcategories help define the larger categories by providing specific of the content found inside each. For example, it's not always obvious what a category such as Community would encompass and we would usually advise against it. But on this site, it's clear what's inside this area because its six subcategories tell you. The site also uses the generic subcategory more, however, which we don't recommend because it isn't self-explanatory.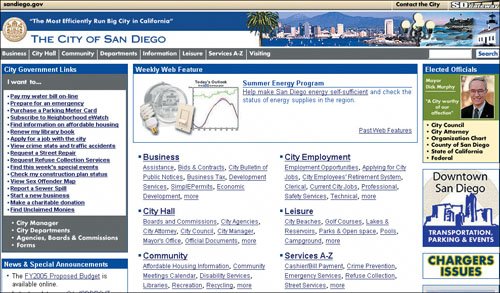 www.sandiego.gov
Improper Categorization: Users who tested this site expected to find information on fuel cell technology under Products, not under Who We Are, where it is the last option on the menu. This miscategorization made people struggle or think that the information didn't exist here:
"Now I'm lost.... It doesn't help me. I don't feel like I have options. I have to browse around. It's not easily found in the upper columns [the global navigational choices]."
"I'm looking for a fuel cell category. I don't see it under Products."
"That took a little too long!"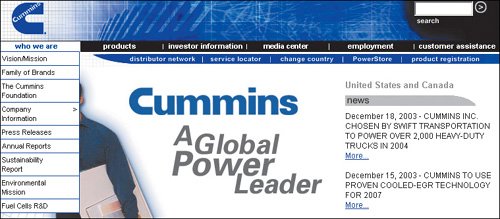 www.cummins.com