3.9

Outsourcing the call center

Setting up an outsourcing vendor for a corporate call center is a complex task. Putting all of the company's corporate eggs in an outsourcing basket may give many call center managers some uneasy moments. It's difficult enough to ensure that a company's own employees are managing customer relationships correctly. The outsourcing organization is being asked to handle an extremely valuable corporate asset: the customer relationship. The importance of this aspect of a corporation's business operations cannot be overemphasized, as will be shown in greater detail in Chapter 6, "Building Customer Relationships with Call Centers."

Market studies and analysis of the views of call center managers regarding outsourcing reveal widespread concern over the benefits of outsourcing. In one recent user study, users reported higher satisfaction levels with in-house call centers than with outsourced call center services. Nevertheless, another report from IDC on the worldwide call center services industry indicates that it will grow to $58.6 billion by 2003 based on three segments of the call center services market: consulting, systems integration, and outsourcing. Outsourcing was reported to be the largest segment, with 74% of the total market, or $42 billion by 2003.

Call center outsourcing will continue to grow at a strong pace; however, the growth comes with a price tag. Users of outsourcing services are concerned, as they should be, with "staff competence," "flexibility," and "the caliber of operations" at their outsourced centers. The outsourcing business has grown rapidly over the past several years, however, because, by and large, outsourcers do provide good service, and companies need the service, the expertise and the technology provided by these organizations.
Outsourcing and maintaining customer relationships
The outsourcing sector is a very large component of an even larger call center industry, and it is undergoing continual change. Just as in-house call centers need continual monitoring and upgrading, so do outsourced centers. As well, managers who opt for an outsourced call center are beginning to realize how critical customer relationships are and are understandably concerned about losing control over corporate strategies. Turning sensitive service and revenue tasks over to an outside vendor creates stresses that are reflected in tentative satisfaction ratings. It is important for clients of outsourcing operations to manage their relationships just as if the centers were in house.
The fragile business of outsourcing
Outsourcing companies are a major component of the "teleservices" industry and are often the subject of adverse reports in the media, especially if they are public companies. In general, outsourcing centers are larger than in-house centers and are often comprised of networks of interlinked centers. As noted, they are subject to the same human resources problems—high turnover and employee burnout—as any other sector of the teleservices industry.
Growth in the outsourcing business has brought pressure to bear on these operations, requiring them to be very productive and to reflect the corporate cultures of their client organizations. For a variety of reasons, outsourcing services are a fragile element of the call center service market. Outsourcers must cater to a customer base that demands the highest levels of technology and insists that outsourcers provide very sophisticated off-premise technology that can be integrated into their own existing systems. The services provided by outsourcers are a luxury for many client organizations and will be scaled back during bad times to reduce costs and will likely become very price competitive. All of the negative business factors that affect in-house call centers have an even greater impact on outsourced centers: shortage of qualified labor, capital costs of keeping pace with demand and new technology, and the introduction of unproven, innovative technologies, such as Web/call center combinations.
For these reasons, it is difficult to turn a profit in the call center outsourcing business, yet many organizations are attracted to the business opportunity and are willing to "buck the odds." The business opportunity that attracts outsourcers is the growth of new businesses that require some form of call center or customer contact service in their formative stages. Often, when a company is growing the only way to keep up with an expanding customer base is to rely on outside resources. Traditionally, outsourcers have functioned as a bridge—handling high call volumes during peak seasons or during product launches.
Outsourcing is a good technique for testing new concepts, products, or services without incurring capital expenses. A new campaign can be tested on an outbound list without incurring the costs involved in buying communications equipment or hiring additional employees. Outsourcers can offer the latest technologies in the most sophisticated implementations and can readily handle short-term requirements very well.
Managing the relationship
The relationship between a company and its outsourcer needs to be managed in the same way as the relationship between a company and its customers. Organizations that use outsourced call centers can take some specific steps to ensure they get the most out of their relationship with the outsourcer.
The first step is to clearly define the responsibilities and goals the outsourcer is expected to achieve. An outsourcer is a partner, one who makes, or should make, a concerted effort to understand the goals of the client organization if the relationship is to be a long-term one. Some outsourcers have a tendency to put all their clients in the same basket—assuming that the same services will suffice for all business sectors, a belief that is far from the real-world situation. Different businesses need different types of call center services—one size does not fit all!
Organizations evaluating outsourcing services should pay close attention to the experience and special brand of services offered by potential outsourcers. A major consideration should be whether the outsourcer is experienced in conducting business in the same way as the client company. And if so, are they coming into the relationship with preconceived notions of how the business should be run? The evaluation should include checking references and calling in to centers to see how calls are handled. Staff training of outsourcer personnel is another important element in selecting the right outsourcing service provider. Is there a regular program for refreshing the knowledge of CSRs? What are the turnover rates? Other issues that are important to clarify are the following:
What physical centers will be used for campaigns?

What is the turnover rate at those centers?

How skilled and motivated are the outsourcer's CSRs?

What kind of career path is available for agents—do they get promoted to supervisor?

How long is the average tenure?
Making the move
Moving to an outsourcing facility is a business decision that is often difficult to make due to "fear of the unknown." When an organization manages its own in-house call center, the strengths and weaknesses of people working in the center are known and managers have learned how to use these characteristics for best effect. Also, acknowledging the necessity to move to outsourcing, especially for the smaller, growing company, can be dispiriting. The sense that you are losing touch with customers, not to mention having to rely on outsourcing personnel who represent an unknown human resource quantity, can be an unsettling experience, not only for the call center manager but also for other internal department heads charged with the responsibility of contracting with an outsourcer and working with that organization.
Some pointers for outsourcers
The outsourcing/client relationship is an extremely important one and should be well thought out before any agreement is signed. The successful outsourcing organization needs to emphasize the connection it offers between the client company and its customers and prospects. They need to rely on their experience, and that of their CSRs, to develop confidence among their client organizations.
Outsourcers have access to a range of technology tools that enable their client companies to closely monitor their communication with the client company's customers closer to the point of interaction—real-time reporting tools are one example. A client sees the results of calls (inbound or outbound) without having to take those calls itself. Other tools—monitoring and quality assurance systems—can deliver complete voice and data records of each call to the client, if required. Like any other service organization, outsourcers must take responsibility for the quality and nature of their services, and should be held accountable by their clients for any errors of commission or omission.
Telephone companies as outsourcers
Telephone companies, also referred to as telcos or carriers in this book, are a major component of the teleservices industry. They provide the communications infrastructure—cable, satellite, networking facilities, and other equipment essential to every form of electronic communication—and carry voice, data, or video data, both digital and analog. Using their vast networks of communications resources, telcos often provide call center outsourcing facilities as one element of their communication services to customers. There is some advantage to using a telephone carrier to provide outsourcing. For one thing, they undoubtedly have available the most current communication, networking, and call-management technologies. The communications business is highly competitive, and no telco wants to be left behind in the race to offer the latest technology in its core business areas.
Telco service offerings
Often, the outsourcing services offered by telcos are quite comprehensive and may include
Order fulfillment

Call handling

Transaction processing

Consulting services to improve efficiency

Methods of using the center to support the company's strategic goals

Offloading some or all of the in-house call center volume
A full outsourcing service contract with a telco could also include handling every aspect of an in-house call center operation, from call distribution and management, queuing, routing and call processing to each and every customer contact, from the first IVR interaction to faxing back order confirmations. Contracting these functions to a telco-based call center offers a considerable benefit to companies looking for a complete outsourcing package that will be maintained at the highest technological level.
Outsourcing is a natural extension of the basic business of telcos. Much of the communication expertise is already present as part of the telco's core business. They know how to handle calls and call centers, and some of their centers are among the world's busiest. Long-distance carriers have long used their own centers as test beds for their own new technology, including some of the enhanced network services that make their entry into the outsourcing field possible.
Increased revenues for telcos
For the carriers, the economics of providing outsourcing services are extremely attractive. Carriers generate much of their revenue by selling telecom minutes to call centers as well as to others. The 800 number traffic, the bread and butter of call centers, is also a key component of their revenue. Anything they can do to generate usage of their networks will enhance their revenues. Both providing a call center with an off-premise solution for IVR or a multisite option that lets the company hold calls in the network while waiting for an agent to become available are services that generate time usage. Discounts that bring long-distance costs closer to zero cents per minute may be offered to telco call center customers who elect to contract for these value-added services. (see Figure 3.8)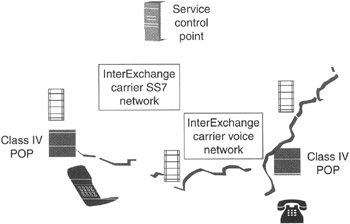 Figure 3.8: The 800 network.
Over time, carriers will gradually enhance their call centers by including agents and will eventually provide the same services as any other outsourcer. Some carriers have already taken on the role of call center "consolidators"—combining all the technology pieces under one contract.
Benefits of telcos as outsourcers
To reiterate, the attraction of carrier outsourcing services to the user organization is that they provide the opportunity to get up and running quickly with a center that the organization will help them build. Users can pick from a large menu of service offerings and hardware and software vendors to supply the applications. The carrier takes contractual responsibility to certify that all of the components integrate completely and successfully, and there is a one-number call for multivendor technical support.
Carriers have taken on an increased level of functionality, of the kind normally provided by an outsourcing organization. The advantage carriers have, as noted, is that they can configure their offerings, can push other vendors into working relationships because they are large organizations, can set standards, and have much closer relationships to call centers than the traditional outsourcer.
Choices to benefit the outsourcing customer
The more choices that call center users have, the better. The next few years will probably see a tremendous boom in the types of services a call center can outsource to a carrier network. Carriers will offer all the automated front-end transactions, especially IVR, and routing will be well handled outside the call center.
As a result of carriers "getting serious" about the outsourcing business, outsourcing will become specialized. For example, if a call center application has more to do with routing and automated call handling, the carrier may well be a better choice than the outsourcing vendor. On the other hand, if the application is more agent-oriented and involves customer-sensitive services like selling or servicing existing customers, a traditional outsourcer may be better qualified to provide the service.
Value-added services from carriers
Network services are being provided by the network carrier in the telecom network outside of traditional premise-based call center equipment. This can be a significant source of revenue for carriers because they can reduce toll-free services to a very low level and more than make up the difference by selling other services as value-added features. Networked services can provide virtual or distributed call centering, dispersing CSRs among many centers and routing calls among them as if they were all located at one site. Also included under the network services umbrellas is IVR, which extracts the customer input from the network, then uses this input to determine how to handle the call.
Web integration services
Web integration services are another burgeoning area of activity for call centers that network carriers can help them with. The technologies involved and the expansion of customer contact points pose significant contact management problems for call centers. Managers now need to cope with the technical and human resources issues that have cropped up from the explosion of Web access channels to the center. Live text-chat, call-me buttons, and even simple e-mail messages can create additional handling requirements for CSRs and managers alike.
Using the network to provide some automated handling of evolving customer contact channels—particularly IVR—is something telcos have been doing for years. They have always had the technology and the equipment to do this. When Centrex ACD facilities and the increasing demand for multisite centers are added to the picture, telcos are in an enviable position to offer a range of outsourcing services. For a call center, outsourcing network-based services, paid for either monthly or by transaction, offers a way to be more flexible in the face of unpredictable volume and varied access pathways.
Predicted growth patterns for the first five or more years of the 21st century indicate that there will be a lot of voice over IP (VoIP), even at the desktop, and a shortage of available and qualified CSRs to work in call centers, which will lead to an increase in home-based, telecommuting CSRs in some sectors. Pressure will therefore come from both call center organizations and the outsourcing community to move to network-based services. The growth of e-commerce and the electronic forms of communication that are a part of this business environment will make it extremely difficult to predict how many transactions will be handled electronically, rather than by live CSRs. From the carriers' perspective, increased competition is forcing them to look at service offerings as a way to differentiate their organizations from others in the business.
Ultimately, all of these new methods of conducting business, along with their technologies, will represent an opportunity for call centers to play mix-and-match with their technology and outsourced services. Network-based services will offer a suitable and acceptable alternative to premise-based equipment for a lot of centers and result in new ways of managing the call center operation.
Outsourcing and network-based call center services
Network-based services are any agent-support systems that traditionally occur within the center: call routing, transaction processing, database lookup, screen pop, among others. Over the next few years, there will be some amalgamation of call center outsourcers, not to mention mergers that will undoubtedly occur in the telecommunication sector. There will be competition to offer Internet-based transactions and video-enabled call centers. With these new offerings to expand the range of options for customers to contact call centers, there will be a wide variety of new and improved services, and call centers will be the beneficiaries. One researcher has reported that network-based call center services have been the biggest growth segment in the call center market, estimating that these services will generate more than $4 billion in annual revenues for service providers by 2005. This report further states that 35% of call center agents worldwide will use some type of network-based call center service, with nearly half of those using network services as their primary call distribution method.
The high-tech outsourcers
Another interesting development in recent years is the evolution of some high-tech companies into major outsourcers, largely due to the requirements of their customers for consulting services relating to their products or services.
As call centers become more widely distributed and provide more business functions, the companies that provide products and services to call centers will also change. There is considerable emphasis within outsourcing organizations on the advanced computer telephony integration (CTI) technology described in Chapter 2 as well as technology for linking call centers with other back-office operations. Outsourcers are becoming "engines of growth" in the call center industry.
Outsourcers and specialty niches
Outsourcers often provide an entree into specialty markets, either geographic or language-oriented. Some of them provide multilingual capabilities to enable organizations to conduct campaigns in other countries and often globally. As noted, other outsourcers provide services to specific industry sectors, such as retailing, financial institutions, fundraisers, collections, communication, and high technology.
The future of the traditional outsourcer
Traditional outsourcers will continue to be a mainstay of the industry. Although carriers are superbly positioned to provide outsourcing services, this business component is not their main focus, and it is unlikely that carriers will ever replace outsourcer organizations that make outsourcing their core business and therefore concentrate on providing call center services to their customers. Further evidence of this is that opportunities for outsourcing have been available for some years, yet only recently have carriers discovered the market for enhanced services, and they do not have a good track record of developing products from technologies. Traditional outsourcers will undoubtedly retain the competitive advantage.
Carriers tend to be slow to enter new markets and develop new products. This appears to be a characteristic of the telco marketplace and is probably a relic left over from the monopoly positions they held for many years in the communications industry. No need to hurry, there is no competition anyway! Carriers are often referred to as "Ma Bells," an oblique reference to the fact that they have a tendency to "mother" their services and products far too long before introducing them. As a result, they are often left behind by competitors who are not encumbered by the traditions of the monopolies once held by the telcos.
In the past, outsourcers were considered to be primarily outbound entities, providing a range of telemarketing services to organizations that did not have their own telemarketing facilities or that needed some additional resources to run a marketing campaign or customer survey. From this basic entree into the call center market, outsourcing services have evolved and become much broader and more sophisticated. In fact, outsourcing services now offered go well beyond the original concept of an outsourcing organization. Back-office functions are now offered by outsourcers, and their range of services may include inbound and outbound call handling, customer tracking, quality assurance, fulfillment, data processing, and even help desk customer support—a considerable enhancement of their traditional services.
Customer support or, as it has become known in many industry sectors, the help desk, is one area that more and more companies are contracting to outside experts. This is especially true in such industry sectors as personal computers and home electronics, where there may be a high volume of customer support inquiries following purchases that the vendor is not staffed to handle. The advanced technologies that enable calls to be routed and tracked make the help desk function easier and more cost-effective. As postsales customer support becomes simultaneously more important and more expensive, companies are looking for lower-cost alternatives that don't force them to compromise on the quality and level of response.
Challenges and pressures
As noted previously, outsourcers have the same challenges and pressures to manage as in-house call centers. As a group, they have always been in the forefront of technological and operational change in the call center industry and will continue to be good indicators of where the business is going. Several emerging trends and technologies will change the way outsourcers do business in the next decade, and the following paragraphs provide some insight into these factors.
Over the next five years, it is unlikely that the outsourcing environment will change dramatically, despite changes in technology and the operating procedures that these changes will introduce. Although there are several trends pushing the call center in virtualized and various directions, the physical nature of today's centers—rooms full of people, talking into headsets, looking at screens—is unlikely to change in the immediate future.
Any changes in the outsourcing industry in the next few years will reflect changes in the rest of the call center industry—what happens within in-house call centers. The pressure to improve productivity and deliver more and better services directly to the end user will continue unabated and possibly be even more apparent, as customer demands increase and become an increasingly strong component of the competitive business environment. Organizations are continuously working to provide more "self-service" methods of interaction—letting customers interact with and search databases for answers to their own problems—for example, automated systems to transfer funds, travel-oriented services, and Internet front-end banking services that are integrated into those services, with back-end database tools. An evolving series of power technologies will continue to become available to call centers; some will be new, while others will be enhancements of existing technologies. For outsourcers, it will be important to stay ahead of the competition—to use these new technologies to improve efficiency and to differentiate their services from the competition—and to remain profitable businesses.
Summarizing the benefits of outsourcing
From the preceding description of outsourcing, it should be apparent that the benefits to organizations choosing the outsourcing route for their call center operations are not many; they can, however, be significant in content. The following summarizes the three major benefits:
Access to advanced technologies—capital investments in switches, dialers, and workstations and upgrades to hardware and software are all managed by the outsourcing organization, which is generally equipped with state-of-the-art call center systems. Costs can be spread over multiple clients.

Vertical expertise—specialized industry-oriented expertise is offered to meet the needs of financial institutions, fundraising organizations, and retailers, among others. In fact, outsourcers for most industry sectors know how vertical markets function and how to treat customers in those markets.

Speed—seasonal or even more frequent fluctuations in the number of CSRs that a particular marketing program may need can be addressed quickly.