When I think of the Public Zone, two things immediately spring to mind "surveillance and the looming potential for catastrophe. I'm not just talking about the threat of terrorism. A couple of recent public catastrophes were the fire at The Station nightclub in Rhode Island that killed 96 people and injured hundreds more, and the stampede at the E2 disco in Chicago that crushed 21 club-goers to death the same week; neither of these was caused by terrorism. This leads me to the first rule of avoiding public catastrophe.
Whenever you're in public, and this includes the common areas of your own apartment building, devise a vigilant exit strategy for common worst-case scenarios "fires, earthquakes, floods, explosions, and random acts of violence. The first thing to do when you're at your workplace, the movies, a mall, a stadium, a nightclub, a restaurant, an airport, or when you board an airplane is to check the location of the exits and figure out how to reach them in case of an emergency!
The Best Way to Avoid Danger
Use your common sense! If it looks dangerous, it probably is. Avoid dark streets , bad neighborhoods, seedy crowds, and crowded places!
Don't Fit the Profile
I would just like to say that it is my conviction that longer hair and other flamboyant affectations of appearance are nothing more than the male's emergence from his drab camouflage into the gaudy plumage which is the birthright of his sex.

" Hair
The above was true when the hit musical Hair ran on Broadway. I know because I was a hippie! But in this era of elevated security alerts, it's unwise to draw attention to your appearance or behavior. I wish I could say that you should do your own thing, but if you look like a gang-banger, biker , skinhead, pimp, shoplifter, junkie, or whatever the current profile of a terrorist is, you will get hassled!
Computer profiling is standard operating procedure since 9/11, backed by the full authority of federal, state, and local law enforcement, by provisions under the USA Patriot Act, the Homeland Security Act, and the Total Information Awareness (TIA) program ( renamed the Terrorism Information Awareness program by the Bush Administration after embarrassment over the spy-like sound of the original name ).
Bush was also forced to fire the TIA's controversial creator, Admiral John Poindexter, who was also fired as the Reagan Administration's National Security Advisor after being convicted of conspiracy , lying to Congress, defrauding the government, and destroying evidence in the Iran-Contra scandal. Just the kind of guy you want to have as our country's super-snoop!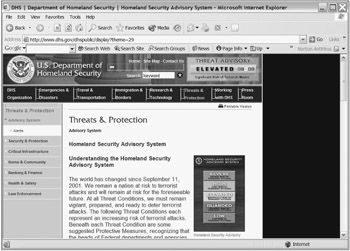 Figure 14.1: Homeland Security Advisory System Web site
Develop a Public Persona
Even if you have a proclivity for dressing like one of the Village People in private, it's prudent to develop a public persona that doesn't fit the profile. Be aware of your surroundings at all times, and look like you know where you're going "even if you don't! Muggers typically look for people with lost looks on their faces.
An American flag T-shirt is fine to wear to a Fourth of July picnic, but that same T-shirt could backfire if you wear it to a Bastille Day parade in France! In other words, dress for the occasion.
Security Checkpoints
It doesn't matter where you are "cruising on Sunset Boulevard or at a rock concert, a sporting event, a nightclub, or an airport "sooner or later you'll encounter a security checkpoint. Present your ID and be cooperative. Answer all reasonable questions. When it comes to being searched, remember that entertainment and travel are optional choices; you elected to be there. Random searches are a reality in the Public Zone!
Air Travel
When you fly, your body and luggage are subject to search. That's the law! In March 2003, the Transportation Security Administration (TSA) started testing a second-generation airline passenger profiling system known as the Computer Assisted Passenger Pre-Screening System II (CAPPS-II). The system is being developed in collaboration with Lockheed Martin Management & Data Systems. According to a description on the TSA Web site, the system can confirm a passenger's identity and any potential security threat they might pose in less than five seconds.
Under a proposed plan, the TSA will require every US commercial air carrier to supply them with passenger information collected during the reservation and ticketing process. That information will then be combined with financial and personal data contained in government and commercial databases to determine a risk score for every passenger.
Low risk. This will require cursory personal and luggage screening.

High risk. This will require a full body and luggage search.

Flight ban. This will include suspected terrorists on a federal watch list who are banned from US air travel.
This plan is evoking a maelstrom of protest from civil rights organizations, which question the efficacy of such profiling and denounce it as an invasion of privacy and civil liberties.
Keep Your ID Handy
Unfortunately, we have come to a point in time when presenting your ID at public checkpoints is mandatory. Be prepared to present it. I hate to put it this way, but ... have your papers in order!
Protect Your Wallet and Purse From Theft
Keep your ID in your wallet or purse and protect it from theft! If you lose your wallet, you're screwed. If it gets stolen, you're plumb out of luck! Cash, ID, credit cards, driver's license, health insurance card with your Social Security Number on it, your signature "when you get your pocket picked, you're going to get your identity stolen!
If you want to know how to protect a wallet or purse, ask a pickpocket. That's exactly what I did! I asked Gene Turner, the renowned pickpocket and nightclub entertainer. Here are some of Turner's tips and tricks.
Be aware of your surroundings, especially in crowded places. Be aware of bumps, commotions, and aggressive people.

Beware of signs that tell you to beware of pickpockets. They could be a ploy by pickpockets to help spot your valuables. Men check their wallets and the women check their jewelry . People invariably check their most expensive items first.

Don't flash cash or wear valuables in public. Don't wear expensive jewelry if you are going to be in a crowd or an unfamiliar place.

Wear a money belt. Don't carry large sums of cash. If you must carry a lot of money, always keep it in a money belt under your clothing. Spread pocket money among several pockets. Pickpockets can only pick one pocket at a time.

Don't carry valuables in a backpack or fanny pack. Anyone can reach into a backpack without you seeing or feeling it. If you use a fanny pack, you should wear it in the front and, if possible, make sure the buckle is in the front so a pickpocket will have a more difficult time releasing the latch without your knowledge.

Don't let anyone else carry your luggage. That's the best way to lose it!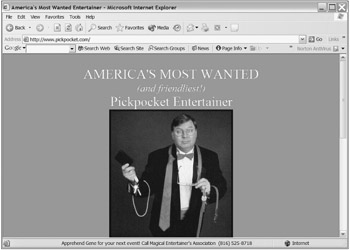 Figure 14.2: Gene Turner's photo on pickpocket.com
Wallet tips:
Don't carry your wallet in your back pocket. Men feel that if the pocket is buttoned the wallet is safe, but a good pickpocket can lift a wallet every time. Some pickpockets even use a razorblade to slit the bottom of the pocket so the wallet drops into their waiting hands!

Put your wallet in your pocket sideways . Also place wide rubber bands around your wallet. It will be more difficult for a pickpocket to get the wallet out of your pocket "more difficult, but not impossible !

Know where your credit card is at all times. After you use it, put it back in your wallet or purse. Don't place it in your pocket!
Purse tips:
Use handbags and purses that have zippers or lock latches.

Always keep your handbag or purse zipped or latched.

Carry your handbag in front of you.

If your handbag or purse has a flap to open , keep the flap against your body.