Introducing the New Version of Blogger
Blogger is just one of many blog-hosting communities on the Internet today. These sites offer easy-to-use tools to build and maintain your blog, and do all the hosting for youtypically at no cost. Creating your own blog on one of these sites is as simple as clicking a few buttons and filling out a few forms. After you create your blog, you can update it as frequently as you like, again by clicking a link or two.
In terms of web-hosting communities, Blogger is one of the oldest and biggest. In fact, Blogger was a freestanding site with more than a million users long before Google acquired it in 2003. Since then, it's only gotten biggerand better. In fact, Blogger is one of the crown jewels of the Google empire; its user base is now well more than three million, or about 10% of all blogs on the Web. (And Google says the number of Blogger blogs is doubling every six months!)
Getting to Know the Blogger Site
If you're new to Blogger, the home page you see looks like the one in Figure 1. From there you can search through Blogger's millions of blogs and blog postings or opt to create your own blog.
Figure 1. The Blogger home page for new users.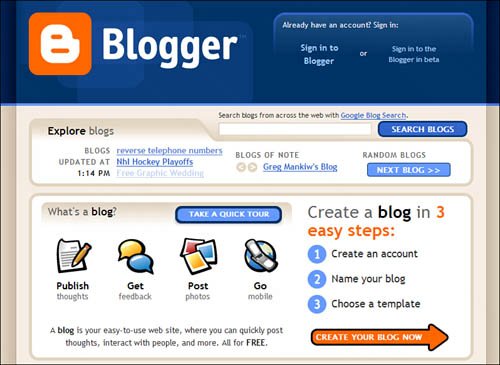 After you register with Blogger, you go directly to the Blogger Dashboard, shown in Figure 2. From there you can manage all your blogs, create new blog posts, manage your Blogger account and profile, search other Blogger blogs, and access Blogger's help system.
Figure 2. The Blogger Dashboardfor registered users.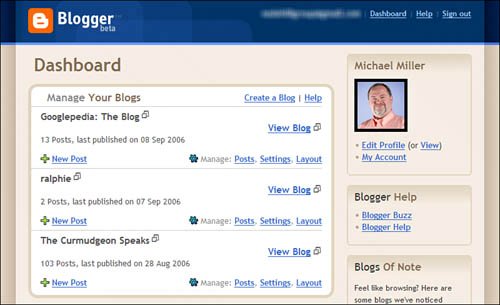 What's New in the New Blogger
If you've used Blogger in the past, you know your way around the joint. Except that with the new version of Blogger, the joint has changed a bit.
Note
Unlike some other sites, Google doesn't always apply version numbers to things. The new version of Blogger, which other sites might call Blogger 2.0, doesn't have a formal name. Google sometimes refers to it (at least during the testing phase) as "Blogger in beta"; I call it "the new Blogger." You can call it whatever you like.
What's new in the new Blogger? Here's a short list:
New blog templates

Ability to customize template colors and fonts without editing HTML

New page elements that can add customized content to your blog page

Ability to reposition page elements by dragging and dropping on a content-builder grid

Ability to categorize your blog posts with labels

Ability to create private and limited-access blogs

Instant publishing using dynamic serving so that you can revise your blog without republishing itupdates occur instantaneously

Better built-in spell checking

Additional RSS and Atom feed options for advanced usersincluding the ability to create individual feeds for all the comments on a single post

Consolidated login with your Google account or Gmail ID; you no longer need a separate Blogger ID

Updated and easier-to-use Blogger Dashboard controls

Completely revised behind-the-scenes HTML and CSS code constructionincluding elimination of the old proprietary Blogger tags
In short, the new version of Blogger is faster, better looking, and more customizable than the old version. Its designers built it on a brand-new platform; it's not just a simple revision, it's a whole new rewrite of the underlying code.
Migrating to the New Blogger
During the beta testing phase, not everyone can use the new Blogger. In fact, most existing blogs are remaining on the old platform for now; Google intends to migrate old blogs to the new platform on a limited basis only.
Tip
If Google has chosen your existing blog for migration to the new platform, you'll see a notice on your Blogger Dashboard page. Until you see that notice, you can't upgrade your blog to the new Blogger.
How do you experience the new Blogger? By creating a new blog! That's right, Google is letting everyone who creates a new blog (under their Google account or Gmail ID) base their blog on the new Blogger platform. If you want to see what the new Blogger is all about, just go to the main Blogger page (www.blogger.com), make sure that you log out from your current Blogger ID, and then log in with your Google account or Gmail ID and create a new blog. From that point on, the new Blogger platform is the basis for everything you see.
Note
You can get the latest news and updates about the new version of Blogger at the Blogger Buzz blog (buzz.blogger.com). The Known Issues for Blogger in Beta blog (knownissues.blogspot.com) details current bugs and problems. In addition, the Blogger Help Group (groups.google.com/group/blogger-help) is a great forum for exchanging questions and ideas with other Blogger users.