Browsing: The Easy (?) Way to Find Things
eBay has an ever-increasing number of categories, listing all sorts of itemsantiques, books, coins , collectibles , comics, computers, dolls , electronics, figures, gemstones, glass, jewelry , magazines, music, photography, pottery, sports memorabilia, stamps, toys, and many, many more. To view all the items within a specific category or subcategory , you need to browse through eBay's category listings.
eBay's main categories are listed on its home page. You can also access a complete list of eBay's categories and subcategories by clicking the Buy link on the eBay Navigation Bar; this takes you to eBay's Buy hub, shown in Figure 7.1. The Buy hub lists all of eBay's major product categories, along with the major subcategories for each category.
Figure 7.1. eBay's Buy hub.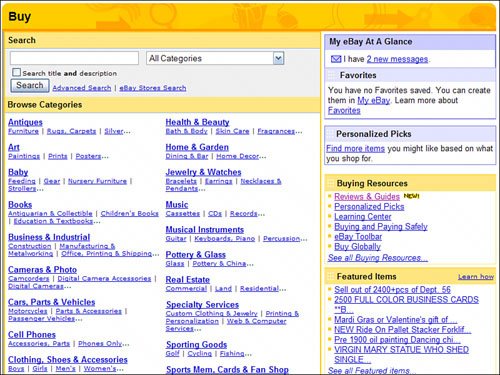 You see, to make browsing easier, eBay's major categories are divided into a hierarchy of subcategories. For example, if you click the Antiques link on the Buy hub page, you'll see a formidable list of subcategories within the Antiques major categoryAntiquities, Architectural & Garden, Asian Antiques , and a dozen more. In fact, many of eBay's subcategories have their own subcategorieswhich makes them sub-subcategories, I guess!
So when you access a main category page, like the one in Figure 7.2, you see a list of all available subcategories. Click a subcategory link, and you'll see either a list of additional subcategories or a list of available items.
Figure 7.2. A typical eBay category page.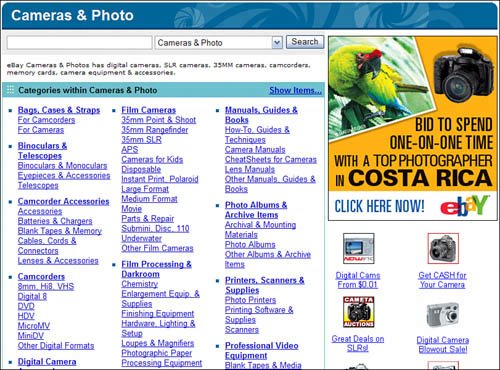 When you finally get to the list of items within a category or subcategory, the page looks similar to the one in Figure 7.3. At the top of the page are three tabs; these tabs display All Items for sale, Auctions only, or Buy It Now items only. The first listings on the page are the Featured items (sellers pay extra for this placement); below that (or on the next page, sometimes) is the complete list of items for sale, with items ending soonest listed first.
Figure 7.3. eBay item listings.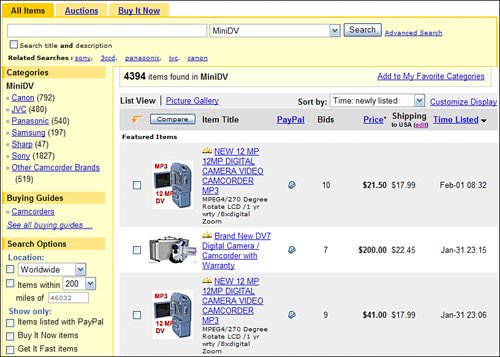 Some listings have pictures or icons either before or after the title. If it's a picture, great; that means the listing has an accompanying photograph. Same thing if you see a green Picture icon. A Gift icon indicates that the seller offers various gift services, such as gift wrap. The New icon indicates that the item has been listed within the past 24 hours. The Buy It Now icon (in the middle Bids column) indicates that the seller has chosen the Buy It Now option for this item. And the PayPal icon is displayed when the seller accepts payment via PayPal.
Table 7.2 shows the various icons you might encounter.
Table 7.2. Listing Icons
| Feature | Icon |
| --- | --- |
| Picture | |
| Gallery | |
| Gift | |
| New Listing | |
| Buy It Now | |
| PayPal | |