32. iPods
The newest iPod Shuffle, about the size of a large coin, weighs less than a half ounce, carries 240 songs, plays for 12 hours on one charge, and costs just $79.00. The iPod Nano (seen in Figure 11), about the size of a stick of gum, carries 2,400 songs, plays for 24 hours, and starts at $149.00. And the iPod itself, now able to store 20,000 songs or six hours of video, plays for more than six hours and costs as little as $249.00.
Figure 11. iPods (like the iPod Nano, seen here) have enticed many PC users to switch to Macs. (Image courtesy of Apple.)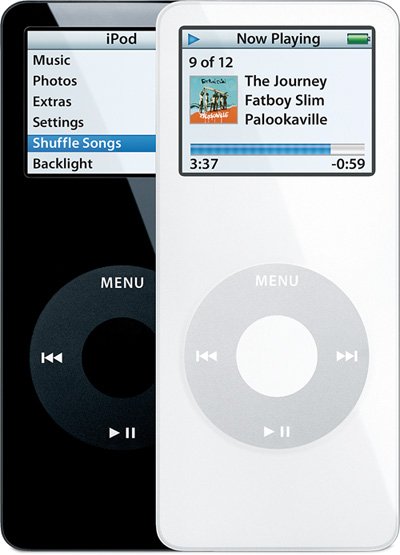 When people pick up an iPod, they begin to understand, often for the very first time, that personal technology can be a source of joy. If you love your iPod, your best reason to switch may already be right there in the palm of your hand.
33. Mighty Mouse
I right-click up a storm; I'm a contextual menu kind of guy. When I switched to the Mac, the thing I missed most was the two-button mouse.
Enter the Mighty Mouse (see Figure 12). It's as smooth and light as a hard-boiled egg. Responding to the lightest of touches, the tiny trackball on top effortlessly scrolls up, down, left, and right. Best of allhidden beneath that smooth plastic shell are left and right mouse buttons. (Want more? You can click the trackball or squeeze the mouse, too.) When I'm making presentations, my Bluetooth-enabled model even doubles as a remote control.
Figure 12. Apple's Mighty Mouse incorporates multibutton mouse functionality, making it the perfect companion for former PC users. (Image courtesy of Apple.)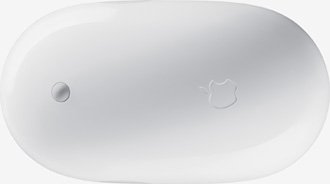 The Mighty Mouse will change the way you think about devices you've probably never thought about much. For the switcher, it's a perfect companion.
34. Built-in WiFi and Bluetooth
Before I switched, the surface of my desk was being taken over by creeping, high-tech kudzu. Power cables, USB cables, monitor cables, network cables, and keyboard and mouse cords threatened to gobble up every spare inch of desktop space.
In contrast, my Mac has high-speed 802.11g wireless networking built right in, so I can transfer files and surf the Net without a wired connection. With built-in Bluetooth technology, my keyboard and Mighty Mouse (and other devices, including digital cameras, printers, and even my cell phone) communicate with my Mac from up to 30 feet awaywirelessly.
The result? Less clutter, less distraction, and more flexibility than ever.
35. AirPort Extreme Wireless Networking
My friend Jason set up his home wireless network today. He opened a box, took out his AirPort Extreme wireless base station (pictured in Figure 13), powered it up, and plugged a cable modem into it. Time elapsed? Three minutes.
Figure 13. Apple's AirPort Extreme base unit makes setting up a 50-user wireless network as easy as opening a box. (Image courtesy of Apple.)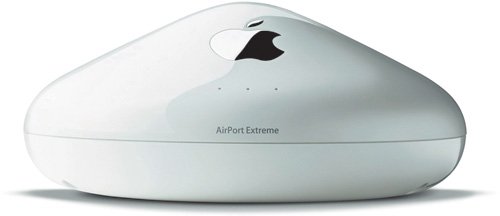 Next, he loaded the AirPort setup utility on his Mac, named his network, assigned a password, and answered two questions about his Internet connection. In 10 minutes, we were pulling email and browsing the Web over a speedy, secure wireless network.
There are more powerful wireless base stations, but the AirPort Extreme makes setting up a 50-user 802.11g network as easy as opening a box and answering a question or two. Shouldn't everything be this easy?
36. Vista 2.0 Today?
At the 2006 Apple World Wide Developer's Conference, banners promoting Leopard, the newest version of Mac OS X, proclaimed, "Introducing Vista 2.0." Not bad, considering how long it's taken Microsoft to develop Vista 1.0!
With eerie consistency, Windows "innovations"cool graphical effects (drop shadows, transparency, a sense of depth), Desktop Gadgets (small information applications oddly similar to Mac's Dashboard widgets), and the capability to quickly jump between apps and the desktopseem to imitate features already in Mac OS X. Want access to Vista 2.0's best features today? Switch to a Mac.