Hack 62. Death by Soccer Balls

as Fill the Metropolis level with soccer balls .
Tired of firing bullets and rockets ? This hack alters any gun so that it fires soccer balls. However, the hack will only work on the New Mombassa level. The reason for this is that the soccer ball Easter egg [Hack #26] is only present on the New Mombassa level. In the level menu, New Mombassa is called Metropolis.
To create this mod, browse to the [weap] Weapon tags and choose a weapon. In this example, you will use the SMG. Next, go to its dependencies and find the [proj] dependency (see Figure 7-14).
Figure 7-14. Finding the SMG projectile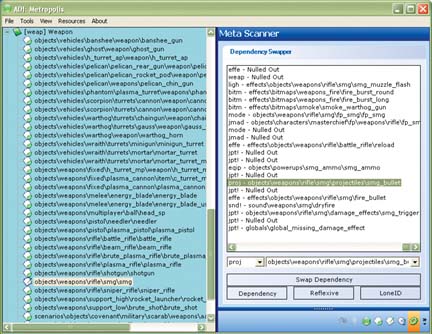 This determines the projectile fired by the weapon. Click the [proj] dependency and use the drop-down list to swap it with something else. In this example, we will actually change [proj] to [bloc] because the soccer ball is a [bloc] tag. The result of this is that you are going to swap the path objects\weapons\rifle\smg\ projectiles \smg_bullet for scenarios\objects\solo\earthcity\soccer_ball\soccer_ball (see Figure 7-15).
Sign your map [Hack #53] , FTP it to your Xbox [Hack #54] , and then start a game on the Metropolis level.
Figure 7-15. Swap the meta tag for the soccer ball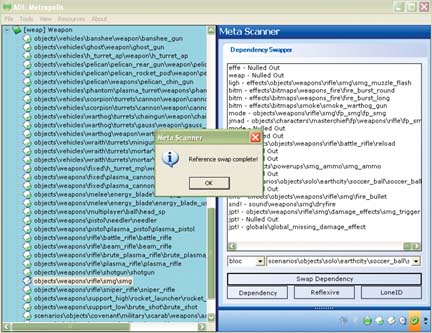 Once you have completed this mod, you will be able to fire the enormous soccer ball Easter egg from your SMG (see Figure 7-16).
Figure 7-16. It's like a ball room