If the club will let me, I usually provide my own contract. Here's one I use (already typed up on the CD).
You can add or remove what you need. (Keep in mind this does not constitute legal advice. But it works for me.)
You'll need a press kit, complete with clippings. Here's a good one about my old band , although it's from a reunion show. I lost the stuff from our original press kit because I've moved so many times, and that was before I archived things on computers or even had a computer. We're talking late 80s, people.
If you don't have any clippings yet, you'll still need a photo and a CD (even a home-burned one). And also a bio (not a cheesy one).
What to Expect
You will be told when you book the gig what time the following events will occur:
If they don't tell you, you should ask when you are talking to the booker.
NOTE
"The Slot" is what musicians call the most desirable time slot of a given evening. It is not always being the last, or "headlining" band. Sometimes, especially on weeknights, it is second to last, i.e. third on a four-band bill, or second on a three-band bill.
Load In
The load in is exactly that: the time you load in your gear. Be a few minutes early. You should also ask them ahead of time if you load in through the front, the side, or the back. And if there's free parking for the bands.
Someone will probably check your I.D., maybe before you even load in. If anyone in your band is not yet 21, you should ask the booker about this before you play. Most clubs will let 18 and over (sometimes 16 and over) play, provided they do not drink and are only in the club for sound check and the set. They usually have to leave after. Check with the booker ahead of time . If you are under 16, especially if most of the band is, you will probably be only playing all-ages (no alcohol) shows for a while. That ain't a bad thing. We'll talk more about this later.
Drink tickets: You will be given (or ask for and be given) drink tickets for the band members . Usually one or two per member. More if you've played there before and draw a good crowd. They may or may not run a tab for extra drinks. Be careful. Remember, they exist to sell drinks, not to promote art. A hard-drinking band could easily end up spending more than they make. Remember that scene in The Blues Brothers where they get presented with a bill at the end of one of the gigs?
You will usually load your gear in to a place right behind the stage. You will be responsible for your own stuff. If they have a guard back there, don't rely on him to keep you from getting ripped off. Take shifts watching it. Bring a paperback or a laptop to kill time.
The drummer will probably want to take the drums out of the cases and set them up, because they take the longest to set up.
Sound Check
You will load your gear on to the stage and set it up to do a sound check. Do it quickly, but do it right. Don't be nervous. Just do your job.
The sound man will be on the stage setting up microphones (and a direct box for the bass and one for the keyboards most likely). Help him out, don't ask unnecessary questions, and don't play your guitar when his head is in front of the amp setting up a mike! Same goes for drums. There is no faster way to piss him off, and believe me, you want him on your side, not pissed off at you.
When he's done setting up the mikes , he'll go back to the soundboard at the back of the room and ask you to play your instruments one at a time. He will talk to you over the monitor speakers . Don't noodle and play when he's checking someone else's sound. He needs to hear one at a time to get the best sound for you. Help him out.
Play and sing at the volume you plan to use in the show.
NOTE
Get a small flashlight, and keep it on your key ring so you'll always have it on stage. It's often dark right before the set, and with a flashlight, you'll be able to see stuff easier to set up.
Figure 10.8.
Small Maglite brand flashlight.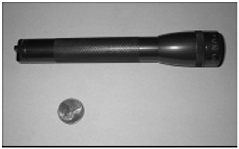 The sound man will ask the drummer to play one drum at a time. He'll probably just say "rack." That means the drummer should just play the rack tom. He'll make some adjustments on the sound board. Then he'll say, "Thank you," which means "stop." Then he'll say "snare," and she just plays her snare drum. And so on. Then he'll say "play the whole kit." She plays the whole kit. Then make some adjustments. He'll tell you to stop. Then he'll ask the guitar player to play. He'll probably just say "guitar." That means the guitar player should play her guitar. Then make some adjustments. He'll tell her to stop. Then he'll ask the bass player to play. He'll probably just say "bass." That means the bass player should play her bass. Then he'll ask the singers to sing one at a time.
When he's all done (this will probably take five or ten minutes total), he'll ask you to play part of a song together as a band. Play a verse and a chorus (or more until he tells you to stop). Pick a song where all the members who do any vocals at all sing. You should find a versatile song with loud parts, quiet parts , and all singers singing in a short space and maybe consider using that to sound check for a while at all the gigs if you want.
Again, this ain't a bad time to check polarity, and maybe put a wind screen on the mike to prevent shocks and improve the sound.
When you all play, if everyone can't hear everything well, stop and ask him to bring up something in the monitors . Depending on the size and complexity of the P.A., you may or may not be able to get individual monitor mixes .
When you're done, ask him if you need to move your gear off the stage or not. Hopefully, you'll just have to move the drums and can leave your amps up there. You'll probably have to push them back so the bands who play before you can put their amps in front of yours.
Figure 10.9.
Microphone with wind
screen. Singer Lindsey Gillard of The
Sick Lipstick.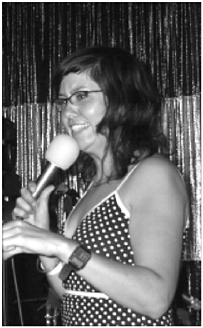 Big headlining bands at big shows often sound check for a long, long time, even using it as rehearsal or songwriting opportunity on long tours . When you get to this stage (and even before), be considerate of the opening band. It's pretty piggy to sound check for a long time and not give them any sound check.
After sound check, you will probably turn in your guest list. This is the list of people who can get in free. Some clubs are very open with this, allowing like five per band member; some are very stingy, allowing like one per band . It usually depends on how much they are making on the door. If they were smart, they'd give you unlimited guests to get more drinkers in! But they often aren't and often don't.
When you're in a band, suddenly everyone is your friend (especially if you're opening for the band they actually want to see). Everyone will want to be on the guest list, or, as I call it, the "pest list." I recommend reserving it for
NOTE
An old joke:
Q. How many punkers does it take to change a light bulb?
A. Ten. One to do it and nine to get on the guest list. 1
1. There is an alternate answer: "Ten. One to do it and nine to write letters to Maximum Rock 'n' Roll complaining that the old one was better."
So . After your sound check, the other bands will sound check. It's usually in reverse order, with the headlining band first, and the opening band last. This is so when they get to the opening band, they don't have to move their gear; they just leave it there set up ready to play.
Once a band is ready to play their set, the sound man will sometimes have them do a line check . (But not the opening band, because they sound checked last, probably right before the doors opened.) This means doing a very abbreviated sound check even though there are people in the club. Sometimes the before-the-doors-open sound check is completely dispensed with in favor of just having everyone do a line check, especially if the club provides back line . Back line is when the club has a house bass amp, guitar amp, and drum kit, and all you have to bring is your guitars, effects, bass, and the drummer usually has to (or if he doesn't, he'll probably want to) bring his own snare, cymbals, and sticks. You will probably be told this when you book the show. Most showcase clubs provide back line (and they mostly seem to be in Los Angeles, where music is an assembly line and they want everyone on and off as quickly as possible) and won't let you bring your own amps, unless you're the headliner and have a draw.
If the club only does line checks and not sound checks proper, I wouldn't worry too much. There's only so much variation on how to mike and amplify guitar, bass, drums, and singing, and a guy who does four bands a night six nights a week is usually pretty good at it.
NOTE
Showcase clubs are clubs that exist to "showcase" bands, allegedly for major labels. They usually have back line, often make you sell tickets, almost never pay bands, and ask everyone who comes in which band they're there to see and book you back only if a lot of people mention you. They also have band-specific audiences; for instance, there can be 10 people for the opening band, 100 people for the second band, no one for the third band, and 50 people for the fourth band. They usually have four or five bands a night. "The Gig" on Melrose in Los Angeles is a good example.
The Set
You will, at some point, be asked by someone to get onstage and actually play your songs. After all, that's why you're there, right?
You should know what time you're playing and get backstage (or whatever passes for backstage at this venue ) a few minutes early to tune your guitars, do vocal warm ups, meditate, get drunk, whatever you need to do. You should make sure you have enough water or drinks to get you through the show, though if you run out, you can always say, "Can someone please bring me a ________" from the stage between songs. Someone might, especially if you're doing a great job. Roadies and spouses can also perform this function.
You should play your songs with confidence and love. Don't worry too much about jumping around and being "wild." That will come with time if it's to come at all. Worry about the music.
Actually, just don't worry. Practice is the place to work out all the stuff so you won't have to worry onstage. It should all be a cellular memory, an ingrained response by this time, second nature.
Or be wild. It's up to you. I used to care more about that stuff, but only after the music was really, really good.
If you have trouble hearing an instrument in the monitors, don't hesitate between songs to tell the sound man over the mike, "Could I please have more kick drum in my monitor?" or whatever. But don't get too nitpicky and spend the whole set doing that. You should have it under control to a degree. That's what sound checks are for. Keep in mind that the room sound will change between sound check and the set if people show up. Humans and clothing soak up a lot of sound. A good sound man will accommodate for this.
Encore
When you finish your set, if you are amazing (or if you just have a lot of friends in the room), you may have people yelling for an encore. I usually only do one if it's a lot of people. It can seem gratuitous if it's just your boyfriend and your sister screaming "More!," and the other 50 people who are just there to see the other band politely applaud . Not doing an encore when one isn't really demanded isn't rude. It's just leaving them wanting more, which is a good thing.
Keep in mind that three people up front yelling for more can look like the whole room is yelling for more. Sometimes it's hard to be honest with yourself.
If anyone is yelling bad stuff during the set ("You suck" or something similar), ignore them. If you're particularly witty, you might yell back. This can work to your advantage or not. It kinda depends if you have the crowd behind you or not.
One time Bomb was playing to 500 people (all there for us) and one guy up front kept yelling "Fuck you!" to me. (He may actually have been a fan, but it got on my nerves.) I finally said to him over the mike, "Sir, if you do not stop yelling 'Fuck you,' I'm going to climb down there and actually fuck you."
Five hundred people laughed at him, and he shut the fuck up.
One time Bomb played in front of 1,500 people who were all there to see the headliner, Primus, and two guys in the audience were throwing ice cubes at my head. I thought the whole room hated us. Keep in mind, one heckler can seem like a room full of them from the stage, too. Keep your head straight and you'll see it all more clearly.
After the Show
Towel off, then get your gear off the stage quickly if there's another band coming on. Put your guitars in their cases, but don't go outside yet. You're all covered with sweat and you'll catch cold.
NOTE
Bring an extra T-shirt to every show. Better yet, put on one of your own new band shirts from the merch table and sell the sweaty band shirt off your back. Some types of folks might pay extra. If you put on a good show, you will probably be soaked with sweat when you're done (from rocking out under the hot lights), and you'll appreciate your forethought to have a dry shirt to change into after you play. Also, if you can help it, don't load your gear out from a hot club into the cold night immediately. Let yourself cool down a little bit. You will be less likely to get sick or ruin your voice. And the tubes in your amp will last longer if they avoid going from hot to cold a lot. Extremes in temperature are not good for guitars, either.
Go mingle in the crowd. Shake some hands. Have a drink of something to replenish your body. Rejoice.
After the set, you'll want to get paid if you brought in paying customers and it looks like there's any money to be made.
Thank the sound man, then ask him who to get paid by. A way Tony Fag in Bomb used to broach this was good: "Who do I talk to about the money thing?" It sounds less demanding than "Where's my money?" The sound man will tell you, and you go find that person and say "Hi. I'm _________________________ from ______________________________. Can we talk about the money thing?" They will probably tell you to come back at the end of the show. They aren't brushing you off; most likely they're really busy. Come back at the end of the night.
Keep an eye on the gear and don't get ripped off. But have fun, support the other bands, and again, have fun.
After the show, get paid, move your gear out, and drive it back to the studio, then go have more fun.
It's best to wait until the next day to start critiquing each other's performances . Don't be a buzz kill. Enjoy the triumph of a job well done before you start tearing it apart.
NOTE
When playing a show in your hometown, if there's an out-of-town band on the bill and the show doesn't make much money, consider giving some or all of your band's share to the traveling band. They need it more than you do. And it will come back to you tenfold in goodwill and karma. And they'll probably help you get a gig in their town when you go on tour.
At one show with only about a dozen people there, I even passed a hat and got a few extra bucks for the touring band.
Also, when you're the one paying out the money, always pay the bands, without them asking you, before you leave the venue, even if they're staying at your house. This will avoid them having to feel awkward for asking.
If you made any money at all, make sure you give some to the roadie . Then take some out for the flyers or whatever anyone spent, and split it up that night. Don't make people wait for their eight bucks. And unless you're totally broke, don't be too persnickety about paying yourself back your two dollars for the Xerox bill or whatever. The band will stay together longer if everyone soaks up a few of the tiny expenses here and there and never mentions them.
By the way, Tony, you still owe me for that burrito and the ouzo I bought you back in 1986 after our show at the Mab LOL.
The next day, send an e-mail or make a phone call to the booker. "Hi. This is ___________________________ from _____________________. Thank you for the show. We had a blast and would love to play again any time. Have a good day." Believe me, thanking them will make you stand out over 92 percent of the other rude-ass wannabe rock stars they deal with on a daily basis.
Miscellaneous Gigging Stuff
Roadie
You'll have to carry some of your own equipment until you make enough money to pay people. Get a roadie but remember: He's not your slave; he's your helper. And until you make enough to put her on salary, pay her an even split.
Duct Tape
Duct tape is the musician's friend. Duct tape holds rock and roll together. Duct tape can fix a guitar strap, a drum kit, a carburetor, or even a hole in your jeans .
It's available in any hardware store.
Remember, many rolls look alike. Put your name sticker on the inside of the roll.
Figure 10.10.
Duct tape is our friend!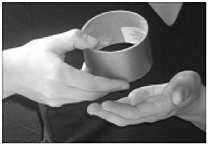 Stickers
Some clubs are covered with 'em on every available surface, backstage and in the bar itself. Some clubs will charge you 50 bucks for every sticker you stick on the wall. Check before you do. If you're playing the latter type of club, don't give stickers away until people are leaving, or at least tell them from the stage not to stick them up. You might never play there again if people stick them up in the club.
Figure 10.11.
Insecto sticker.
Figure 10.12.
Band stickers backstage at Spaceland in Los Angeles.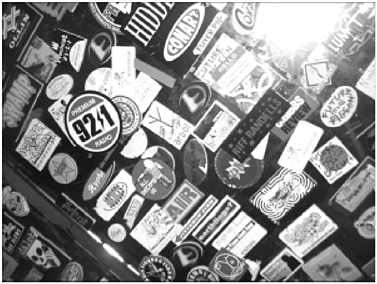 Autographs
I always have mixed feelings when someone asks me for my autograph. I'm a little flattered and a little embarrassed. Flattered because I'm honored that someone would think that highly to ask me, and embarrassed because the whole idea is pretty zany. I've never asked anyone to give me one.
I recently asked some people I really admire, people not into the "star" bullshit, how they deal with it. They all sign them when asked. Henry Rollins' reply is in his interview at the end of this book. Mike Watt laughed and said, "I have a short name. Doesn't take long to do it." Ian MacKaye said, "Of course I do it. If I say, no, the person feels dumb for asking. If you do sign it, they just stick it in a drawer and years later find it and it makes them happy. It's a snapshot of a good moment."
Set Lists: One for Each Band Member
You don't have to have a set list. You can just have a song list, and band members can take turns starting any song after the last one finishes. This can work well. Bands that don't use set lists have included Fugazi, Flipper, and the Grateful Dead. Each member segues into another song and lets the other members guess which song it is. Bands can get really good at this. You can even jam between songs. Keep it to a minimum though unless you're really good at it: Don't bore your audience.
Conversely, some bands rehearse the set as if it were one large piece of music, working out the best order and fine tuning the segues between songs. This is what I usually do, but it can get kinda stale after a while. You get to the point where practice just seems like going through the numbers : Show up, do the set twice (or once), and leave.
Figure 10.13.
A set list.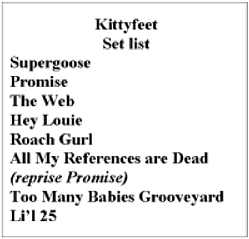 If you are going to work the set as a whole piece of music, I would recommend being aware of songs that sound too much alike (because of tempo, key, chord changes, styles, and so forth) and not putting them next to each other in the set.
Flyering
You'll want to put up like 100 to 400 flyers for each show. Some towns have laws about this. For a while New York City was fining bands like 100 bucks per flyer .
If it's legal in your town, get out there and hit it. Make them catchy and memorable. If you suck at graphic arts, get a friend to do it. Credit them. Thank them. Let them into the show free.
NOTE
Stand out. Be true to yourself, but get clever with your promo stuff.
I remember the best rock advertisement I've ever seen. It was from when Jane's Addiction was on an independent label (Triple X Records). It was two photos. The top photo was a young Elvis Presley on stage singing. It said "This rock and roll will never die." Below was a young Perry Farrell onstage singing. It said, "This rock and roll will kill you."
I love that.
Make sure that you can read all the info . And always put a Web URL on there. Say if it's an all-ages show or 21 and over if people will have any doubt.
Remember: It's cheaper and faster to print one flyer on the computer and then Xerox the rest than it is to print them all on the computer.
Getting to know someone who works at a copy shop can be quite helpful.
NOTE
The shorter your band name is, the bigger you can put it on the flyer. A four-letter band name, like Bomb or 9353, can be seen from a block away on a flyer made from legal- sized paper.
Use staples or tape on telephone poles. Wheat paste is more permanent but kinda rude and probably illegal. Don't hang them on trees. It's bad for the trees, and we need trees to live. Your band ain't more important than me and my daughter having oxygen .
Hang them up about a week before the show. You will also have to do flyer maintenance, which is coming by a couple of days later and uncovering them and hanging up new ones. Be polite; try not to cover up other flyers unless the show is over. You can find space that stands out by going higher or lower on the pole than the other bands. I used to skateboard around hanging up flyers and lean my board up against the pole and stand on it to get higher up.
NOTE
Don't hang eight flyers on one pole, covering up everyone else. If people do that, target them and remove all their flyers, always. It ain't coming from a place of community. It is based on ego and fear. Fuck them. They should be eliminated from the band gene pool.
The Sound Man
As soon as you get there, introduce yourself to him or her. Learn his name. Know him. This is more important than knowing the bartender. Be polite.
Don't ever pay to play a club, but you might tip the sound girl 10 bucks before or after the set. Twenty if you have a good night. That will also help you get booked back, because usually the booker is not there at the show, just during the day. The booker will ask the sound person who drew well, played well (less important to the booker than who drew well), and who kept the audience dancing and drinking. A ten-spot can actually sway their opinion of you.
This isn't "pay to play"; it's tipping the most important person at a show, someone who is usually underpaid and yelled at all night by people who have star complexes. Be cool to them. They are someone you really want on your side.
It will take a while to get a strong following. You may play to just your friends for even a year. But if you're good and have hustle, you will get a crowd after a while. Once you do, you might think about getting your own sound man. Then you'll always sound good at a show. Some clubs won't let you use your own sound girl (check), but if you start making them money, they usually will bend on this if you ask nicely .
Stuff That Sucks
Sometimes clubs will put a clause in the contract where if you cancel, they will actually charge you money (usually 100 to 250 bucks)! This is unconscionable in my book. Fuck them. This only, as far as I know, happens in Los Angeles. It is quite indicative of how undervalued music is in this buyer's market.
This attitude is a very good reason to skip bars entirely and just promote your own parties; you know, make your own scene.
How to Make Your Own Scene
Sometimes it's not enough to just be a band. You have to go the extra kilometer and really put out, make it special. I remember when Bomb toured opening up for the Flaming Lips. The Lips would get to the venue early and sound check. But then instead of going back to the hotel or sitting at the bar like most bands would, they would spend like four hours decorating the place. On this particular tour, they had a tank of helium and would blow up hundreds of balloons for the stage. Then they would climb up on ladders and string about a hundred strings of Christmas lights up. And they would have to take them down after the show, when most bands would want to do anything but that.
And keep in mind this is before the Lips were famous. They were popular, but I believe that it was this kind of care (in addition to writing great songs and touring incessantly) that made them famous. In Los Angeles, Jane's Addiction used to decorate warehouses and put on shows that were way more special than just playing in a bar. (This sort of evolved into Lollapalooza.)
Something I would like to see a lot more of is bands doing movie nights. Get together with local filmmakers (or make your own films) and show films between bands. Make it an event . Something people will talk about. You could really hand build a scene by having your band play every event. Play once a month at a bar, and have different opening bands and films and motifs. Call it "(your band's name) presents __________" or whatever. Just make sure that your portion of it is cool and different enough each time that people don't get sick of you. Maybe add a few new songs each time and vary the presentation and decoration in some way. And do it at different venues maybe. Or if you have a good thing going at one place, keep it there, but just make sure you don't get stale.
Figure 10.14.
An Albatross keyboard.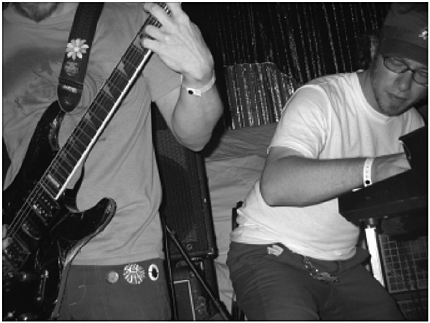 Figure 10.15.
An Albatross drums.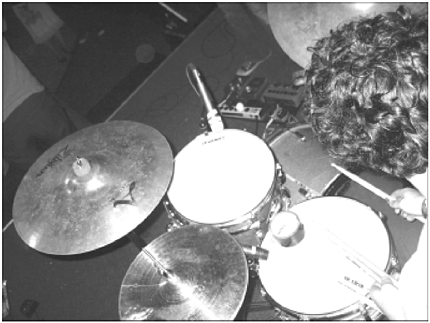 Warehouse Shows
You can even bypass bars entirely and play at youth centers, YMCAs, basements, warehouses, living rooms, backyard BBQ parties, whatever. It helps if you have your own P.A. because most of these places don't have them.
If you do a show in a warehouse and someone gets hurt, you are probably liable. You can get one-day event insurance from most insurance companies. You can also call it a private party and make it donation only and sometimes get around liquor and fire laws, but keep in mind, the authorities can close down anything they want any time they want. And there actually have been cases of communities invoking anti-crack house laws to shut down raves and rock shows. So don't piss off the neighbors.
Get level-headed people to act as security. Make sure NOT to get people that just want to kick ass. Get people who would do anything but kick ass, but would if it came down to it. People well into martial arts are usually of a good skill- and mind-set for this task.
Open Mikes
If you can't seem to get a gig anywhere , you can try open mikes. These are (usually free) nights at bars where people come in off the street, sign up, wait around, and usually get to play one or two songs. They usually cater more to acoustic acts and people who can set up quickly, but some will allow bands and even have back line for the band.
They work different ways. Some are first come, first serve; that is, you get there at nine, put your name on a list, and that's the order you perform in. Some draw names out of a hat. The one at the Blue Lamp in San Francisco used to book you on a combination of whether you'd played there before, how good you were, if you were a friend of the booker, and if you were a cute girl.
You would think that open mikes would suck and be just a bunch of impatient people waiting for their three minutes of glory , but some are actually great, draw a crowd, and foster a sense of community.
Ask around or check the local entertainment paper.
Editor Sandy adds, "Some places make an absolute business of the open mike night thing and are famous for it. I think the best known one in Nashville is called The Bluebird Caf . People come from all over the country, and they actually hold auditions for open mike night (which maybe defeats the purpose), but there are often country music producers and such in the audience. They even publish on their Web page instructions on how to play open mike night at the Bluebird: http://www.bluebirdcafe.com/play/."
I add, "Isn't that the Caf in that movie with River Phoenix's brother?"
Press Releases
You should always send a short press release to the appropriate editor at the local entertainment paper when you play somewhere. But wait until you're good. You don't want press coming to your first show if you're still shaky.
Figure 10.16.
DrumFeet.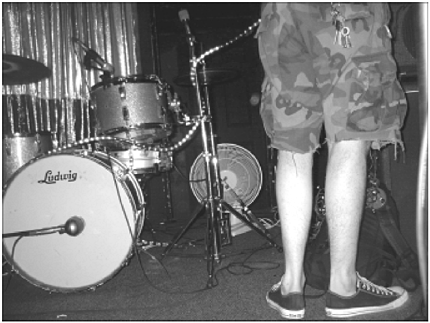 Zines
Zines are self-published magazines that people within a given scene make to review and promote each other. You can do a zine yourself to document your scene as it grows. It's a lot of fun.
It's cheaper to just do it online but sometimes more fun to have an actual document for people to hold in their hands. When I was growing up in the hardcore punk scene in Washington, D.C., in the early 80s, an important part of being at a show was passing around zines and reading them.