Contacts
You probably know the names of the clubs in your town that book your type of music. You probably hang out at them. You can either call them during the day and politely ask "Who do I talk to about booking my band ?" or ask other bands for a list of their contacts.
After you have your list of clubs, start booking. Call all of them. You might have the bar number, or you might have the booking number. Or, you might be calling some kid who books shows and get his parents. Just say you're trying to get the booker, find out when he'll be in, and what his name is.
The booker will probably say "Send a CD and a press kit," unless they've heard of your band. Don't brag, lie, or berate them. Don't act like you're doing them a favor. You're not. They are doing you a favor. And keep in mind that they talk to bands all day every day, and all of those bands think they're the best band in the history of time. And they act like it. Cut the booker a break, be polite, and do what he tells you.
I find that Excel is a great program for making a database of gigs. (Any spreadsheet program will work; I just use the one that I happened to get, um, free.) You can have separate information in different columns, add rows and columns as needed, and easily extract data from one or more columns as needed to prepare email lists, snail mailing labels, and so forth.
Highlight by holding down the mouse and scrolling down, then copy (Ctrl + C on a PC; Apple Key and C on a Mac) and paste into the other program (Ctrl + V on a PC; Apple Key + V on a Mac).
I usually start by listing the dates I plan to be on tour on the far left column and fill in from there. Once a booking is secure (confirmedI usually ask, "So, is that
Figure 10.3.
Excel booking sheet.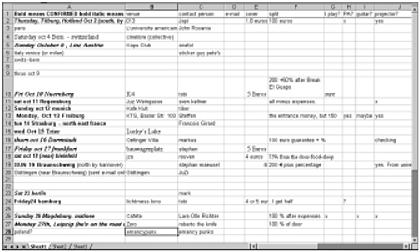 Figure 10.4.
Highlighting a row in Excel.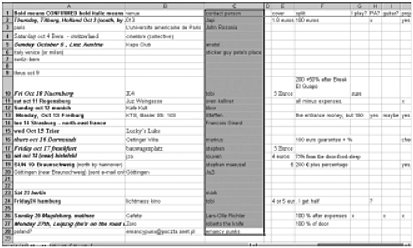 confirmed now?" to avoid confusion), I bold that entry, so I can see how my progress is going and know where to concentrate my efforts. I also ask them what time the load in, sound check, and our set are. Ask how long a set you should play (very few clubs will ask you to play more than two sets, unless you're the only band). Ask how many guests you get and how many drink tickets you get.
NOTE
You need to learn to multitask, going effortlessly between interfacing with humans and operating on your computer. This is one of my techniques for surviving as an artist in the new economy.
You can make mailing labels in Word. Go to Tools/Envelopes and Labels.
You can set the label number (on the label box somewhere) from Options.
Figure 10.5.
Creating mailing labels in Word.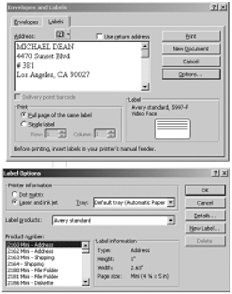 You can also set up mail merges in Word to export from other programs, but this is outside the scope of this book. Open the Word Help menu and search for Mail Merge. Or check out Microsoft Office Word 2003 Fast & Easy from Premier Press (ISBN 1-59200-080-0).
You should back up all this info regularly. Keep the backup at a band member's house. It also won't hurt to have paper copies of it in case your computer files become corrupted somehow.
Save your info from each contact, and send them all a press kit and CD. There are rare cases where they will book you sight unheard on a first phone call, but you should still send them a kit.
A press kit should consist of several photocopied pages of any press you've received. You should arrange it nicely on pages with the masthead or front cover logo showing the name of the magazine and the date. The press kit should also include a cover letter, short bio, and a photo: 8x10 glossy is best. You can get copies of photos litho screened at local print shops , or ask other bands where they get it done. Litho is cheaper than getting actual photo prints. It doesn't look quite as nice, but it will print fine in a newspaper.
The cover letter should briefly state who you are. And it will make a difference if it is addressed to the booker by name, rather than "Dear booking person." Make sure it's typed on a computer. Handwritten letters are hard to read. Signing it by hand is a nice touch, though.
The bio should be less than one page. It should be free of typos and not be written like most rock bios:
How many typos and misspellings can you find in this excerpt from a band bio?

" Out of the ashes of too of the finest local powerhouse seminal rock unit's, rising like a phoenix is Toilet Town , the greatest band to grace the stages of Toledos' club's since Nirvana desimated the stage of the Erie Street Market in 1989."
Frank Zappa said, "Rock journalism is people who can't write writing about people who can't sing for people who can't read."
Get someone who can write (and read!) to write a clear bio. Bios are pretty incidental, and someone who's never heard of you doesn't care that your band came out of two other bands she's never heard of. If one of the bands was popular, mention it. Mention things that are selling points, like competitions you've won, films your songs have been in, popular bands you've opened for, tours you've done, magazines that have covered you (brieflyyou'll be attaching copies of the clippings), radio stations that play you, but keep the stuff out that's only interesting to you.
It's good to include a lot of white space and a few bullet points to break up the page so the eye can quickly grok the info without wading into it a lot. Avoid using a lot of fancy fonts. All the rules that would work for the design of a good resume would be applicable here.
What they will mainly judge you by is the photo and, to a lesser extent, the CD. They will listen to the CD, but only for about 20 seconds, so put your best song first, or your best one without a long intro. I used to get used demo tapes from bookers in San Francisco to tape over with my music, and I'll tell ya, those tapes were only played for less than one song. A booker can tell quickly:
If you're good enough to play their club, and

What kind of music you play, so they can tell who to put you on a bill with
Insecto's well-done press kit is included on the CD, in .pdf format (in the EPK folder. EPKpronounced "E-P-Kstands for "electronic press kit." Sometimes people will tell you, "E-mail me an EPK."). They also have a printed version. It may seem a little long, but it isn't, because it has everything in one file: photo, press, bio, and stage requirements. (Stage requirements could also effectively go in the contract, but I like the way this was done here.)
I've also included a shorter, but still great, press kit (in Microsoft Word format) by Beauty's Confusion.
You can zip files like this before e-mailing them. Zipping doesn't reduce image files or .pdf files, or audio files much in size (these are already basically compressed formats), but it makes them more likely to come through intact. Word files will get a lot smaller from zipping. But unzipping is also one more loop that the person on the other end will have to jump through, and you want as few hoops for them as possible, so it's your call.
Don't pay a professional photographer to take a photo. This costs $100 to $300. You probably have a friend who is good and just getting started who would do it for the cost of the paper and chemicals and credit. (make sure you put "photo credit _________" somewhere on the photo. Get in the habit early of crediting everyone who helps you. Or trade someone some Web design. Or a few guitar lessons. Or do it yourself. I took almost all the photos in this book myself , and I'm not really a photographer. I used a $220 reconditioned Toshiba 3.2 megapixel digital camera I got off of eBay. Just make sure you use the highest resolution setting.
Bookers can usually gauge your sound and style almost as accurately and far more quickly from the photo, so make sure it's a good one. Look at ALL the photos on www.yourbandsucks.com to see what not to do. You'll learn everything you shouldn't do. (By the way, I named the URL for this site.) Then look at bands that have had careers for more than 10 years and look at how they don't bullshit in their photos. Unless it's to the tune of, "We're so sick of promo photos, we're gonna do a dumb one." And NEVER pose your band in front of a brick wall. That is beyond tired .
Don't be cheesy with your photo.
Here are some good photos. Both say a lot about the bands:
Figure 10.6.
Promo photo of Bomb by Ann Stauder.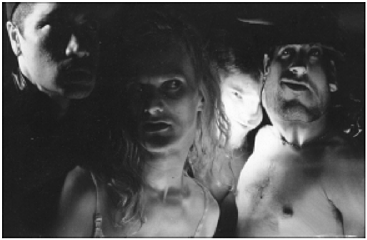 Figure 10.7.
Insecto promo photo.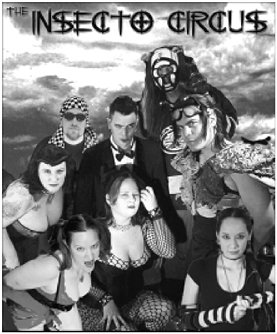 As for the CD, if it's home burned, make sure that the CD will play on all stereos. Some won't. And make sure that your contact info is clearly marked on the CD itself and on the case. Most bookers make their calls while the CD's in the player, so they want to be able to see the number on the case without taking the CD out and looking at it. You must realize that these people deal with about a hundred demos a week, and any extra work you give them is gonna make them less likely to book you.
Label the CD and the cover well with only pertinent contact info. Use a clear photo on the cover of the CD. Make sure that your contact info is printed (not written).
Carry a couple of promo CDs with you at all times in your purse or backpack . You never know when you'll need them. And don't be stingy with them. Give them to bands, writers, club owners , and potential fans. Trade 'em with your friends, and use them to make new friends .
NOTE
I have this, um, friend, who sent all the promo packs out from his work, running them through the postage meter so he wouldn't have to pay the postage . Be careful, though: I have another, um, friend who used the company's corporate FedEx account to send them out, and one of the addresses was not current and the package got returned to work and someone else opened it. This, um, friend, um, lost his job.
So, you've sent your demo out, and they didn't call you. Send your demos out first class mail, and wait two weeks before you call. Politely ask them if they've gotten a chance to listen to it. They probably haven't. Ask when you should call back. Make a note of it in your Excel spreadsheet and call them back when you said you would.
NOTE
This may seem like common knowledge, but it isn't. When making calls and leaving a message, you can bypass most answering machine and voicemail outgoing messages and directly leave a message by hitting either # or * or 1 on your phone's key-pad.
See? I just added probably a week's worth of minutes to your life span.
So you have them on the phone, they offer you a show. They probably won't offer you a guarantee if you aren't popular.
All-ages shows do not rely on alcohol sales to make money, so they may take even more of the door money. But all-ages shows are sometimes put on by the bands themselves or by promoters who actually do love music, so they are sometimes more sympathetic to giving the touring band a larger cut of the door.