Just when you thought that Dreamweaver 8 was chock full of new feature enhancements, it gets better. The following points round out the list of Dreamweaver 8 additions and enhancements:
WCAG Priority 2 accessibility support

Updated reference material

Mac document tabs

Saved panel sets

Updated browser information

A Document Types menu in the New Document dialog

Flash Player 8 support
WCAG Priority 2 Accessibility Support
Inline with Macromedia's continued support for accessibility standards, WCAG priority 2 support is now included in Dreamweaver 8. Although previous versions of Dreamweaver sparsely supported WCAG priority 1, support for priority 2 in Dreamweaver 8 is rampant. Running an accessibility report on a document, for instance, now displays WCAG priority 1 and 2 errors in the Results panel (see Figure 1.24).
Figure 1.24. WCAG priority 2 is now checked in Dreamweaver 8.

Saved Panel Sets
Similar to the way Macromedia Fireworks and Flash function, Dreamweaver 8 now allows you to save panel layouts. If you're used to working with certain panels open, you can simply save the panel layout, drag panels anywhere around the IDE, and then re-reference the saved layout to revert back to the way you prefer to work. To save a panel layout, choose Window, Workspace Layout, Save Current.
Of course, the Workspace Layout submenu also exposes the Manage option for managing various customized panel layouts you create, as well as Coder, Designer, Dual Screen Left, and Dual Screen Right for working in Macromedia's pre-specified panel layout modes.
Document Types Selection Menu
It's hard to ignore that, with each release of Dreamweaver, Macromedia has attempted to include as many features as possible to facilitate standardscompliant web development. Since XHTML is quickly becoming the de facto standard for web pages, Macromedia has traditionally included a check box in the New Document dialog that forces a new document to coincide with this standard. In previous versions of Dreamweaver, when this check box was selected and a new document created, the XHTML Transitional DTD would be included at the top of the page and would be referenced when the page was validated. The downside to using this checkbox is that the user is forced to either use the HTML 4.01 Transitional DTD (when the option is disabled) or the XHTML 1.0 Transitional DTD (when the option was enabled). What about the HTML 4.01 Strict, XHTML 1.0 Strict, XHTML 1.1, and XHTML Mobile 1.0 DTDs? If users wanted to reference the latter DTDs, they were forced to switch to the Code view and manually change the DTD.
To rectify this, Macromedia has replaced the Make Document XHTML Compliant check box available in previous versions with a new Document Type selection menu, shown in Figure 1.25. The new menu offers a broader range of DTDs to choose from.
Figure 1.25. The new Document Type selection menu allows a developer to choose from many different DTD types.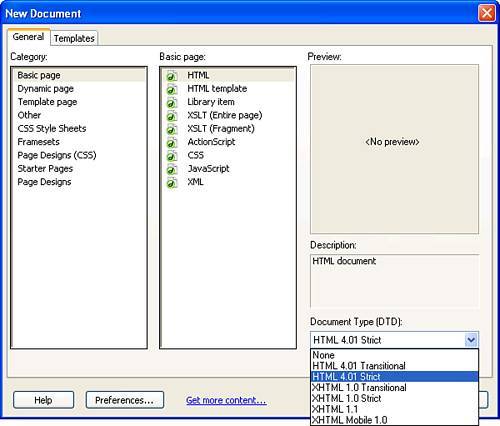 Of course, the options listed in Figure 1.25 are representative of HTML pages only. Depending on the page you create, the menu exposes DTDs that coincide with the particular page.