Project Server 2003 is a complex tool that requires a thorough understanding of both the technical and the business sides of EPM for its implementation. When considering Project Server 2003, it is important to understand its interfaces, architecture, components, configurations, settings, and the security model.
Project Server Interfaces
There are two interfaces to Project Server 2003: Project Professional and PWA.
Project Professional is where the project managers do most of the detailed work on their project, such as planning new tasks, tracking status, and assigning new resources. Project managers enter the scheduling information in Project Professional and keep it updated. Project managers use Project Professional to assign resources to tasks and track progress with updates received from project team members via PWA. Project Professional 2003 maintains the look and feel of earlier versions, as well as all nonenterprise features.
PWA is the other interface where project managers can communicate about projects with the team members, and team members can communicate with project managers. All team members, including executives and managers, who want to view project or resource data need to have access to PWA.
Architecture Overview
The Microsoft Project 2003 EPM solution is based on four key elements: Project Professional, PWA, SQL Server 2000, and Windows SharePoint Services. All these components are kept synchronized by Project Server 2003.
Figure 2.1 shows the links between these three components.
Figure 2.1. Project 2003 architecture.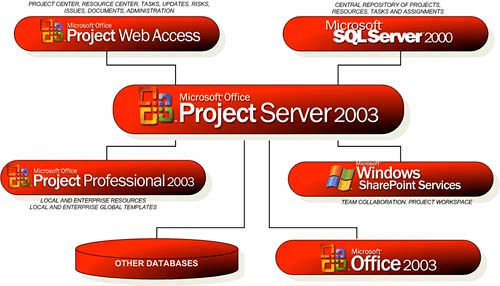 Project Professional is the application that allows project managers to develop and update their project schedules.
PWA is the web interface for team members, resource managers, and other project stakeholders that allows them to review information about the project plan, send updates to the project manager, or communicate with other members of the team.
Microsoft SQL Server 2000 is used to centrally store information and data about projects and resources. It also serves as a data repository for generating reports.
Windows SharePoint Services is the application used to store project documentation, issues, risks, and certain information about tasks. Windows SharePoint Services provides an extensive customizable interface, which allows each project manager to tailor it to the specific needs of her team.
Project Server 2003 establishes the link between these components and makes it possible to link to other Office applications, as well as to other enterprise systems.
Project Web Access
The following list presents some of the features available in PWA. As previously noted, Project 2003 is a role-based system and, as such, different users will have access to different features and functions dependent on their role in the organization. PWA allows users to
Approve project progress updates (actuals) via the Updates function.

Review and analyze projects via the Project Center.

Review and analyze resource allocation and information via the Resource Center.

Create, delete, and manage status reports using the Status Reports page.

Manage issues and risks through the Issues and Risks pages.

Create and manage documents associated with the project via the Documents page.

As a team member, update actual work progress and review and update schedule changes through the Tasks page.

As a portfolio manager or executive, access Portfolio Analyzer and Portfolio Modeler to generate reports based on the parameters that you require and perform the "what-if" analysis.
In addition, PWA serves as the primary interface for system administration, which is done by accessing the Admin page.
The Admin page allows the system administrator to configure PWA, establish the roles of individuals and assign them the appropriate permissions, and configure the enterprise views and reports. It is important to note that only qualified individuals should have access to this page because it contains information and settings vital to good functioning of the system.

bull; PAGE 291.
Microsoft Project Professional
Project Professional is the application that allows project managers to
Build any new project schedules or update existing ones.

Baseline the schedule and keep it updated.

Build the project team, assign resources to project tasks, and monitor their work on those tasks.

Review and update the project schedule with information received via PWA.

Use various viewing and reporting tools in Project Professional to generate reports and presentations.

Import project files and resources into the enterprise database.
Project Professional is also the application that allows system administrators to build and configure the Enterprise Global template. The Enterprise Global template provides the backbone structure for enterprise project schedule templates, and it is used to configure Enterprise Custom Fields and Outline Codes.
Through Project Professional, you can also access the Enterprise Global Resource Pool that stores information about all resources in the database, generic and named.
It is also important to remember that only system administrators should have access to modify the Enterprise Global template or Enterprise Global Resource Pool.

bull; PAGE 535.
Windows SharePoint Services
Windows SharePoint Services facilitates communication among various project stakeholders. Using Windows SharePoint Services, you can do the following:
Document the identification, analysis, and responses to the risk events that could positively or negatively affect your project. This feature is available to you in the Risks page of PWA.


Document current issues relevant to your project, allowing you to prioritize and manage issue resolutions. This feature is available to you in the Issues page of PWA.


Create document libraries containing project documents via the Documents page. You can create libraries specific to your project, and you can use a public library where you can store general organizational information that crosses individual project lines or standard corporate documents.


Modify project workspace using a variety of customizable lists and libraries to facilitate organized and robust information sharing among team members.


Windows SharePoint Services also makes possible the management of the project workspace, which facilitates interaction and communication between project team members.

PAGE 732.
Overview of Project Server Configuration and Settings
For your enterprise to make best use of the Project 2003 solution, you must set up and configure the system properly. This includes mapping your business process into the system, ensuring that the information in the database is accurate, and making sure that users can perform in the system those tasks required by their business role in the organization.
The following list presents the main areas that must be covered in the initial setup and configuration of the system:
Project Server 2003 security model Proper setup of the security model ensures that all users of the system can perform those tasks dictated by the organization's business process.

PAGE 143.




Set up the Enterprise Global Resource Pool This is particularly important because Project 2003 bases its functional philosophy on the sharing of resources by multiple projects.

PAGE 563.




Set up the calendars for resources and projects Determines resource allocation and availability and constitutes the basis for accurate resource requirements forecast.

PAGE 239.




Set up time tracking methods for projects Review the available options and choose the tracking method applicable to your organization.

PAGE 317.




Configuration of Enterprise Global Template and Project Codes Determines enterprise settings for a number of features available and the way users can view and report data in the Project and Resource Centers.

PAGE 163.




Configuration of administrative settings Determines the behavior of certain functions and features available, such as the preferred method for updating the OLAP cube, automatic or manual creation of project workspaces, and so on.

PAGE 477.



NOTE
It is important that you read and understand the Microsoft Administrator's Guide before you start configuring Project Server 2003.