In the next three years, we will see the convergence of two major trends: "software as a service" and the rapid growth of wireless network and device capabilities. Software as a service is the provision of access to integrated, centralized applications and data to any location at any time and is a trend that has grown out of the need of an increasingly mobile enterprise workforce. The wireless LANs and WANs will help deploy a wide range of applications, such as customer relationship management (CRM) and groupware to meet business-to-employee, business-to-business, and business-to-consumer needs (Citrix Systems, Inc., 2001).
The value of transactions conducted over mobile phones in Europe is set to reach 23 billion euros ($23.7 billion) by 2003, according to a new study from Durlacher Research Ltd. (London). Europe's mobile phone service operators are poised to increasingly derive revenue from Internet content and services, and will become leading Internet portals in the future. Europe adopted a clear lead in usage and application development, fueled by its high penetration of mobile phones and successful adoption of GSM as the single digital phone standard. The United States has not been able to reach a single standard or settle on a generic type of terminal, thus slowing the establishment of a critical mass of handsets in the market needed for the introduction of new services (Uimonen, 1999).
According to a recent study by IDC, the number of people using wireless devices to connect to the Internet will increase by some 728% by 2003. That is an increase from 7.4 million users in 1999 to 61.5 million users in 2003 (Blackwell, 2000).
Mobile wireless devices are a reality today, with close to a billion subscribers worldwide and expectations of up to 1.5 billion users by the year 2005 (Van Impe, 2002). Illustrated in Appendix A, Table 1, is the penetration of mobile data users by region, and in Appendix A, Figure 1, the worldwide Internet access by device is shown. In 2003, around a quarter of all mobile Internet users are likely to use their mobile phone to access travel services such as booking flights, finding local hotel accommodations, sourcing last-minute holidays, or purchasing rail tickets. These are all services that are particularly suited to business travelers and experienced leisure travelers. This mix of mobile transactions is likely to result in mobile travel commerce revenues overtaking those of online travel (Cross, 2000).
Table 1:

Penetration of Mobile Data Users by Region

2000

2003

2005

United States

7%

44%

83%

Japan

21%

62%

90%

Asia-Pacific

1%

4%

8%

Western Europe

23%

72%

91%

Rest of World

0%

4%

10%

Total

3%

12%

20%

Source: ARC Group, 2000
Smart cards have always offered the potential to radically change and automate the way mass consumer business operates. The huge business potential presented by Java-based smart cards to service providers has not been lost to GSM-based mobile communications operators. Today, the cost of mobile communications is almost the same as fixed-line communications. Mobile phone penetration in Asia is expected to reach 35% to 40%. With the merging of electronic tools, such as the palmtop with the mobile phone, and more use of the mobile phone for accessing data, the mobile phone complements the Internet to enable Web surfers to access information without needing a PC. Eventually, e-commerce will be a hot application for mobile phone users. The same should be expected for GSM-based mobile e-commerce. The capability of mobile phones is expected to increase, and this will accelerate more developments (Brokat, 2000).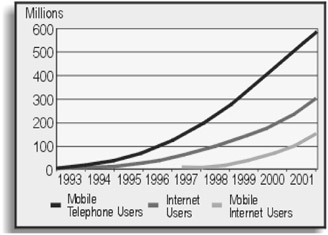 Figure 3: Worldwide Mobile Commerce Use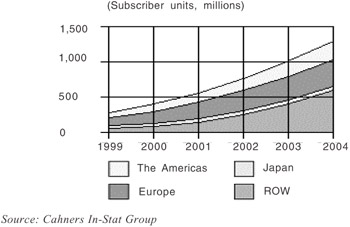 Figure 4: Worldwide Handset Sales