DataSet Overview
As mentioned, the DataSet object is the cornerstone of ADO.NET development. The DataSet contains a set of DataTable s, as well as any relationships between those tables. Figure 2.1 shows the relationships between the objects within the DataSet .
Figure 2.1. The relationship between the various ADO.NET objects.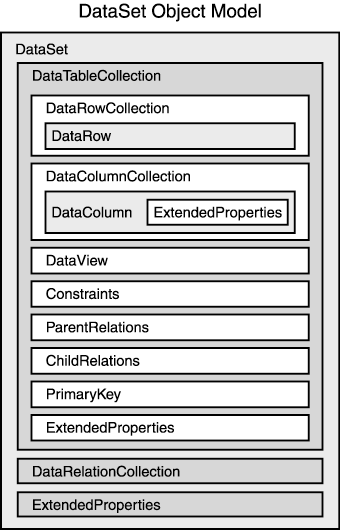 Relationship
In a relational database, a relationship is a link between two entities (such as tables) that is based on attributes of the entities. For instance, if you have a table of customer information, you might link their CustomerID to the CustomerInvoice table, so that only valid customers in the database are invoiced.
If you are new to the Microsoft .NET Framework, some of the code in this hour might look intimidating at first. The good news is that the code in this hour is not required to understand the rest of the book. Most developers will never need to construct an entire DataSet from scratch, adding tables and creating the schema manually.
By working through this chapter, you will gain a much deeper understanding of how the DataSet and its component objects work. With this information, you will be able to more effectively debug ADO.NET programming problems.