Just a year ago, Bluetooth devices were a rare species. It was difficult to find Bluetooth add-ons, not to mention Bluetooth-enabled devices. Today, you can find Bluetooth adapters of all shapes and sizes, and with different kinds of interfaces for the various devices. Bluetooth adapters come in the following types of interfaces:



USB

Suitable for desktops and notebooks that have a USB port




Compact Flash (CF)

For use with handheld devices equipped with a CF slot, especially Pocket PCs




PCMCIA

Suitable for notebooks with PCMCIA slots




Secure Digital (SD)

For use with handheld devices equipped with SD slots, such as Pocket PCs and Palm devices
The following sections show some of the Bluetooth devices available in the market today.
6.2.1 USB Adapters and Dongles
The easiest way to add Bluetooth capability to your system is to insert a USB Bluetooth adapter into your USB port. Today, USB Bluetooth adapters come in all shapes and sizes. For as little as $40 you can a get Class 2/3 Bluetooth adapter. For slightly more, you can get a Class 1 adapter that extends the effective communication radius. Figure 6-4 shows the Billionton USB Bluetooth adapter connected to my notebook computer.
Figure 6-4. The Billionton USB Bluetooth adapter connected to my notebook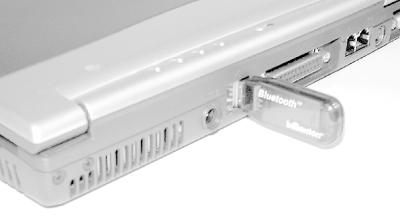 6.2.2 Compact Flash
For Personal Digital Assistants (PDAs), a popular format is CF. Many PDAs contain a CF slot for expansion purposes. You can also use the CF Bluetooth cards together with a PCMCIA sleeve and connect it to your notebook computer. CF Bluetooth cards have the advantage of low power consumption, which is useful for battery-powered devices such as PDAs. Figure 6-5 shows the Socket CF Bluetooth adapter.
Figure 6-5. Compact Flash Bluetooth Card from Socket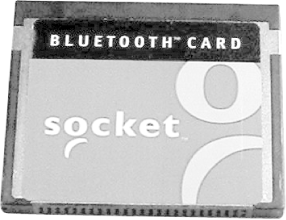 6.2.3 PC Card
Notebook users generally have two choices for Bluetooth capability: a USB Bluetooth adapter or a PCMCIA Bluetooth card. You can also reuse the PCMCIA Bluetooth card on your PDA, if it includes a PCMCIA slot (normally achieved by adding an expansion jacket to the PDA). Figure 6-6 shows the Belkin Bluetooth PC card.
Figure 6-6. A PCMCIA Bluetooth card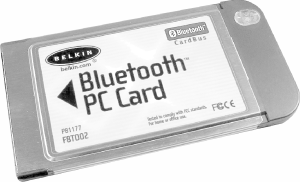 6.2.4 Secure Digital
Toshiba seems to be the only vendor producing the Bluetooth SD (Secure Digital) card (the one used by Palm devices are manufactured by Toshiba). Figure 6-7 shows the Toshiba Bluetooth SD card.
Figure 6-7. Bluetooth SD card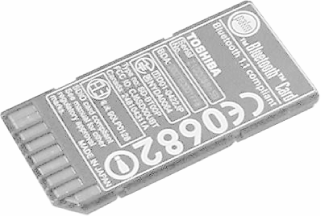 6.2.5 Bluetooth Access Points
Besides 802.11 wireless access points, Bluetooth access points are also becoming common. Figure 6-8 shows the Bluetake BT300 Bluetooth Access Point (AP), which is Bluetooth 1.1 compliant and supports an operating range of 100 meters (300 feet). The AP comes with two interfaces: RS232 (standard PC serial adapter) and a 10/100 Base-T Ethernet port. It supports the Bluetooth LAN Access profile (more on this later), operates at a maximum data rate of 1 Mbps, and supports up to seven simultaneous users. I look at how to use a Bluetooth access point for network access later, in Section 6.6.1.
Figure 6-8. The Bluetake BT300 Bluetooth Access Point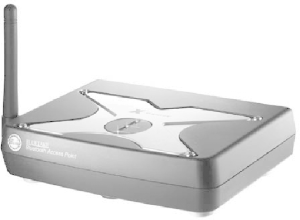 6.2.6 Personal Digital Assistants
One of the earliest PDAs to support Bluetooth is HP's (formerly Compaq) iPaq series of Pocket PCs. Starting from the iPaq 3800 series, HP has been building Pocket PCs with the Bluetooth capability built in. Palm has since also built devices that come with the Bluetooth capability built in. The Palm Tungsten T is one such model. Figure 6-9 shows the Palm Tungsten T.
Figure 6-9. The Palm Tungsten T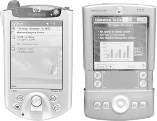 6.2.7 Cell Phones
Sony Ericsson has been taking the lead in launching Bluetooth-capable mobile phones, which is not surprising since Bluetooth was invented by Ericsson. Starting from the Ericsson T68 to the latest P800, Bluetooth-equipped mobile phones allow you to wirelessly synchronize your calendar and contact database with your Windows XP PC and other devices. Figure 6-10 shows the Sony Ericsson T68i and P800.
Figure 6-10. The Sony Ericsson T68i and the Sony Ericsson P800 (shown with the kind permission of Sony Ericsson; copyright Sony Ericsson 2003)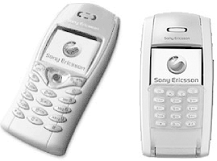 Ericsson and Sony Ericsson
The original T68 was marketed under the Ericsson brand. It was then that Ericsson and Sony started a joint venture in mobile phone development. Subsequent phones were marketed under the Sony Ericsson label. The Sony Ericsson T68i was an improved version of the T68. In some places, you can convert your T68 to T68i via a firmware upgrade.