Forms Server 2007 is available in Microsoft Office SharePoint Server 2007 as a feature and needs to be made accessible to your various site collections. You must have at least one Shared Services Provider (SSP) configured and associated with the Web application to which you intend to publish InfoPath forms.
| | | |
| --- | --- | --- |
| | Note | You can check the association of an SSP to a Web application by going to Central Administration, Application Management and, in the Office SharePoint Server Shared Services section, selecting Manage This Farm's Shared Services. |
To ensure that forms services will work properly in a given site collection, you need to enable the Office SharePoint Server Enterprise feature. To do this, complete the following steps:
| | | |
| --- | --- | --- |
| | Note | To use the Forms Server with InfoPath browser-enabled forms, you need to create your site collection at the root (/) of your Web application, not under "/sites." |
Navigate to your site, and select Site Settings from the Site Actions drop-down menu.

In the Site Collection Administration column, select the Site Collection Features link to open the Site Collection Features page.

Locate and activate the Office SharePoint Server Enterprise Site Collection Features, as shown in Figure 21-2.

| | | |
| --- | --- | --- |
| | Important | Office Forms Server 2007 requires a premium client license. If you haven't already activated Premium features, go to the Operations tab in Central Administration. In the Upgrade And Migration section, select the Enable Premium Features link. |

After you activate this feature, return to the Office SharePoint Server Central Administration site and click the Application Management tab.

In the InfoPath Forms Services section, select Configure InfoPath Forms Services to open the page shown in Figure 21-3.

On this page, you have several configuration options:

If you clear the Allow Users To Browser-Enable Form Templates check box, the following message is displayed whenever a user attempts to publish an InfoPath 2007 form to a form library:

Selecting the Render Form Templates That Are Browser-Enabled By Users check box prohibits the form from actually appearing even if the Allow Users To Browser-Enable Form Templates" check box is selected.

The Allow Cross-Domain Data Access For User Form Templates option addresses data access. However, when working with InfoPath Forms that might also contain ActiveX controls, keep in mind that Internet Explorer has zone security configurations. For example, Internet Explorer treats URL prefix changes, such as changing HTTP to HTTPS, as domain changes.

Refer to Table 21-2 for a description of other available configuration options.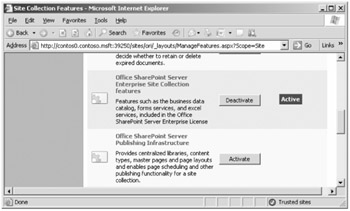 Figure 21-2: A list of site collection features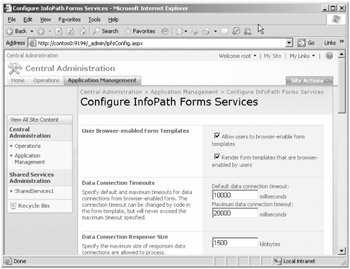 Figure 21-3: Configuring InfoPath Forms Services
Table 21-2:

Additional Configuration Options
Open table as spreadsheet

| Configuration option | Description |
| --- | --- |
| Data Connection Timeouts | Specifies default and maximum timeouts for data connections from a browser-enabled form. The connection timeout can be changed by code in the form template, but it can never exceed the maximum timeout specified. |
| Data Connection Response Size | Specifies the maximum size of responses that data connections are allowed to process. |
| HTTP Data Connections | If data connections in browser-enabled form templates require Basic Authentication or Digest Authentication, a password is sent over the network. Select this box to require an SSL-encrypted connection for these authentication types. |
| Embedded SQL Authentication | Forms that connect to databases can embed a SQL username and password in the connection string. The connection string can be read in clear text in the universal data connection (UDC) file associated with the solution or in the solution manifest. Clear this box to block forms from using embedded SQL credentials. |
| Authentication To Data Sources (User Form Templates) | Data connection files can contain authentication information, such as an explicit username and password or a Microsoft Office Single Sign-On Application ID. Select this box to allow user form templates to use this authentication information. |
| Thresholds | Specify the thresholds at which to end user sessions and log error messages. |
| Form Session State | Form session state stores data necessary to maintain a user session. File attachment data in the form receives an additional 50 percent of session state space. |
The Form Session State option, which is the final option listed in Table 21-2, needs a little more explaining. It has two radio buttons:
Session State Service (best for low-bandwidth users)

Form View (reduces database load on server). If form session state is larger than the specified value, the Session State Service will be used instead.
The Form View choice houses the forms information to be preserved during the roundtrip to the server in a hidden html control. Although it is true that this reduces the load on the back-end database server, the tradeoff is that it will increase the load on the front-end Web server.