You can quickly copy or move files from location to location in the Nautilus window. Moving a file is particularly easy because Nautilus by default opens multiple windows for opened folders, allowing you to drag a file or files to a new location as needed.
Before You Begin
14 About File Commands
15 Use File Commands
46 Use Nautilus to Manage Folders
47 Browse and Open Files
48 Find Files
49 Delete Files

Open Folder Containing File
In the Nautilus window locate the folder that contains the file or files, you want to copy. Then open the folder.

Copy File
Right-click on the file you want to copy and select Copy File.
Tip
To copy multiple files, select the files by using the mouse to draw a frame around the files that you want to select. If you want to select all the files in a particular folder, choose Select All Files from the Nautilus menu. Then select Edit, Copy Files to copy the selected files. You can also use the shortcut key Ctrl+C to copy a file or selected files.

Paste File
Navigate to the folder that you will copy the file into. Select the Edit, Paste Files from the menu.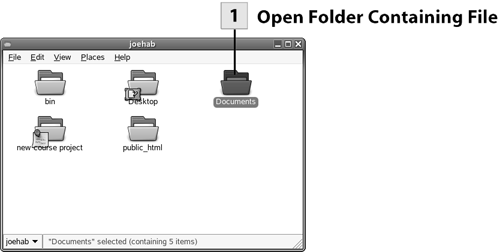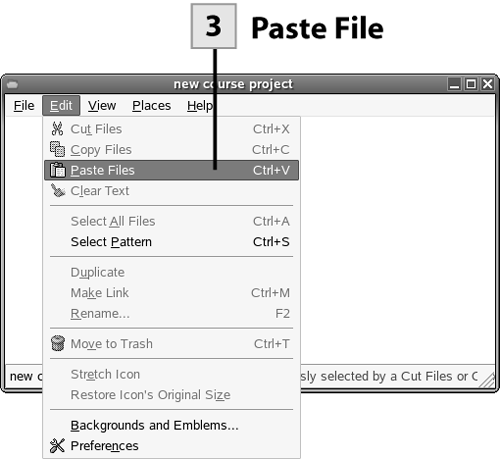 Drag File to New Location
To move a file, open the source folder and the destination folder on the desktop. Drag the file (or selected files) to the destination folder.
Tip
If you don't like dragging files from folder to folder, select Edit, Cut from the menu and then paste the file or files into the destination folder.