The study covered five different leading banks operating in Egypt, including Commercial International Bank (CIB), Misr International Bank (MIB), National Societe Generale Bank (NSGB), Egyptian American Bank (EAB), and Citibank Egypt. The cases highlighted their strengths and weaknesses with respect to retail banking activities and strategies, in order to provide a general understanding of the present environment as well as some insight into the future of retail banking. Table 4 demonstrates the profile of the different banks surveyed.
Table 4:

Bank Profiles

| | CIB | MIB | NSGB | EAB |
| --- | --- | --- | --- | --- |
| Growth in assets | 10.77% | 11.85% | 20.71% | 9.05% |
| Growth in loans | 6.18% | 8.37% | 10.17% | −2.84% |
| Growth in deposits | 11.66% | 11.65% | 21.19% | 8.95% |
| Loans per branch | 156,676 | 339,394 | 313,448 | 117,850 |
| Deposits per branch | 162,502 | 482,839 | 391,617 | 172,689 |
| Market share loans | 6.40% | 3.50% | 2.00% | 1.98% |
| Market share deposits | 5.20% | 4.00% | 1.97% | 2.09% |
| Number of ATMs | 90 | 14 | 19 | 25 |
CIB and MIB were chosen as being the largest private sector banks in terms of assets, deposits, and market share. The EAB was chosen because of its perceived service leadership in the banking sector through a widely diversified range of products and services, including retail banking. The NSGB was chosen as a result of its high retail business growth rates over the last two years, beginning in 1999, as well as for being the first bank to introduce mobile banking services in Egypt. Finally, Citibank Egypt was selected, because it is setting the pace in the market through its innovative products and trends in retail banking; and over the last few years, it has been taking the lead in continuously diversifying and introducing new technology-based services for bank customers.
The sample population was randomly selected with varying demographics and professions. It was small due to the fact that the population capable of responding to the survey instrument, as perceived by the researchers, and that represent active online users of the technology with willingness to receive bank information online, was small. It was easy to identify those groups, because only a few hundred customers met those criteria after searching online bank databases and selected customers' databases with e-mail accounts used corresponding with at least one of the banks. The questionnaire was distributed among 200 bank customers; the valid response rate was 103, including 64 (62.14%) male and 39 (37.86%) female of three age categories: 21–30, 31–40, and 41–50 years old. Table 5 shows the distribution of the respondents. It is obvious that a larger sample would have provided more accurate results and would have led to the development of more concrete findings. However, it is important to note that this research represents the initial phase of more comprehensive coverage of the sector, which should lead to more macro-level findings (Czaja & Blair, 1996).
Table 5:

Overall Subject Demographics

| | 21–30 | 31–40 | 41–50 | Total |
| --- | --- | --- | --- | --- |
| Male | 42 | 14 | 8 | 64 |
| Female | 27 | 7 | 5 | 39 |
| Total | 69 | 21 | 13 | 103 |
In addition to basic demographic data, subjects were asked to name the banks they dealt with. Responses included the names of 19 public- and private-sector banks: 56.29% of the respondents indicated that they were using private-sector banks, and 43.71% reported using public-sector banks. Some of the major issues addressed in the survey included the role played by banks in technology adoption, and general customer perception of the banking-sector services. In that respect, the private-sector banks took the lead in technology introduction and diffusion at the retail banking level.
With respect to the role of banks in technology adoption, 72% of respondents felt that banks provided the necessary support and assistance when using different electronic delivery channels. Moreover, 70% of respondents felt that banks encouraged them to use remote-access technology-based delivery channels instead of visiting bank branches. The relatively high positive values may have been due to recent efforts exerted by many banks in order to direct customers toward using different electronic delivery channels after recognizing the large benefits they could realize, including reducing the load on bank branches, improving the quality and efficiency of the services offered, and introducing additional added-values to various customers.
With respect to general customer perceptions, 47% of respondents ranked trust as the most important feature they look for in technology-based delivery channels and payment systems, followed by 31% for ease of use and 23% for usefulness, as the primary factors that can encourage them to use such systems. These results seemed logical and in compliance with the high level of conservatism and uncertainty avoidance, which are common characteristics of the society in Egypt. In general, those results implied that for most bank customers, it is of highest priority to be convinced that the technology is secure and trustful, and only then may they try to use that technology. If it is easy and simple, they will be able to use it and, accordingly, find out whether it is useful or not.
A statistical analysis has been performed based on the hypotheses testing on the data collected, in order to test the association between different research variables, as shown in Figure 4. The objective was basically to find out whether the results would succeed or fail to reject the null hypotheses, and accordingly, determine the significance of the alternative hypotheses. Following is the assessment and perceptions of survey respondents of the different electronic delivery channels and payment systems.


Figure 4: Technology Acceptance Model and Research Hypotheses
Automated Teller Machines
The results obtained for ATMs, shown in Table 6, indicate that most of the alternative hypotheses were confirmed with different significance levels, except H4 (trust will have a significant effect on perceived usefulness). Accordingly, the relationship between trust and perceived usefulness was not clear in the responses received. The lack of such relationship implies that perceiving ATMs to be secured and trustful delivery channels does not affect the customer perception of its usefulness. Such a conclusion may be valid for ATMs, although at this point, there is no proof whether this will also apply for other systems. However, such indications could set the pace for preliminary expectations with regard to customer acceptance of various electronic retail banking delivery channels. According to the resulting p-values, which are measures of the significance of the alternative hypotheses and the strength of the relationship between any two variables, perceived ease of use has a relatively significant effect on technology acceptance, as well as on perceived usefulness.
Table 6:

Association Coefficients for the Model on ATM (

α

= 0.05)

| Dependent Variable | Independent Variable | R2 | Association Coefficient | Significance of (p-Value) |
| --- | --- | --- | --- | --- |
| TA | PU | 0.07367 | 0.138 | < 0.01 |
| | PEOU | 0.07905 | 0.123 | < 0.005 |
| PU | T | 0.01235 | 0.097 | > 0.1 |
| | PEOU | 0.4585 | 0.642 | < 0.005 |
| PEOU | T | 0.3479 | 0.322 | < 0.005 |
Similarly significant is the effect of trust on perceived ease of use, while the effect of perceived usefulness on technology acceptance was shown to be the least significant. Those results adhere, to a large extent, to the general results highlighted earlier, and they comply with the conclusion previously stated, that trust is the major factor affecting perceived ease of use, which in turn, drives perceived usefulness and eventually technology acceptance. It is also important to note the element of cultural adaptation and local market conditions in Egypt. In that respect, it is useful to mention that until the mid-1980s, retail banking was hardly diffused among the population. Therefore, the gradual increase in the retail banking population from three million to more than 10 million in less than 20 years is a major development. However, it has to be implemented gradually to avoid cultural deterrents and resistance to change.
Credit Cards
The responses addressing the acceptance of credit cards as a payment system have confirmed the alternative hypotheses H2a, H3a, and H5a, while they disconfirmed H1a and H4a, as shown in Table 7.
Table 7:

Association Coefficients for the Model on Credit Cards (

α

= 0.05)

| Dependent Variable | Independent Variable | R2 | Association Coefficient | Significance of (p-Value) |
| --- | --- | --- | --- | --- |
| TA | PU | 0.02723 | 0.190 | > 0.05 |
| | PEOU | 0.18349 | 0.249 | < 0.01 |
| PU | T | 0.39682 | 0.311 | < 0.005 |
| | PEOU | 0.06466 | 0.007 | > 0.1 |
| PEOU | T | 0.26798 | 0.226 | < 0.01 |
The table shows the significant effect of perceived ease of use on technology acceptance as well as the significant role of trust in building such perceived ease of use. However, unlike the case of ATMs, credit cards' results confirmed the relationship between perceived usefulness and trust, but did not confirm the relation between perceived usefulness and technology acceptance of credit cards as a technology-based payment system. The results obtained for credit cards imply that trust is a major factor in the usage of electronic payment systems, and its indirect effect through perceived usefulness and perceived ease of use is the most significant determinant of the acceptance level. Such results were expected for credit cards, which, for many bank customers, may involve a relatively non-affordable level of risk compared to a technology like ATMs.
Phone Banking
The results obtained for phone banking were consistent with all five hypothesized relationships between the research variables. The significance of each of those relationships is shown in Table 8.
Table 8:

Association Coefficients for the Model on Phone Banking (

α

= 0.05)

| Dependent Variable | Independent Variable | R2 | Association Coefficient | Significance of (p-Value) |
| --- | --- | --- | --- | --- |
| TA | PU | 0.21489 | 0.561 | < 0.005 |
| | PEOU | 0.14849 | 0.558 | < 0.005 |
| PU | T | 0.23272 | 0.371 | < 0.005 |
| | PEOU | 0.66378 | 0.870 | < 0.005 |
| PEOU | T | 0.17264 | 0.138 | < 0.01 |
The results indicate that the majority of the responses confirmed that technology acceptance is directly related to perceived usefulness and perceived ease of use, and is indirectly affected by the element of trust in technology. The significant relationships indicated from the above diagram imply that phone banking is considered of high potential, as it allows customers to access their accounts in a fast and easy way through the phone and does not involve the effort of moving from one place to another, as is the case with ATMs. However, if we go further in comparing phone banking with ATMs, it is important to mention that phone banking lacks an important feature—cash access.
Internet Banking
Similar to phone banking, the results obtained for the acceptance of Internet banking were consistent with the hypothesized relationships. However, the significance levels (p-values) of all relationships were relatively low compared to those obtained for phone banking. The similarity between the results of Internet and phone banking is attributed to the fact that both technologies provide bank customers with the same range of banking services, namely, balance inquiry, transfers between accounts, and bill payment, without direct access to cash. The low significance of different relationships shown in Table 9 is most likely due to other factors affecting the usage of Internet banking, such as the availability of a PC and an Internet connection and knowing how to use them. This is also affected by the fact that computer literacy in Egypt is only 8% (http://www.mcit.gov.eg). In addition, the perception of the relatively high risk associated with performing financial transactions over the Internet, as well as the low level of awareness of that technology, have played significant roles in forming these results.
Table 9:

Association Coefficients for the Model on Internet Banking (

α

= 0.05)

| Dependent Variable | Independent Variable | R2 | Association Coefficient | Significance of (p-Value) |
| --- | --- | --- | --- | --- |
| TA | PU | 0.16974 | 0.028 | < 0.01 |
| | PEOU | 0.14154 | 0.083 | < 0.01 |
| PU | T | 0.13388 | 0.067 | < 0.01 |
| | PEOU | 0.09032 | 0.068 | < 0.01 |
| PEOU | T | 0.29107 | 0.095 | < 0.01 |
Summary of Results
The analyses of Tables 6 to 9 indicate that the questionnaire responses failed to confirm the alternative research hypotheses in three out of 20 cases, with varying significance levels. This implies that TAM can be considered as a useful tool when used to determine the customer acceptance of electronic banking delivery channels. It is also useful in identifying the related aspects that affect the behavior of different customers with respect to various technologies.
Accordingly, banks can rely to a fairly large extent on the perceptions of their customers regarding any new or existing technology-based service to predict and measure the acceptance levels and the potentials of that service, bearing in mind the effects of other external factors that differ from one technology to the other. With respect to usage patterns of banking technologies, the respondents, as shown in Figure 5, revealed that most of them are using ATMs for cash withdrawals and balance inquiry, while few of them are using it to perform cash or check deposits, and fewer are using it for bill payment. Respectively, such patterns can be attributed to the low level of awareness and lack of trust, which implies that the focus of the banks' efforts should be directed at building such trust and awareness among their customers.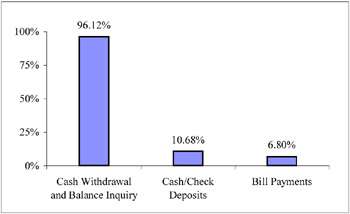 Figure 5: ATM Usage Patterns
The patterns of credit card usage show that most customers are using the cards for cash advance, as if they were bank loans. The usage of credit cards over the Internet is still in a premature stage, with 7.77%, while their usage for other purchase transactions involving human interaction, such as shopping, restaurants, and hotels, is approaching 50%, as shown in Figure 6.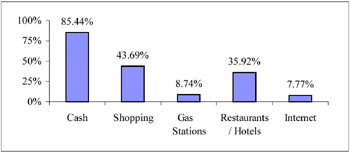 Figure 6: Credit Card Usage Patterns.
Figure 7 includes the patterns of phone banking as a technology-based delivery channel, which shows less than 50% of customers using or willing to use such a channel to inquire about their account balances. Despite the high potential for phone banking, less than 20% of the customers have shown interest in using the phone to perform transfers between their accounts or pay their credit card bills. The fact behind such results is that phone banking is still a recent development and is offered only by two banks in Egypt. However, with some marketing efforts, it is possible to build the necessary awareness and trust among different customers and increase their willingness to use such a channel.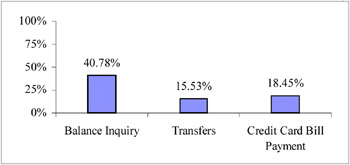 Figure 7: Phone Banking Usage Patterns
The usage of the Internet as a banking delivery channel was shown to be of minimal interest among the respondents (Figure 8). As mentioned earlier, the challenge faced by that channel is lack of awareness as well as the cost associated with the hardware and the Internet connection, which may not be affordable except to a few specific socioeconomic segments. To conclude, it is worth noting that the research succeeded in confirming most of the alternative hypotheses for all banking technologies, and the results clearly highlighted the potentials for each technology as well as the overall perceptions of Egyptian banking customers and their willingness to use electronic delivery channels and payment systems, provided that they are trustful, secure, and easy to use. However, there are extensive efforts that still need to be exerted from banks operating in the retail business in Egypt, especially in the area of building awareness and trust among their customers.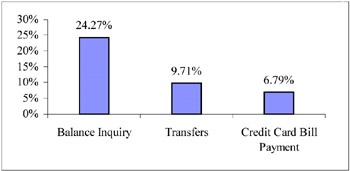 Figure 8: Internet Banking Usage Patterns