Windows XP comes in five editions: the Home Edition for consumers; the Professional Edition for business and power users; the Media Center Edition for Media Center PCs with a focus on home entertainment; the Tablet Edition for Tablet PCs; and a 64-bit version for Intel Itanium processor-based systems, called Windows XP 64-Bit Edition. The Home Edition and the Media Center Edition are a subset of the Professional Edition. In other words, the Home and Media Center Editions contain all the same features contained in the Professional Edition. However, the Professional Edition contains additional features that are geared toward the business world. The Windows XP Tablet PC Edition expands on Windows XP Professional, providing additional capabilities for notebook computers. Each edition allows users to install either an upgrade version for those who already have Windows 98 or later installed on their computers, or a full version for those who have Windows 95 or Windows NT 3.51 or earlier, or no operating system installed on their computers.
Windows XP Professional features not found in the Home Edition
Slightly different user interface
Windows XP Professional comes with a few user interface default settings that are different from those in Windows XP Home.
Accesses a remote desktop
You can access a Windows XP Professional remote desktop from any operating system that supports a Terminal Services client, such as Windows 98 or Me, and Windows XP Home.
Connects to large networks
Most larger networks (typically more than five computers) are domain-based. Windows XP Professional allows you to access, join, and be managed by a Windows domain-based network (typically maintained by a system administrator), while Windows XP Home only allows you to access resources in a domain.
Provides Backup and system recovery
With the Backup utility program, you can back up files to a disk or tape and create an Automated System Recovery disk to help you recover a system from a serious error, such as a system crash.
Protects sensitive data
You can use the Encrypting File System (EFS) to protect your important data against theft or hackers. If you encrypt a file with EFS, only you can open the file and work with it. This is especially useful on your laptop because if it is lost or stolen no one else can access the files on your hard drive.
Supports more than one microprocessor
Windows XP Professional supports up to two microprocessors, while Windows XP Home supports only one. This allows you to perform simultaneous tasks , such as printing large documents and calculating large amounts of numbers , more quickly.
Supports multiple languages
You can create, read, and edit documents in many languages with the English version of Windows XP Professional. With the Multilingual User Interface Pack, an add-on pack, you can change the user interface language for each user.
Supports Internet Information Services
You can set up a personal web server using the Internet Information Services web server software to publish web pages.
Provides dynamic disk management
If you have more than one hard drive, you can set them up as a single drive.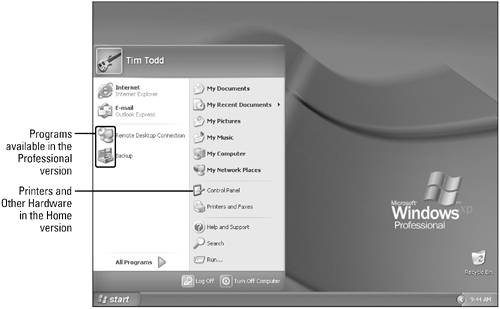 User Interface Differences
| User Interface Item | Windows XP Home | Windows XP Professional |
| --- | --- | --- |
| Start menu | Printers and Other Hardware (not available unless enabled) | Printers and Faxes; My Recent Documents |
| Fax functionality | Not available unless you install it | Available |
| Guest account | Activated | Deactivated |
| Check box option on Screen Saver tab in the Display Properties dialog box | On resume, display Welcome screen | On resume, password protect |