You can group the sets of line styles and arrow styles into style lists . Many program attributes, including lines, colors, and gradients, are stored in these groups, and only one is displayed in the workspace and in the Line window at a time (Figure 30-4). This is convenient if you have several different styles of attributes for different projects and want to keep them separate, so that you don't need to scroll through a long list, looking for the one you need.
Figure 30-4. Style list management icons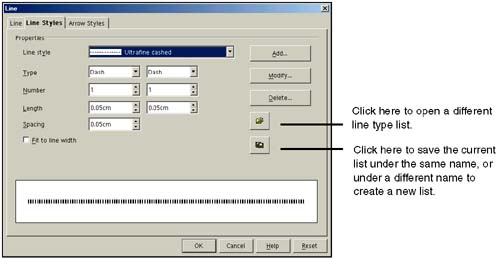 Line and arrow lists are stored in the config folder with the file extension . sod and . soe , respectively.
Selecting a Different List
In the Styles tab, click the Load Styles icon and select the .sod or .soe file you want.

Saving Changes to a List
If you've added or modified a style, click the Save Styles icon to save it in the current list.