Hack 114. Fix SP2 Upgrade Woes


The Windows XP Service Pack 2 (SP2) is a boon for those looking for better security and wireless access. But it can also block automatic updates, kill applications, and worse. Here's what you can do to solve these problems.
SP2 is a must-have, if only for its new security features. But it's far from perfect. It's caused all kinds of problems on many people's systems, and yours might be one of them. You might find out you can't use the Microsoft Automatic Updates site, the Windows Firewall won't let some of your applications run, and your firewall or antivirus software doesn't appear to work after you install SP2. In this hack, you'll learn what you can do to fix those problems, and as a last resort, if you can't fix them, how to uninstall SP2.
12.8.1. Solve Windows Update Problems
One excellent way to keep Windows up-to-date is to visit the Windows Update site (http://v5.windowsupdate.microsoft.com). But some people have found that when they visit Windows Update after installing SP2, or click a link on the page, they get the error message: HTTP Error 500 - Internal Server Error, Error 0x8ddd0010. As always with the Web, the page doesn't offer help about what went wrong or how to fix it.
If the page does load, you might run into another problem: when you click the "View installation history" link, or when you click the Details link, you get only a blank page. You might also be told that a pop up has been blocked.
The problem is that Internet Explorer's pop-up blocker, installed by SP2, is blocking pop ups that you need to use the site. To fix the problem, you need to tell SP2 to allow pop ups from the Microsoft Update site.
To do this in Internet Explorer, choose Tools
Pop-up Blocker
Pop-up Blocker Settings. In the box next to "Address of web site to allow," type http://v5.windowsupdate.microsoft.com, and click Add, as shown in Figure 12-10.
Figure 12-10. Telling Internet Explorer to allow pop ups from Windows Update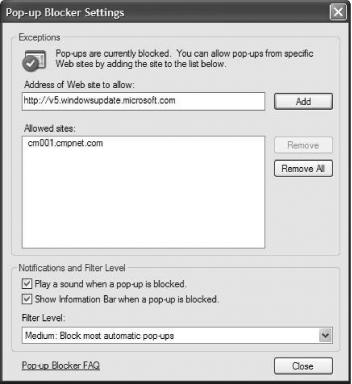 Click Close. From now on, pop ups won't be blocked at the site, so it should work. If blocking pop ups cause problems at other sites, repeat these steps, and type in the appropriate URLs.
| | |
| --- | --- |
| | For more information on using SP2's pop-up blocker, see [Hack #33] . |
12.8.2. Fix Problems with the Windows Firewall
Perhaps the biggest security addition in SP2 is that the Windows Firewall [Hack #77] (formerly called the Internet Connection Firewall, or ICF) is turned on. The firewall provides basic security, although it's not nearly as effective as other firewalls, such as ZoneAlarm [Hack #78] .
But the Windows Firewall can cause a number of problems with your system. Here's what you need to do to fix them.
12.8.2.1 Can't configure the firewall
XP gives you control over how you use the Windows Firewallfor example, by allowing certain programs and services through, and even just by turning it on and off.
You configure it by clicking the Security Center icon in the system tray and then, when the Security Center appears, clicking the Windows Firewall icon at the bottom of the screen. The Windows Firewall dialog box appears, as shown in Figure 12-11.
Figure 12-11. The Windows Firewall dialog box, where you configure the firewall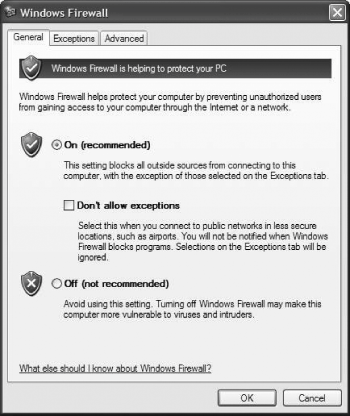 | | |
| --- | --- |
| | If there is no Security Center icon in your system tray, you can get to the Security Center by choosing Security Center from the Control panel, and then clicking the Windows Firewall icon at the bottom of the screen. |
But you might find when you click one of the tabs that some or all of the options are grayed-out, so you can't configure it. What gives?
The problem is that you're not logged on using an administrator account. Log off, then log back on with an administrator account, and you'll be set.
12.8.2.2 Windows Firewall blocks programs or services
You've just installed SP2, and you're ready to chat with a friend, telling about your experiences. So, you fire up AOL Instant Messenger, but no one can send you messages. What's wrong?
Actually, nothing is wrong. The Windows Firewall is doing its job. It blocks incoming connections that you haven't initiated, so it's blocking AOL Instant Messenger messages from getting through.
To solve the problem, you need to add AOL Instant Messenger as an exception; in essence, you tell the firewall to let it through. Other programs might require that you open certain ports in the Windows Firewall. For details on how to allow exceptions and open ports, see [Hack 80] and [Hack #81] .
The Windows Firewall has been known to cause problems with dozens of programs and games, in particular because of port blocking. It's not always obvious what ports you need to open to allow these applications to work. Microsoft maintains a long list of programs known to have problems with the Windows Firewall, and includes information about what ports need to be opened for them to work. For details, see http://support.microsoft.com/default.aspx?kbid=842242.
12.8.3. Fix Antivirus Alert Problems
For many people, the most annoying thing about SP2 is its apparent incompatibility with Norton Anti-Virus and other antivirus software and firewalls. Even though you have Norton Anti-Virus turned on, whenever you start your computer SP2's Security Center flashes a warning at you, telling you your computer is at risk because you're not running antivirus software. You might think Norton Anti-Virus no longer works.
In fact, it does work; the problem is that SP2 doesn't recognize it's there. Luckily, the fix is simple: run Norton Anti-Virus's Live Update, and it will download and install a patch that lets SP2 recognize Anti-Virus is running, so you won't get the warning anymore. To run Live Update in Norton Anti-Virus, double-click the Anti-Virus icon in the system tray, then click Live Update and follow the directions for updating.
If you're using other antivirus or firewall software, check the manufacturer's web site to see if patches are available to fix the problem. If none is available, you can tell the SP2 Security Center to stop flashing alerts at you. From the Control Panel, choose Security Center. Click "Change the way Security Center alerts me" in the Resources section on the lefthand part of the screen. Clear the checkboxes in the Alert Settings dialog marked Firewall and Virus Protection, as shown in Figure 12-12.
Figure 12-12. Turning off security alerts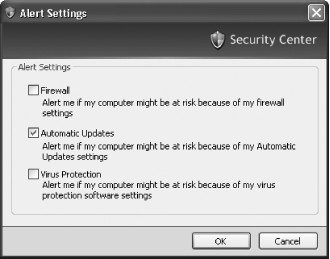 Click OK. SP2 will stop hounding you from now on.
12.8.4. Uninstall SP2
As a last resort, you can always uninstall SP2. You can do this just like you would any other piece of software using the Add or Remove Programs tool in the Control Panel. From the Control Panel, choose Add or Remove Programs. Scroll down until you see the Windows XP Service Pack 2 entry. Highlight it, as shown in Figure 12-13. Click Remove, and it will be removed from your system.
Figure 12-13. The quick and easy way to remove SP2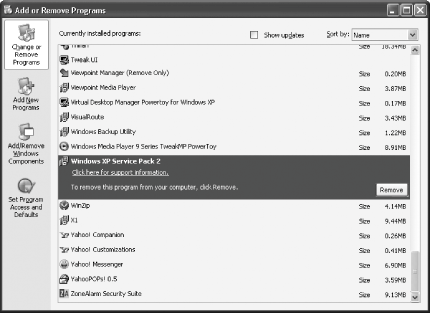 However, there's a chance SP2 won't show up on the Add or Remove Programs screen. Don't fretyou can still uninstall it. Microsoft includes a hidden wizard you can use to get rid of SP2. From the command line or Run box, type c:\windows\$NtServicePackUninstall$\spuninst\spuninst.exe and press Enter. The Windows XP Service Pack 2 Removal Wizard will start. Click Next and follow the on-screen instructions for removing SP2.
| | |
| --- | --- |
| | If you created a restore point before installing SP2, you can roll back your system to a pre-SP2 state using System Restore. But there's a very serious "gotcha" here. If you've installed any software after you installed SP2, or made any system changes, you'll end up uninstalling that software and undoing those system changes as well. And restore points don't last long; they might stay on your system for as little as a few weeks. So, this option might not be available to you. It's a much better idea to uninstall SP2 in the ways described in this hack. |
12.8.5. See Also
For any problems you're having with SP2, head to Microsoft's SP2 support site at http://support.microsoft.com/windowsxpsp2.

A variety of programs have conflicts with SP2. For details, and advice on how to solve them, go to http://support.microsoft.com/kb/884130.

SP2 uses more memory and hard-disk space than previous versions of XP. If you want to slim down SP2, or any version of XP, for that matter, try out XPlite (http://www.litepc.com/xplite.html). It will let you remove up to 120 separate XP components, and so lets you slim down the operating system considerably. Even after you remove the components, you'll have the option of reinstalling. It's shareware; registration fee is $40.

[Hack #33]

[Hack #77]

[Hack #78]

[Hack #80]

[Hack #81]