Several image adjustments can be run on your image that can cause more problems than they solve. Others (like Variations) are far less efficient than more professional alternatives. You are welcome to explore these commands, but professional users infrequently use them.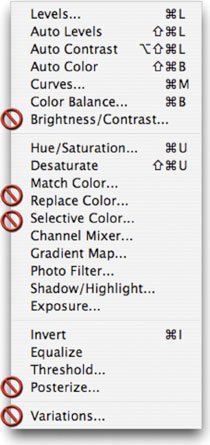 Note: Problem Adjustments
These adjustments may introduce new problems in your image:
Brightness/Contrast

Replace Color

Selective Color

Posterize
Brightness/Contrast
The Brightness/Contrast command is an inferior substitute to Levels and Curves. The Brightness/Contrast command affects the overall lightness or darkness. The problem with the adjustment is that it goes too far. It is impossible to adjust the Shadows without over-affecting the Highlights. The usual problems with an image are in the midtones, which are better handled by a Levels or Curves adjustment. A Brightness/Contrast adjustment will often leave your image washed out. Nothing good comes from this command, so it's best to avoid it.
The image on the left has overblown areas. When the Brightness is adjusted so the highlights are properly exposed, the shadows and midtones are too dark.

PHOTO BY JAMES BALL
Replace Color
The Replace Color command creates a mask that is used to select specific colors in an image. Once a selection is made, the colors can be manipulated via an adjustment to the hue, saturation, and lightness of the selected areas. While this command works reasonably well, you'll see better results when you use the Select > Color Range command, and then add a Hue/Saturation adjustment layer.
While the Replace Color command works relatively well, it's hard to make changes or refine the selection. It's better to use the Color Range command and a Hue/Saturation adjustment layer.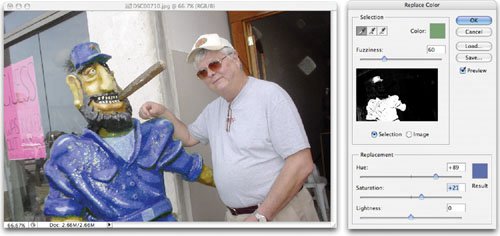 PHOTO BY JAMES BALL
Selective Color
The Selective Color command is similar to the Color Balance command. However, it is not as easy to use, nor does it produce professional results that a Levels or Curves adjustment would. A better option is to use the Color Range command and add a Levels or Curves adjustment layer.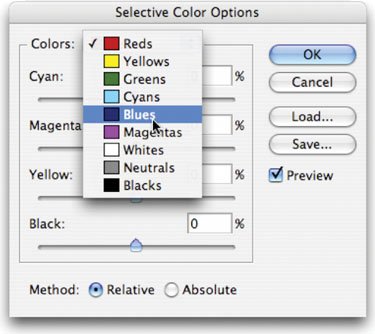 Posterize
The Posterize command reduces the number of colors used in the image. This leads to a reduced color palette and creates banding in the image. While it can be used as a special effect, lowering image quality is not desirable. Be sure to use this as an adjustment layer if you just want to experiment.

PHOTO BY JAMES BALL
Variations
The Variations command allows you to adjust the color balance, contrast, and saturation of a photo. This is done by selecting from a variety of thumbnails of alternatives. This command only works if the image is basically close to "right" and you want to experiment with subtle variations. It only works on 8-bit images, and it is a destructive adjustment that can't be modified. This command feels like a visit to the optometrist, and just takes way too long to generate average results. There's really no need to waste your time with it.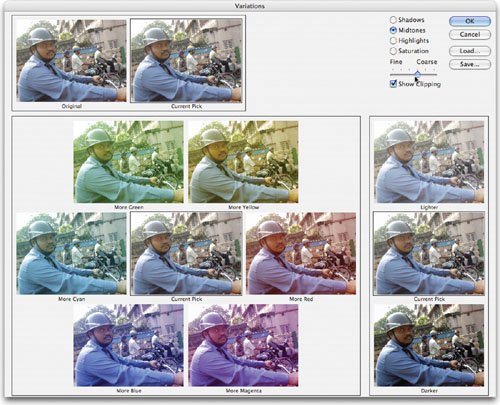 PHOTO BY JAMES BAL
Profile: George Reis, Forensic Digital Imaging Consultant

When evidence is less than perfect, law enforcement agencies often turn to digital imaging tools to enhance the image. You may be thinking it must look a lot like CSIbut more often it's tools like Photoshop that help get the job done.

"Photoshop is used as an analysis tool for extracting information in images, which includes eliminating a distracting background from a fingerprint or piece of handwriting, enhancing a license plate from a security video camera, or measuring the height of a robbery suspect," said Reis. "Photoshop is also used to prepare comparison charts to show similarities or differences between two or more individuals, fingerprints, and samples of writing."

Photoshop's powerful correction tools can help expose vital evidence. Several features, such as Smart Sharpen, the Shadow/Highlight command, and lens correction, can bring an image into clarity. Additionally, image analysis tools like the Measure tool, Eyedropper tool, and Info palette can provide important details about an image.

"I'm simply amazed at the information that an image can contain. I first look at the image and don't expect much to be there, but then use the Channel Mixer or run a filter or two and see something that couldn't originally be seen," said Reis. "I'm amazed at how bad the security systems are; the digital systems have added severe compression to the mix, providing worse images instead of better ones. This is one area where technology caused the industry to move backward rather than forward."

Fortunately, digital tools can help counteract digital problems. "In law enforcement, in general, [digital tools] have reduced costs and improved turn-around time for photos, fingerprint images," said Reis. "They have also added capabilities in the ability to share images electronically."

The field of forensic photography and image analysis varies greatly from city to city. As such, the skills needed also vary.

"Large agencies like LAPD or NYPD will have forensic photographers who only do field photography [and] digital photo lab work," said Reis. "Other agencies will hire civilian employees to do crime scene investigation with photography as part of their duty. Some agencies have a person assigned just to do forensic video analysis. And some agencies use police officers in many of these positions. A degree in forensic science, criminal justice, or a physical science would be a good background, plus developing an eye for detail."

For those students interested in finding out more about law enforcement, Reis strongly recommends joining a Police Explorer post (a program for high school and college students). A student could also do volunteer work or seek a job as a cadet at a police agency.

To learn more about

George Reis, visit

www.imagingforensics.com.