Simplicity and Symmetry
Tetris , as has been discussed, is a very simple game. A big part of its success is due to its simplicity and that it is so easy to learn while being so relentlessly challenging. Players do not need to learn any special moves in order to play the game. There are a very small number of keys used by the game, and those keys produce very obvious results on the screen. It is interesting to look at the pieces used in Tetris . They are all composed of four squares, and, in fact, the seven different types of pieces used in the game represent every possible combination of four squares, where each square must share a side with another square in its group . Since players can rotate the pieces to whatever orientation they want, there are only seven truly unique combinations of squares possible.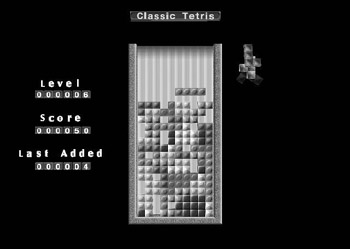 All of the pieces in Tetris are composed of four squares, each of which shares at least one side with another square. This gives the game an inherent consistency and balance.
It has been reported that Pajitnov, in creating Tetris , originally considered using pieces consisting of five squares combined into twelve unique pieces. Indeed, the pentomino game from which Pajitnov drew his inspiration used twelve five-square pieces. Pajitnov soon realized that this was too many different pieces to have to manipulate in Tetris s high-pressure setting, where players have a limited amount of time to find a perfect fit for a given piece. Certainly a game using five-square pieces could have been challenging in its own way, and perhaps a slower falling speed and larger play-field could have compensated for the added complexity of the larger pieces. But would it have been Tetris ? No. Would it have been as fun and addictive as Tetris ? Probably not. At some point a complexity level begins to stifle the core nature of a game and confuses players instead of challenging them. Using five instead of four squares ruined the simplicity Pajitnov was striving for, and as a result he reduced the number of squares a piece could have. Similarly, if he had used only three squares, the game would have been too simple. It would appear Tetris expertly follows the adage that everything should be as simple as possible but no simpler.
There are actually thirteen unique combinations of five squares possible, where each square shares a side with another square. So it would appear that the original pentomino game, with its twelve blocks, did not use a complete set of pieces. I have never tried pentomino, so I have no idea how much fun that puzzle may be. Part of what makes Tetris so elegant is the completeness of its pieces. Every possible permutation of four squares with squares sharing sides is used in the game. Remove any one of the pieces from Tetris and the game s balance would suffer. When playing, players will find themselves presented with situations that cry out for certain pieces. Certain arrangements of the blocks on the bottom of the screen leave holes that can only be perfectly filled by a specific Tetris piece. Part of what lends Tetris its balance is the fact that Pajitnov was wise enough to include each piece possible, thus providing a piece for every type of gap. The natural completeness and symmetry of the pieces available to players in Tetris is a crucial component of its balance.