Authors: Robb D
Published year: 2003


Pages: 105-107/197
---
Assessing the Reliability, Availability, and Manageability of the Data Center
The typical data center has evolved into a complex multiplatform hybrid that has become difficult to manage and costly to run. Successive generations of technology are layered one on top of the other, cobbled together in a desperate attempt to cope with current demands. Most run some version of Windows and several UNIX variants side by side (Exhibit 2). This hodge-podge of technologies has resulted in greater complexity, thus raising the cost of doing business. Perhaps the most amazing offshoot of the steady advancement in technology, though, is the sheer number of servers in use. Many organizations are operating hundreds, and sometimes thousands of small distributed servers, a number that is growing by 10 to 20 percent with each passing year. While a distributed server model certainly offers economies of scale in typical business uses, the point comes when an abundance of servers adds an administrative burden . Organizations, therefore, must find the correct balance between economies of scale offered by distributed servers and management advantages afforded by a more centralized infrastructure.
Exhibit 2: Operating Systems Run on Respondents' Servers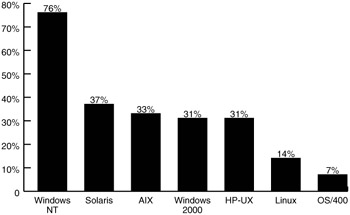 ---
---
Data Center Cost Analysis
Although well-worn clichs abound on the subject of the Internet and E-commerce, it is nevertheless true that the advent of the Internet has brought about a massive shift in the way business is conducted . Whereas the old way involved isolated information silos , each one operating independently, the new paradigm depends upon instantaneous information access and sharing. As a result, many legacy platforms have been exposed as no longer being adequate to meet the needs of the modern enterprise. Today's systems must be able to cope with Web-based technologies and applications and must be attuned to the demands of large numbers of customers and/or internal users; otherwise , the business consequences can be catastrophic. Witness the collapse of some prominent E-tailers after they failed to cope with demand during the 2000 holiday season . Delays due to system slowdowns, therefore, can be disastrous, and, unless an enterprise's systems and applications are geared toward immediate response across the Internet, Intranet, or Extranet, its future is in jeopardy. This is where the latest high-end Wintel servers running Windows 2000 Datacenter Server and Windows Server 2003 come into their own (see Chapters 13 and 15). The Unisys ES7000, for example, has achieved impressive benchmark results running Windows 2000 Datacenter Server.
---
---
Leveraging New Technologies To Streamline Data Center Operations
A year or more ago, it may have been prudent to tone down technology ambitions by placing upgrades and platform migrations on hold, but that logic no longer appears to apply. Many companies are waking up to the fact that savvy competitors have quietly upped their IT investment to achieve greater economies of scale and operational efficiencies. If they do not act quickly, they could shortly fall far behind. Those organizations that have already fallen behind, for example, cannot afford to let the technology chasm widen. They need to spend wisely over the coming months, particularly with regard to consolidation and standardization within their server operating environments. Those utilizing a Windows platform have two basic strategies for server deployment: scaling out and scaling up.
---

Authors: Robb D
Published year: 2003


Pages: 105-107/197