Face Biometrics
Face biometrics are being heavily researched. They offer the promise of high user acceptance. It seems natural to use your face for recognition since that is what we use everyday to recognize people. This biometric's greatest strengths are its noninvasiveness and user acceptance, as shown in Figure 9-2. The greatest weakness comes from the ROI characteristic. What follows is a breakdown of each characteristic for face biometrics.
Figure 9-2. Scores for face biometrics.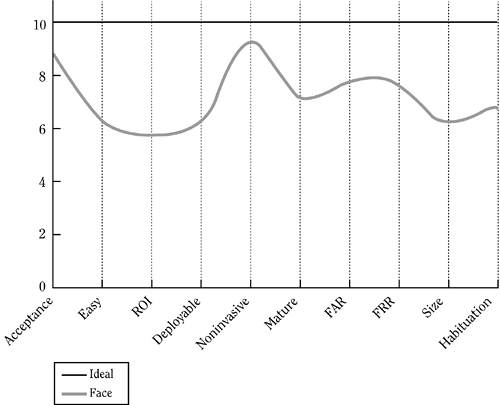 Acceptance: 8.5
Face biometrics are natural to use. The method relies on the user presenting his/her face for recognition. In this way, it is something that users do all the time. It is the face that is used to recognize a person the majority of the time. Using facial recognition has very wide acceptance. What prevents this biometric from having the same score as, or higher than, fingerprint biometrics is the fact that it is passive. That is, a face can be authenticated or identified without the user's consent , which makes some users do feel uncomfortable about the use of face biometrics.
Easy: 6
The ease of use of face biometrics is steadily increasing. As seen in Chapter 6, face biometrics can be very hard to use based on facial expression, lighting, head positioning, and physiological changes like beards and the part-time wearing of glasses . For this reason, it did not score as well in this category.
ROI: 5.5
While it is possible to use off-the-shelf camera technology for facial recognition, a more specialized camera should be used to get the high-quality pictures necessary for reliable use. These specialized cameras are currently not getting the economies of scale required to drive down their cost. In addition, when such a camera is deployed, there is a significant amount of time required to position the camera properly. It also needs to be secured to the work environment in such a way as to get the best field of view of each user's face. Additional lighting or changes to existing lighting may be required.
The above factors add higher costs through the specialized camera, plus the labor to get the camera deployed and functioning. This produces a longer period of time to obtain a good ROI.
Deployable: 6
A face biometric device for network security can be difficult to deploy. Based on the need for positioning the camera to capture the maximum field of view, plus adjusting for possible lighting conditions, it could be a time-consuming process. Once the camera is deployed, it would need to be tested and possibly re-adjusted to achieve maximum field of view. Over time, these restrictions will improve. If high-quality cameras are ever built into computer monitors , deployment will become much easier. The reason for this is that each user will have already adjusted the monitor in such a way that when he/she looks at the monitor, his/her face will be relatively close and normally centered in the viewing area.
The time needed for deployment and the other adjustments that may be needed make this technology more difficult to deploy.
Noninvasive : 9
Since face biometrics are so natural, users find them noninvasive. We are all comfortable with our face being used for recognition. A perfect score was not given since some may feel that face biometrics can be used as a passive tracking system. For this reason, it does not have the 100% acceptance that the ideal biometric would have. One way to increase acceptance to almost 100% is through the use of a privacy-positive biometric policy. This way, users would feel more comfortable with the technology's use.
Mature: 7
The use of facial identification has been around a long time. Any picture drawn or taken of the face provides a ready source for identification. The current trend for face biometrics is more for access control. Since the events of September 11, 2001, the desire for identification using faces has provided an expanding market for face biometrics. Because of this, the majority of the biometric research is being done in this area. As a result, less research is being done for using face biometrics for network access. Therefore, the face biometric area needs additional maturity.
FAR: 7.5
As seen in Chapter 4, there are a number of issues that can affect facial FAR. Face biometrics also have a higher spoofing factor than other biometrics. This leads to increasing the FAR as low as possible, which then has the effect of increasing the FRR. When compared to finger or iris biometrics, the face biometric needs to show more improvement in this area.
FRR: 7.5
With the fact that the FAR for face biometrics needs to be low enough to prevent spoofing, it will increase the FRR. In addition, the need for the user to present his/her face in just the right way will also increase the FRR. For this reason, the score for the FRR is not as high as for other biometrics.
Size : 6
The size of the specialized camera for face biometrics can be larger than a normal desktop video conferencing camera. Quite often, these cameras will have their own additional illumination , which requires them to be larger. For these reasons, the face biometric scored the way it did for this characteristic.
Habituation: 7.5
The use of face biometrics can require the user to be highly habituated. The user may need to present his/her face at the proper angle, with the right neutral expression, and hold relatively still. These requirements can be difficult, and so the time needed to become highly habituated could be fairly long.