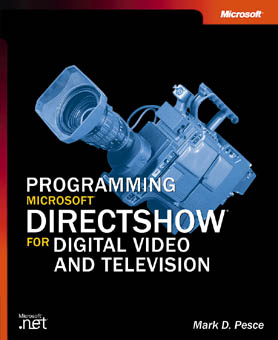 Copyright © 2003 by Microsoft Corporation

PUBLISHED BY
Microsoft Press
A Division of Microsoft Corporation
One Microsoft Way
Redmond, Washington 98052-6399

Copyright © 2003 by Microsoft Corporation

All rights reserved. No part of the contents of this book may be reproduced or transmitted 
in any form or by any means without the written permission of the publisher.

Library of Congress Cataloging-in-Publication Data
Pesce, Mark.
    Programming Microsoft DirectShow for Digital Video and Television / Mark D. Pesce.
        p. cm.
    Includes index.
    ISBN 0-7356-1821-6
    1.  Digital video. 2.  Microsoft DirectShow. 3.  Video recording. 4.  Computer animation.
    I.  Title.
  TK6680.5.P5   2003
  621.388'332--dc21                                                                                   2003042172

Printed and bound in the United States of America.

1 2 3 4 5 6 7 8 9   QWE   8 7 6 5 4 3

Distributed in Canada by H.B. Fenn and Company Ltd.

A CIP catalogue record for this book is available from the British Library.

Microsoft Press books are available through booksellers and distributors worldwide. For further 
information about international editions, contact your local Microsoft Corporation office or 
contact Microsoft Press International directly at fax (425) 936-7329. Visit our Web site at 
www.microsoft.com/mspress. Send comments to: mspinput@microsoft.com.

ActiveMovie, Direct3D, DirectDraw, DirectShow, DirectSound, DirectX, Microsoft, Microsoft Press,
MSDN, Visual Basic, Visual C++, Visual Studio, Windows, Windows Media, and Windows NT are 
either registered trademarks or trademarks of Microsoft Corporation in the United States and/or 
other countries. Other product and company names mentioned herein may be the trademarks of 
their respective owners.

The example companies, organizations, products, domain names, e-mail addresses, logos, people,
places, and events depicted herein are fictitious. No association with any real company, 
organization, product, domain name, e-mail address, logo, person, place, or event is intended 
or should be inferred.

 Acquisitions Editor: Juliana Aldous Atkinson
 Project Editor: Barbara Moreland
 Technical Editor: Dail Magee Jr.

Body Part No. X08-95171
 
 
Acknowledgments
A book is rarely written alone; although a title might have one author, there are a host of midwives who help it into being. First and foremost, thanks go to the Microsoft DirectShow team, who created this technology, and especially to the following members who contributed specifically to this project: Syon Bhattacharya, John Carothers, Alok Chakrabarti, Ben Ellett, Glenn Evans, Dennis Evseev, Stephen Estrop, Dennis Flanagan, Matthijs Gates, David Goll, Jay Kapur, Tuan Le, Danny Miller, Stan Pennington, Michael Savage, Robin Speed, Gary Sullivan, and E-Zu Wu.
Michael Blome and Mike Wasson of the DirectShow Documentation team at Microsoft provided vital input into the design of the book, and their timely and thoughtful review of each chapter helped immeasurably. (They also contributed several of the sample programs discussed in the text.) Jay Loomis on their team provided helpful input on the Microsoft Windows Media chapter, and their manager, Peter Turcan, deserves a tip of the hat as well, for giving them the resources and time they needed to assist me in this project. Ross Cutler from Microsoft Research contributed the filter wizards—many thanks to him for those.
At Microsoft Press, Barbara Moreland and Juliana Aldous Atkinson were patient, tireless, and hard workers who kept me well informed throughout the whole process of making this book happen, and they were responsive to my needs as they developed. Everyone at Microsoft Press did a wonderful job: from the art design, through the editing, and to production, everything went smoothly. The big boss, publisher Don Fowley, deserves a big "thank you" for managing such a great team.
This book required a few media samples. I'd like to thank Brian Tibbetts and Liam Gowing of John Boy 9 for their song, "Foggy Day," which is included on the CD (and used in several of the examples). The "Sunset" movie was shot with the help of the peerless Steven Piasecki. Finally, I'd like to thank Jeff Cain, who put up with my 20-hour days as this book neared deadline.