Hack 6. Create a Digital Storyboard


Using free photo software, a digital camera, paper, and a pencil, you can create a digital storyboard .
Storyboarding is an important step in producing a movie. The process requires you to envision what images you plan on capturing to tell your story and put them to paper. Although it can be a tedious process, the positive effect it has when shooting is huge, because it helps communicate your vision with the people you are working with, including yourself.
1.7.1. Drawing the Story
Even if you are artistically challenged, you can still create a storyboard. To get started, you simply need paper and a pencil. If you have a script, break it out, because you'll need to refer to it quite often.
| | |
| --- | --- |
| | You can also use a computer program to create your images, or even professional storyboarding software. StoryBoard Quick! (http://www.storyboardartist.com; 9.99) offers a library of over 300 people and objects to help you design a storyboard. |
1.7.1.1. Deciding what to draw.
The process of storyboarding requires you to draw out each scene as you intend to capture it. For example, if you have a scene in which two people are talking in a car, you will probably want to start with an image of a car driving down a road. This would be your establishing shot. You would then draw a picture of two people talking, as viewed from the hood of the car, so your shot would capture the people from their shoulders up. Next, you would focus on one person, probably close up so you can see only his face. Figure 1-7 shows a sample, hand-drawn storyboard.
Figure 1-7. Drawing a storyboard by hand

Depending on how ambitious you are, you can use a full sheet of paper for each image, fold the paper in half, fold the paper in quarters , or use index cards. I prefer the simplicity and portability of index cards and a pencil. I also like the fact that I can write notes on the back of the cards.
1.7.1.2. Indicating camera movement.
Quite obviously, drawings don't move. So, in order to demonstrate camera movement, you should draw arrows to indicate when the camera should pan, dolly , or zoom. If you want to indicate a zoom, you can also draw a square around the area you would like to zoom, as shown in Figure 1-8.
Since your storyboard is first and foremost a tool for communication, don't be shy about writing on your drawings. It is better to be clear than to discover there has been a miscommunication in the middle of shooting a scene.
1.7.2. Importing the Drawings
After you have drawn your storyboard, you have completed half of the process. Although you have a completely functional storyboard, going digital will give you a few advantages in the end.
1.7.2.1. Making analog digital.
Your drawings are living in meatspace (the physical world) and not cyberspace (the digital world). To correct that problem, you can either use a scanner to scan all of the images or you can use a digital camera to take a picture of each image. Dr. Michael Johnson, of Pixar Animation Studios, has mentioned that some of the creative team at Pixar use the latter technique.
Figure 1-8. Using squares to indicate zooming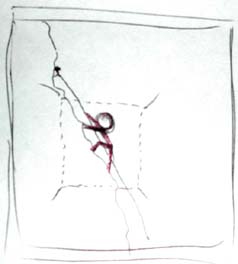 After you have bridged the analog-to-digital divide, you should import the images into your photo collection software of choice. For Macintosh users, this will probably be iPhoto; for Windows users, it will probably be Photo Story; and for Linux users, gPhoto. But, then again, there are numerous choices out there. The important thing is that you can import your drawings and arrange them.
1.7.2.2. Arranging the images
When you have successfully imported your images, you will need to arrange them accordingly . Some software allows you to annotate your images, so the annotation feature can be used to transfer any notes you may have made on specific images. You should look over your storyboard to see if there are any glaring omissions. You can also try moving scenes around, to see how they affect your story.
At this point, you should have a good sense of your movie and how it is going to turn out—and you haven't shot one frame of video yet!
1.7.3. Narrating the Story
Once you have arranged your storyboard, you can play your storyboard as a slideshow. While watching the slideshow, sit back and try to follow the story you are attempting to tell. This is not the time to be criticizing your artistic skill.
| | |
| --- | --- |
| | If your software supports it, you should narrate your storyboard using your script. |
If you are working with other people, you should attempt to read your script along with the slideshow. You should be able to get a good idea of how your movie is going to come out, and where your weak spots are located. If necessary, rewrite portions of the script, and change the storyboard as necessary.
All of this might seem like a lot of work, but it is a lot less work, and a lot less expensive, than discovering problems in the middle of a shoot schedule, or worse …while editing.