1.7. Power
Server components require a tightly controlled and regulated supply of power. The power supply must be adequate to support the electrical load of the server in its standard configuration and support any added or upgraded components.
The server power components are a critical part of server fault prevention and fault tolerance and should be able to (1) predict and avoid failure, (2) allow preventive maintenance before failure, and (3) keep the server running in the event of component failure.
ProLiant servers include power-system designs that provide reliability through fault prevention and fault-tolerant features, including intelligent power supplies and fans, and redundant power supplies and fans. A typical power supply is shown in Figure 1-4.
Figure 1-4. Typical server power supply.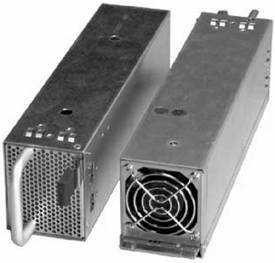 The power subsystem includes power, thermal, and airflow components.
Power components can be classified by whether they are internal or external to the server.
Internal power components include the power supply, the voltage regulator module (VRM) (sometimes called the processor power module , or PPM), fans, and system board thermistors.
External power components include uninterruptible power supply (UPS) and cables, the power-distribution unit, and the redundant A/C power source.