The IT Pyramid
The IT Pyramid
The third side of the hacker and security pyramid is the IT pyramid. IT ( Information Technology ) is a catchall phrase for any occupation that is remotely computer- related . Hackers who want to compute for a living but who don't have the skills or inclination to go into security are still a hot commodity on the job market. A cursory search on Monster.com reveals a smattering of IT job categories. These are just the tip of the iceberg!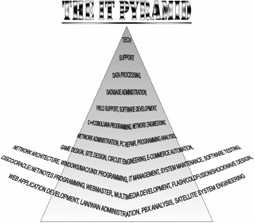 Figure 8.17: The IT pyramid
I won't bore you with a laborious description of these positions except to say they have every bit as much impact on your security and privacy as do hackers and security experts. These days you're as likely to be hacked by a company you already know as by some hacker you never heard of!
Chapter 9:

Media Meltdown
Overview
The Politics of Piracy
From my last book:
During one frantic week of wheeling and dealing in mid-December 1999, America Online entered into two multimillion dollar pacts "with Circuit City and Wal-Mart "one day after Yahoo! entered into a similar pact with Kmart, and Microsoft invested $200 million in Best Buy. A few months later, AOL announced it was acquiring Time Warner. During the previous year, NBC joined forces with Microsoft, Ted Turner rolled CNN into Time Warner, Michael Eisner bought ABC for Mickey Mouse, and Mel Karmazin sold CBS to Sumner Redstone's Viacom. The only remaining question is who will merge with Barry Diller? These media, Internet, and retail titans all formed alliances for a single reason: Fear!
We now know the outcome of that round of merger-mania and fear. Red-stone and Karmazin won't sit in the same room together, AOL Time Warner is $30 billion in debt, Steve Case and Gerald Levin are out of jobs, Michael Eisner is next , and Ted Turner is dumping his AOL stock! In a recent interview, Turner asserted that his personal fortune , once more than $7 billion, has declined 80 percent in value due mainly to the plunge of his AOL Time Warner shares. Turner was the largest single shareholder, with 3.5 percent of all outstanding shares, when AOL began to tank.
The Five-Legged Octopus
Before drawing any hard-and-fast conclusions about the media, it would help to define the media. Prior to convergence and merger-mania, that answer was simple: the traditional media was a five-legged octopus, consisting of
Publishing

Music

Radio

Movies

Television
The Sixth Leg
The advent of the Internet was akin to the octopus growing a sixth leg! It was a new branch of the old media. From the very beginning, the five legs plotted to control and devour the sixth by merging with it, buying it, and throwing money at it. That's what led to the Internet boom "and bust! Before leaping headlong into new media, it would have been prudent of the old media to ask (and answer) what they were buying into. What was the Internet?
The hallmark of the Internet is convergence. Take the telephone, an ancient technology that predated the media business. The lowly telephone was the technological catalyst that drove the Internet explosion! After all, without modems and landlines, there could be no Internet. The Internet has the power to merge old technologies with new ones by morphing them. For years computers and telephones sat next to each other but had no connection. Overnight, the telephone became the link that connected millions of isolated computers. The nerds emerged from their caves into the light. Suddenly technology was chic!