Lesson 1: Clients for Exchange 2000 Server
A MAPI-based Exchange client is a messaging application that communicates with an Exchange 2000 Server through MAPI and the Exchange transport, which in turn relies on remote procedure calls (RPCs) to carry out the communication. This type of client provides access to server-based resources in Exchange's native MAPI format—in contrast to Internet-based clients, which retrieve the information in Internet formats, such as Multiple Internet Mail Extensions (MIME; see Chapter 11, "Internet-Based Client Access"). By this definition, when installed in a workgroup and collaboration environment, Outlook is nothing but a MAPI-based client. Another example is the legacy Exchange Client 5.0, which Exchange 2000 Server also supports.
This lesson introduces Microsoft's MAPI-based client applications (Exchange Client and Outlook) according to their operating system requirements. Although MAPI is part of Windows Open Services Architecture (WOSA) and, therefore, strictly speaking, a Microsoft Windows-based interface, MS-DOS and Macintosh clients are covered as well because they provide similar yet reduced functionality.
---
At the end of this lesson, you will be able to:
Decide which client to use for MS-DOS, Windows, and Macintosh computers.
List the features of Outlook for Windows.
Name the features of Outlook for Macintosh.
Estimated time to complete this lesson: 30 minutes
---
MS-DOS-Based Clients
It is not really shocking that an MS-DOS-based Outlook client does not exist. If your environment still relies on MS-DOS-based computers, you are forced to either use the legacy Exchange Client or choose another solution, such as Microsoft Terminal Services. Exchange Client is not the best possible choice because it provides only the basic messaging features. For example, scheduling or support for electronic forms is not implemented. You can use TCP/IP, Internetwork Packet Exchange/Sequenced Packet Exchange (IPX/SPX), or NetBEUI to communicate with Exchange 2000 Server via RPC.
The Terminal Services approach is a more robust alternative to deploying the legacy Exchange Client because it allows you to provide users with access to Outlook 2000 and its rich functionality. Just deploy Outlook 2000 on the terminal server and have users connect with the Terminal Server client. You can find more information about the installation of Outlook 2000 in terminal-based environments in the Microsoft Office 2000 Resource Kit.
Windows 3. x -Based Clients
Both Exchange Client and Outlook are available for Microsoft Windows 3. x and Microsoft Windows for Workgroups, and both can communicate with Exchange 2000 Server via RPC over IPX/SPX and NetBEUI, and, if the Windows Sockets (Winsock) interface is installed, via TCP/IP as well. However, the Windows 3. x -based clients do not support Outlook forms, Microsoft Visual Basic Script, and the Component Object Model (COM). Remote mail functionality is implemented in a separate component called ShivaRemote. If this functionality is important to your users, consider upgrading the client systems or using Terminal Services instead of deploying the Windows 3. x -based clients.
IMPORTANT

---

Outlook 2000 is not available for Windows 3. x or Windows for Workgroups, so you will have to deploy a previous version of Outlook if you cannot use Terminal Services to provide your users with access to the latest client over the network.
Windows-Based (32-Bit) Clients
Although 32-bit Exchange Clients for Microsoft Windows 95 and Microsoft Windows NT exist, you should not consider deploying them on Windows 95/98, Windows NT, or Microsoft Windows 2000. It is advisable to focus on a deployment of Microsoft Outlook 2000 because no other messaging client provides a comparable set of features for e-mail and information management. Outlook 2000 is easy to use, highly customizable, and remarkably flexible, as discussed in Chapter 8, "Microsoft Outlook 2000 Deployment."
Migration from Exchange Client 4.0/5.0
Microsoft Outlook 97 was designed to completely replace the Exchange Client family. Outlook 2000, representing the third Outlook generation, replaces Exchange Client even better. Upgrading is easy, so if you are still running Exchange Client 4.0 or 5.0, consider a migration to Outlook 2000. After migration, you can continue to use all existing message folders, custom views, electronic forms, and some of the legacy client extensions (see Figure 9.1).
TIP

---

Former users of Exchange Client may find it useful to display the folder list pane permanently in Outlook (using the Folder List option from the View menu), which gives Outlook a similar user interface to Exchange Client.
Outlook can use the same MAPI profile that might already have been created for Exchange Client, which simplifies the migration process significantly. Only the Outlook address book will be added during setup. This happens automatically, so additional profile configuration is not necessary.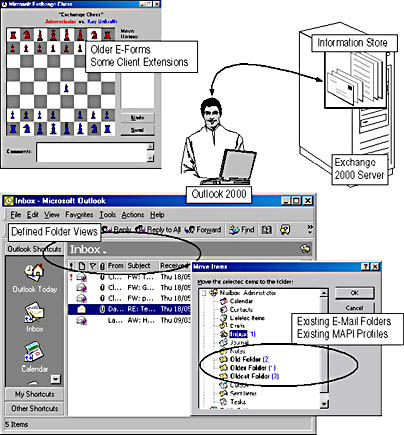 Figure 9.1 Backward-compatible features of Microsoft Outlook
Migration from Schedule+
When migrating from Schedule+ 7. x to Outlook 2000, you need to import the existing Schedule+ information into Outlook explicitly if you want to keep it available. Differences exist in the way Outlook stores the items: Whereas Schedule+ uses a hidden folder on the server-based mailbox and a synchronized local calendar file (.scd), Outlook maintains the information using the Calendar, Contacts, Tasks, Journal, and Notes folders in the user's mailbox. Create a local .scd file in Schedule+ first, then synchronize it, and then use this file to import information into Outlook. You'll have three choices regarding how duplicated entries should be treated. You can ignore duplicate entries, replace existing ones, or create a separate entry for each instance of a duplicate item so that both will exist later within Outlook.
Macintosh-Based Clients
Windows 2000 Server systems are accessible for Apple Macintosh computers provided the Services for Macintosh have been installed. Because Exchange 2000 Server integrates tightly with Windows 2000 Server functionality, it benefits from this connectivity and offers Macintosh clients access to server-based resources. Therefore, Exchange Client, Schedule+, and Outlook for Apple Macintosh computers are available. Both Exchange Client and Outlook can communicate with the Exchange Server using the AppleTalk protocol or TCP/IP, so configure Outlook with whichever protocol is supported on your network.
Outlook for Macintosh
Outlook for Macintosh offers a look and feel similar to the Windows-based Outlook version and includes an Outlook bar and a folder banner. The Outlook bar can be customized, and the folder banner allows you to group message items as you want. Likewise, the arrangement of menu and toolbar options is similar to the Windows-based version. Outlook for Macintosh supports calendar and group scheduling features and can replace the Exchange Client for Macintosh family.
Client Limitations
Not all Windows-based client features are supported on the Macintosh platform. For example, electronic forms can't be launched because MAPI doesn't exist. You can't use any of the MAPI information services, and integrated remote mail functionality is not available. Hence, you'll need to ensure that local area network (LAN) connections exist between the Macintosh clients and Exchange 2000 Server. Furthermore, personal folder stores (.pst files), which are used to keep the messages on the client computer, cannot be interchanged with Windows-based .pst files, and Advanced Security features are limited to the local organization. You can read more about Advanced Security in Chapter 19, "Implementing Advanced Security."