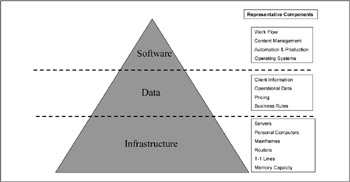 The infrastructure is made up of items like PC servers, mainframes, T-1 lines (an optical fiber phone line), and routers. The cost of the infrastructure is normally a small part of the total pyramid. When infrastructure investments are made in isolation, they are difficult to evaluate because the benefits are normally derived from the data and software layers . These types of investments also have the risk of being evaluated as sunk costs, or costs that should not be associated with other technology investments.
The data block of the pyramid is extremely valuable . It holds all the information about your company and customers. (The value of many companies is based solely on their customer base.) The data block also is the repository for your intellectual capital. This can include business rules, which are an automated version of your processes. The software block is responsible for leveraging the data and infrastructure to use information effectively. Types of software continue to proliferate. Systems are moving from automation of internal processes such as financial systems that perform accounting functions to external processes that link buyers and suppliers together. Software systems have become mission-critical to many businesses. If systems are not running, many businesses cannot operate . IT is now the backbone of the securities business, where trades are executed electronically and manual processes have become the exception, as opposed to business as usual.
Rationale for Information Technology
Many companies have a great deal of difficulty validating the value derived from technology because the benefits of technology are not easily translated into financial terms. The increase in revenues from combining companies is much more visible than the impact of implementing sales force automation software. One of the clearly linked benefits of information technology is revenue enhancement.
Revenue Enhancement
As a company's technology is made available to customers, the use of technology can be directly linked to creating revenue. The purest example of revenue enhancement through the use of technology is e-commerce. Retail sales over the Internet are the fastest -growing retail channel. As consumers have grown accustomed to the conveniences of shopping online, Internet sales have grown dramatically. Another technology application that increases sales is the use of kiosks , where no human intervention is necessary to sell a product. This technology is being used to purchase anything from subway fares to airline tickets.
Competitive Intelligence
IT helps create competitive intelligence through the use of information about internal business processes and customer information. CRM (customer relations management) systems provide a competitive advantage by collecting information about customer behaviors. Retailers use these systems to connect its order information with customer profiles. This gives retailers an advantage over their competition because they get insights into purchasing patterns by customer, demographic profile, and geographic information.
Let's assume that a national furniture retailer discovers through its sales information system that brown leather couches are a hot seller on the East Coast. Armed with this information, the retailer can feature brown couches on its catalog covers and website in that specific geographic market. The retailer will sell more of these couches than competitors who do not have the benefits of this intelligence.
Another way of increasing sales of this product is to create call center processes that pitch brown couches when a customer inputs an East Coast zip code. The retailer can also improve its operations by stocking more brown couches for its East Coast Stores; this increases cash flow by getting the fast-selling products to the stores and keeping the slow-selling furniture off the store floor.
Let's look at an example of competitive intelligence on the other end of the supply chain. How can a company use information to cut its costs of purchasing goods and materials? IT systems can be used to collect buying information that helps firms negotiate better discounts with suppliers. Many large companies that operate numerous locations are often not able to track purchasing on a company-wide basis. Eprocurement systems can connect the purchasing activity in the various sites and pool the consumption patterns. Assume that National Corp. operates ten locations throughout the West Coast. Each location annually spends $200,000 with different vendors for office supplies . Among these vendors is Super Supplier with stores across the country—they presently service one location with revenue from National of $200,000. An e-procurement system can help National understand what is being purchased and by whom. Using e-procurement, National finds that it spends a total of $2,000,000 in office supplies— mostly on commodity items that are not location specific. National can take that information and negotiate volume discounts with an office supply company to provide services to the buyer on a national basis. As a result of having this information, the company can cut its costs on office supplies, National is able to negotiate a 10 percent discount on its purchase—saving the company $200,000. Super Supplier, the successful bidder for the National contract, benefits by increasing its sales from $200,000 to $1,800,000.
Efficiency Improvements
IT can improve cash flow through process automation. Many manual components of processes can be performed through automation that is faster and cheaper than the manual alternative. Many ERP software packages issue checks without any human intervention.
One example of using technology to improve efficiency is the company 1-800-FLOWERS. The strategic use of IT helped transform the company into a multimillion-dollar telephone and Web-based florist with a global reach. The company used to rely heavily on advertising because it could not retain its customers. It had a cumbersome manual order-taking process. Telephone representatives needed to write the order, get credit card approval, find the closest participating florist to the delivery location, choose the floral arrangement, and send the order to the florist. When the company automated the order-taking process, sales started to grow at a higher rate as a result of the improved service. The efficiency of the order-taking staff improved since the manual aspects of the process were eliminated. Consequently, labor costs were limited.
How does IT help reduce costs? One way information technology can cut labor costs is through staff reduction. Let's look at a concrete example of this: Ford Motor Company's implementation of an invoice free processing system that resulted in large reductions in labor costs. Ford needed more than 500 people in its North American accounts payable (A/P) department. A/P staff spent most of their time trying to resolve discrepancies between purchase orders, receiving documents, and invoices. Ford implemented an IT system that used the Web to have vendors enter purchase orders into an online database. Then the purchase orders were verified by the receiving department upon shipment arrival. If the shipment matched the purchase order, the system generated a check to the vendor. This processing system eliminated the need for vendors to send invoices. The technology reduced the head count in accounts payable significantly and improved the accuracy of financial information.
E-procurement systems can cut purchasing costs for goods and services as well by significantly reducing the amount of research required to find the best price for a product. The search engine within the e-procurement system can locate the top supplier for a specific product in a manner of seconds. This eliminates time-consuming searches for product suppliers. These systems also collect buying information that can be used to negotiate better discounts with suppliers. Often large companies that operate numerous locations are not able to track purchasing on a company-wide basis. E-procurement systems connect the purchasing activity in the various sites and pool the consumption patterns. The companies using the systems gain leverage over their suppliers since they can make the case for steeper discounts.
Information technology and business process reengineering (bpr) are close cousins. Most technology initiatives involve changes to the way work is done in a business. Things as simple as using e-mail can mean a drastic change in the way employees communicate internally and externally. The implications are significant. When technology is implemented there will be:
A change in the way employees do their jobs

A period where people will need to learn the technology

A negative impact to productivity
These factors are often ignored in the planning phase of a technological initiative. In many cases these questions have been avoided because the technology was used internally. As a company's technology is pushed out to customers (such as in the self-service example above), the impact can become much greater. This means that many of the risks of BPR initiatives that we will discuss later in this chapter can also be attributed to IT projects.
Risks of IT
There are several risks in implementing IT projects.
Channel Cannibalization
To understand the risk of channel cannibalization we have to go back to our retailer who is selling brown leather couches. What if existing customers decided to buy through the Internet instead of through the stores? The customer may not purchase any more merchandize on-site from the retailer, but will move his purchases to the Internet. Why is this a risk? Any e-commerce initiative may decrease cash flow in the short run because you are supporting two channels to make the same amount of revenue. For example, people may shop on the Internet but buy the products onsite in the stores. You may not be able to cut back on store costs to compensate for lowered sales volume on the channel.
Adoption Rate
Value can only be generated from an IT initiative if it is used. If our hypothetical company National cannot get its employees to buy office supplies on the e-procurement system, then it will not cut its purchasing costs by implementing this technology. Adoption rate is a measure of utilization of a system. It is expressed as the percentage of the total user base that adopts or leverages the use of the technology. The adoption rate needs to be analyzed for risk purposes. The assumption of a 100 percent adoption rate is unrealistic . Many business cases have been built on the inaccurate assumption that full adoption of the system will occur upon installation. For example, benefit projections for e-procurement could assume that all spending occurs through the system the day that it is put into service.
Let's look at a large financial institution that had installed a loan approval system. The system gave employees the ability to analyze loan requests without using any paper. The system would then update and notify other divisions about loan decisions, eliminating the need for phone calls, faxes, and e- mails . With benefits like these, you would think that everyone would like to use the system. Unfortunately, the underwriters, or decision makers on these loans, refused to use the system. The underwriters complained that the system was more difficult to use than old-fashioned pen and paper. They said they had to wade through eight different screens to render an approval on a loan. It actually took longer to approve a loan with the technology than it did manually. The system was simply used as a tracking device. Communication was done the old way. Since the under writers did not use the system, cash flow declined due to increased technology costs with no benefits stream.
Experience with Technology
Risk increases if a firm lacks experience with a specific technology. If business is not familiar with specific hardware, software, or operating systems, it is likely that the SA will experience timing delays and cost overruns and fail to deliver the expected benefits. Companies also lose management control of the implementation as they are at the mercy of outside contractors. Control is even more difficult when the users of the technology are less likely to be corporate employees. This extends the concept of technological experience beyond your organizations to buyers and suppliers. A potential risk of the system implemented by Ford could have been the technological readiness of the vendors to use the Web-based system. In many cases, vendors with leverage over their customers will not adopt these systems because they may see them as a threat.
Obsolescence
Many would say that the risk of technological obsolescence is overhyped. Systems and hardware function for years well beyond their intended life span. The risk of obsolescence is related to a system's ability to integrate with other systems. As systems age, their ability to support interfaces with newer technology greatly diminishes. It becomes more timely and expensive to connect systems together and retrieve information from them.
Summary: Information Technology as a Strategic Alternative
IT is emerging as a critical means of putting strategy into action. IT distributes processes and analyzes information. Information technology can be divided into three components: software, data, and infrastructure. Infrastructure supports the technology architecture and consists of hardware, memory, and communications equipment. Data is the actual information that includes everything from client contact information to the procedures by which a business is run. Software links the infrastructure and the data together to use information. IT can improve cash flow and consequently value through enhancing revenue (making Internet sales), gaining competitive intelligence (capturing customer information), and improving operational efficiency (automating manual processes). The risks of IT include lack of adoption, inexperience with technology, and obsolescence. The majority of IT initiatives have an impact on how work is done and require changes to business processes. Hence, IT projects also have the same risks as business process reengineering, which we will discuss next .