rhyme and reason
If you look at page 76 again you will find the memory exercise where you were supposed to remember ten figures and words in the right combination. As you could gather from the following text you could combine the two words in an imaginary way, letting new fantastic images grow in your mind.
In the memory technique we are going to explore first, the logical part is based on words that rhyme with the figures. It is called the ˜Number "Rhyme System . You can use the following rhymes for a start but if you are not happy with them you are free to change them for others, as long as they rhyme with the number.
one " bun
two " shoe
three " tree
four " floor
five " hive
six " sticks
seven " heaven
eight " gate
nine " wine
ten " hen
Learn these rhyming words together with the figures. In that way they form a unit, because when you use them, you use only the rhyming word to combine with the word you want to remember. You do that because it is easier to find an image with a bun than with the figure one, or a shoe than the figure two. There are memorizing techniques that are based on the resemblance of the figures to something else. Number one could for instance be a sword, number two could be formed into a swan, etc.
Before we try another row of ten words to remember, let s return to our piles of paper with a spiral: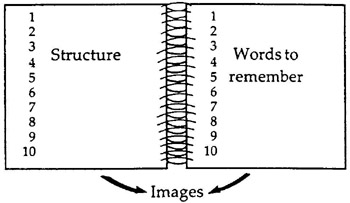 It is time to test another set of ten words. This time you use the rhyming words and combine them with the words to remember. This means that if I use number 3 and give you the word cucumber to remember, you pick up the rhyming word for 3 which is tree and make a combination of the two words in a way to meet the criteria of being: exaggerated, rude, absurd, etc.
Maybe you think of a Christmas tree with cucumbers hanging from it as decorations.
Once you get a good picture ˜freeze it and store it in your mind to pick out again when you want to recall it. If you are to succeed in recalling the word ˜cucumber again, the mental picture you create must be sharp and clear, otherwise it gets mixed up and you will lose the cucumber and find something else or nothing at all. Through trial and error you will find out what works for you.
exercise
Are you ready? You have two minutes in which to make the combinations in your mind between the rhyming words that you already have and the ten new ones.
| | |
| --- | --- |
| 3 " police officer | 8 " jam |
| 5 " house | 10 " banana |
| 1 " monkey | 7 " pencil |
| 2 " glass | 6 " nurse |
| 9 " car | 4 " chair |
Cover the words above and try to write down as many as you can remember:
| | |
| --- | --- |
| 1 ________________________ | 6 ________________________ |
| 2 ________________________ | 7 ________________________ |
| 3 ________________________ | 8 ________________________ |
| 4 ________________________ | 9 ________________________ |
| 5 ________________________ | 10 ________________________ |
Possibly you scored all ten this time, but if you did not, try again with another list of words. Results will come with practice!
These words are just nonsense words, of course, and don t worry if you can t see any immediate use for this specific technique. It is impractical in many ways " it s not easy to find rhyming words beyond ten, and you will find that the rhyming words tend to get worn out the more you use them. The reason for including this technique here is that it shows very clearly how your memory works. Soon you will get acquainted with more efficient and practical methods for daily use.