2.4

Effects of Complexation

The physicochemical properties of the supramolecular species resulting from the binding of a substrate to a receptor may differ drastically from those of either of the component species, with corresponding changes in electronic, ionic, optical, and conformational properties.

An example is the formation of AC and AEC crown ether complexes and cryptates. Three major effects occur: decreased cation/anion interaction, cation protection, and anion activation. Whereas in crown ether complexes, the bound cation is still accessible for ion pairing from the open "top" and "bottom" faces, this is not (or is less) the case for the cryptates, which surround the cation more completely. Cryptate formation transforms a small metal cation into a very large, spheroidal, charge-diffuse organic cation—a sort of superheavy AC or AEC (Lehn 1980). The stability of the cryptates and the large distance imposed by the organic ligand shell separating the enclosed cation from the environment have many physical and chemical consequences. Cryptation promotes the dissociation of ion pairs, resulting in strong anion activation. It markedly affects numerous reactions, such as those involving the generation of strong bases, nucleophilic substitutions, carbanion reactions, alkylations, rearrangements, and anionic polymerizations, to name a few. Equivalently, reactions involving the cation become inhibited due to cryptation. Crown ethers and cryptands, either alone or fixed on a polymer backbone, have been used in many processes, including selective extraction of metal ions, isotope separation (Heuman 1985; Chen and Echegoyen 1992), incorporation of radioactive or toxic metals, and cation-selective analytical methods .

Another example concerns the tetrahedral binding of ammonia, as mentioned earlier. The strong binding results in an effective pK a for bound NH 4 + that is about six units higher than that of free NH + 4 . (Graf et al. 1982). This is an example of how large the changes may be in substrate (or in receptor) properties brought about by binding. Similar changes may take place when substrates bind to enzyme -active sites and to biological receptors.




2.5

Multiple Recognition and its Applications

Once recognition units for specific groups have been identified, one may consider combining several of them within the same structure. This leads to polytopic (manysite) coreceptor molecules containing several discrete binding subunits that may cooperate for the simultaneous binding of several substrates or of a multiple-bound substrate. Both homotopic and heterotopic receptors are possible, depending on whether the binding subunits are identical or not. Aside from the standard effects of binding on individual discrete substrates, the close proximity between bound substrates often allows for increased interactions. In addition, coreceptors provide a link to higher forms of molecular behavior, which includes cooperativity and allostery. Allostery refers to the binding at a site remote from the catalytic site. As a result of the binding, the structure of the catalytic site may change just enough so that it becomes markedly more active (or inactive). Other areas falling under this are regulation, as well as communication or signal transfer if a molecular/atomic species is released or taken up.

One may distinguish cosystems , for which the binding of several substrates is commutative, and cascade systems , for which the substrate binding steps must follow a given sequence to be effective. An example would be when a polyammonium macrocycle (an example of a homotopic substrate) first binds Cu ions, which in turn serve as interaction sites for attracting imidazole and pyrimidine into the complex (figure 2.8) (Coughlin et al. 1979).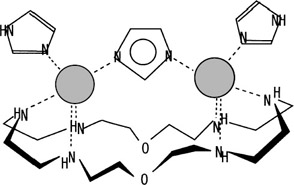 Figure 2.8: Cascade-type dinuclear copper (II) cryptate formed with a macrocyclic polyamine as the ligand. The copper ions bind first, followed by the imidazole groups. (With permission from Supramolecular Chemistry, J.-M. Lehn. 1995 VCH Verlagsgesellschaft.)