Exploring the Main Window
Before we dive into the first exercise, let's take a quick look at the Aperture interface.
The main window opens in the default layout, which you will routinely use when working in Aperture. You can modify this layout at any time to accommodate your preferences. There are seven primary interface elements in the main window: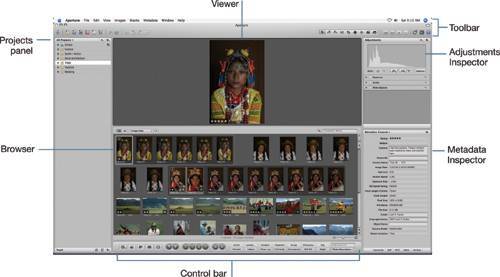 Projects panel The Projects panel is where you organize your images, using projects, albums, and Smart Albums. Smart Albums let you automatically find and group images based on search criteria that you specify.
Browser The Browser provides an efficient way to sort through large numbers of images quickly. It displays thumbnails for all the photos in a given project, folder of projects, or album. You can use the Browser to select, move, copy, and sort your images. You can even categorize your images in the Browser by applying ratings and keywords.
Viewer The Viewer is where your images are displayed. You can view and compare up to ten images at the same time. You can also utilize a second display to view images in a continuous desktop that extends across two screens, or work in full-screen mode on the second display.
Control bar The control bar gives you quick access to tools that allow you to rotate, navigate, magnify, rate, and apply keywords to your images.
Toolbar The toolbar, which runs across the entire top of the main window, provides easy access to buttons that let you create projects and folders, organize images, apply adjustments, navigate through Aperture windows , and view image information. The toolbar buttons also let you reveal Adjustments heads-up displays, or HUDs, which are floating panels of contextual controls.
Adjustments Inspector The Adjustments Inspector lets you apply image adjustments and view adjustments that have been applied to an image.
Metadata Inspector The Metadata Inspector is where all the information associated with an image is displayed. You can view filename, version number, caption text, and file size . You can also view and enter industry-standard metadata like EXIF (Exchangeable Image File), and IPTC (International Press Telecommunications Council) information.
Note
In Aperture, there are multiple ways to perform most tasks . The flexibility of the interface lets you work the way that's best for you. Commands can be implemented from pop-up menus , via mouse clicks, or by keyboard shortcuts.
There are also multiple levels of undo in Aperture. If one of the steps in these exercises does not yield the result you want, just select Undo from the Edit menu, or press Command-Z.