62. FTP
FTP (file transfer protocol) software enables file management over the Internet. Mac-based FTP utilities have all the power of their PC counterpartsbut deliver that functionality with greater ease of use and a generous helping of style.
Fetch (www.fetchsoftworks.com, $25.00) duplicates the look and feel of the Finder file manager and makes local and remote file management as intuitive as possible. Intimidated by technobabble? You'll love Fetch's plain-English controls (think big buttons labeled Get and Put).
Transmit (www.panic.com, $29.95, as shown in Figure 24) supports remote file editing in any application, transmits files dragged to the Dock, and transfers files directly from one remote server to the other.
Figure 24. Transmit organizes files using a simple "your stuff, their stuff" scheme, making FTP more straightforward than ever.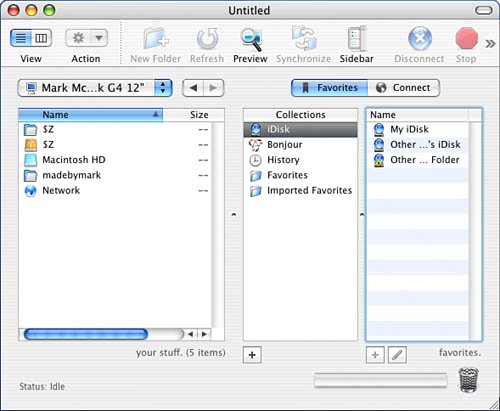 63. Games
Although some PowerPC-based Macs did struggle to keep up with the action, the "Macs don't do games" era has officially ended. The 24-inch iMac comes standard with the NVIDIA GeForce 7300 GT graphics card, with the 7600 GT as an optional upgradeso graphically intensive games (like Quake 4 and Doom 3) deliver smooth, realistic action at high frame rates.
Many game publishers still release hot new titles for PCs only. But with your Mac's ability to boot as a Windows PC (via Boot Camp) or run PC software (using Parallels Desktop), that's no longer an issue, now is it?
64. Getting Things Done (GTD)
For busy people looking to manage multiple projects and crammed in-boxes, David Allen's Getting Things Done is the bible of personal productivity.
The GTD philosophy lies at the heart of Kinkless GTD (kinkless.com, free), which transforms OmniOutliner Pro (www.omnigroup.com, $69.95) into a lean, mean GTD machine for tracking tasks, identifying next actions, and adding context to your to-do lists.
Midnight Inbox (www.midnightbeep.com, as seen in Figure 25) is a complete, Mac-based GTD software solution. Its Mail-style Inbox collects incoming info and organizes it into contexts and projects.
Figure 25. Midnight Inbox is one of the very first applications designed for GTD from the ground up. It's available exclusively on the Mac.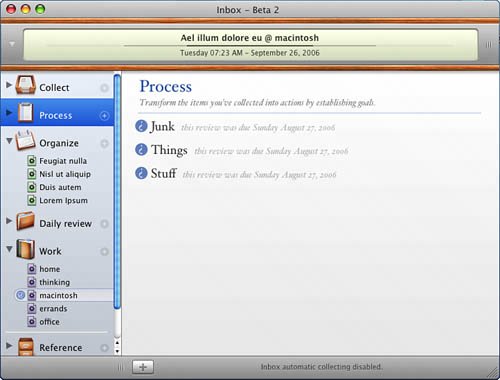 Serious about getting things done? Make the switchbecause both of these programs are available only on the Mac.
65. Hobbies
Got a hobby? Chances are, a fellow hobbyist has (often single-handedly) created software to help you pursue your passion on a Mac. Examples include:
Delicious Library Drawing rave reviews for its visual, "it's on the shelf" method for organizing your software, books, games, and videos, Delicious Library (www.delicious-monster.com, $40.00, seen in Figure 26) tracks who borrowed what and when. As you scan ISBN barcodes with your iSight camera, Delicious Library populates each database entry with Amazon.com product info.

Figure 26. Delicious Library organizes your media on virtual shelves, snags product info from Amazon.com, and keeps track of who borrowed what.

Reunion Reunion (www.leisterpro.com, $99.00) brings family trees to life, producing graphical tree charts, ancestral profiles (complete with photos, sound bytes, and videos), and book-worthy reports in a variety of formats. It's the most media-rich personal genealogy package I've seen.

Meditation Timer Designed to help you manage meditation without watching the clock, Meditation Timer (whenderson.blogspot.com; free, donations appreciated) plays gentle chimes at intervals you specify. You can even export sessions to iTunes, and then burn custom meditation CDs!