53. Creative Writing
Writers: Microsoft Word is not your only option.
Since switching, I love Nisus Writer Express (www.nisus.com, $69.00). Its full-screen mode squashes distractions, letting me concentrate on my writing. Text styles, a real-time thesaurus, and other tools reside in a convenient drawer that pops out on demanda feature that makes Word's nested menus, drop-down lists, and floating palettes seem crude by comparison (see Figure 19).
Figure 19. Nisus Writer Express provides a distraction-free full-screen mode and a conveniently organized collection of writing tools.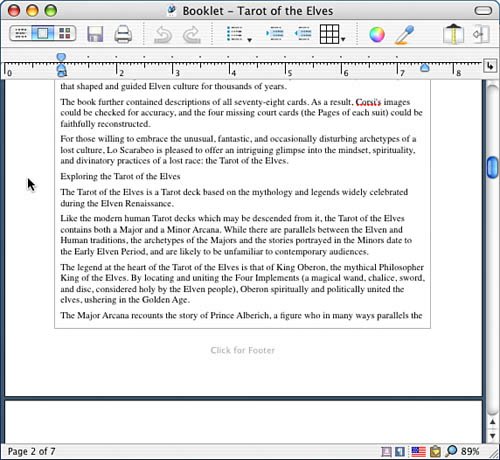 MacJournal (www.marinersoftware.com, $39.95) provides a secure, encrypted space for private thoughts, and Montage (also from Mariner, $139.95) is the only screenwriting software designed exclusively for Mac OS X.
Finally, Jer's Novel Writer (jerssoftwarehut.com, free) stores a novel outline, a character and setting database, and random notes in a quick-access drawerbut the marginal notes (for capturing reminders and insights and linking them directly to related text) are my favorite innovation.
54. Customize Your Computer
The Mac OS X environment looks so slick, you may not want to change a thing. If you crave customization, though, there are several applications designed to make every aspect of your Mac reflect your personality.
With one right-click or Control-click, any iPhoto picture becomes a desktop. Want more pizzazz than a still photo? Visage (keakaj.com, $9.95) turns any screensaver, including animated ones, into a desktop background.
Don't stop there! CandyBar (www.panic.com, $12.95, as shown in Figure 20) is a powerful icon management system allowing you to substitute holiday, movie, and mood-themed icon sets for every application and system icon on your Mac. Feel free to experiment; a handy reset button eliminates risk, restoring everything to factory defaults with just one click.
Figure 20. CandyBar customizes your Mac's icons, allowing you to choose from sets based on holidays, movies and TV shows, themes, and moods.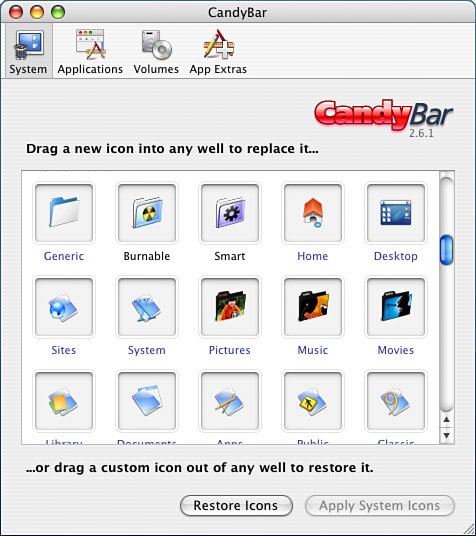 55. Databases
In the Mac universe, FileMaker Pro (www.filemaker.com, $299.00) dominates the database landscape. Why? First, whereas Access is available for PCs only, FileMaker is available both for Macs and PCs. For workgroups using both operating systems, FileMaker supports seamless, cross-platform data exchange.
If your database needs to incorporate web data or interactivity, FileMaker's exclusive Web Viewer pulls dynamic web content directly into your database; in addition, the ability to post databases to the web is built right in.
56. Desktop Publishing
Professional desktop publishing and page layout toolsincluding Adobe InDesign or QuarkXPresstend to be available for both the PC and the Mac. When you switch, you'll still be able to read and write these files.
Interested in consumer-level desktop publishing tools other than Microsoft Publisher? Pages (www.apple.com, part of the iWork suite) provides easily customized templates for newsletters, posters, and stationery. Swift Publisher (www.belightsoft.com, $34.95, as seen in Figure 21) includes a huge template library and incorporates a drag-and-drop layout process anyone can use within minutes. With either program, absolute beginners can produce dramatic, professionally designed documents in minutes.
Figure 21. Swift Publisher's friendly interface and huge template library help absolute beginners quickly produce professional results.