To be able to receive faxes, check Receive Faxes on this Computer. Enter your fax number, the number of the phone line your Mac is connected to. Then select after how many rings your Mac will answer: if your Mac is connected to a line used by a telephone as well, set it to answer after several rings; if it is a dedicated line, used only for faxes, set it to one. If you have an answering machine or voicemail on the same line that picks up after a certain number of rings, you'll need to set this number to one ring less than the answering machine.
There are three options you can choose for how your Mac handles incoming faxes (you must check at least one of these, but can check any two or all three if you want):
But, while fonts can help you spice up your documents, too many spices make them hard to digest. It's good to use a couple of fonts, a few styles, but not to mix more than a handful to make an effective document.
Mac OS X comes with dozens of fonts for you to choose from. These include the classic Mac fonts, such as Palatino and New York, standard fonts used on Windows, such as Times New Roman and Arial, and many other fonts, ranging from classical styles (Baskerville, Cochin, and my personal favorite, Hoefler Text) to modern sans-serif fonts (Futura, Gill Sans, and Optima), by way of specific fonts designed for onscreen reading and web use (Georgia, Trebuchet, and Verdana). Mac OS X even includes fonts for languages such as Chinese and Japanese, and, if you choose to install them, additional fonts for other languages as well.
Apple's font management tool, Font Book, lets you view all your fonts so you can see exactly what they look like and what characters they contain. This program is found in the Applications folder. When you open it (Figure 14-13), you'll see a list of collections, fonts, and a preview of the selected font.
Font Book lets you create and manage font collections, each of which is a group of fonts. Some of these are already set up, as you can see in Figure 14-13, but you can create your own by clicking the + button beneath the Collection list. When you do this, a new collection appears. Enter a name for it and press ENTER .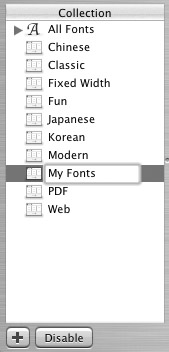 To add fonts to your collection, just drag them from the Font column.
The advantage of using collections is two-fold: first, you can access your favorite fonts more easily (I'll tell you about that later, when I talk about using fonts). The second is that you can disable collections either permanently or temporarily. These collections won't show up in Font dialogs if you disable them.
To disable a collection, click the collection to select it, and then click Disable.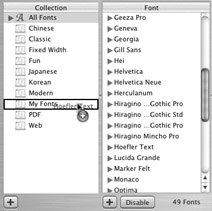 You can disable individual fonts in a similar way: click a font in the Font list and click Disable. If, for example, you don't need to use Chinese and Japanese fonts, you can disable them and they won't appear in any of your applications' Font menus. While you can disable a collection, this does not disable individual fonts; so if you want to limit the length of your Font menus , you need to disable fonts from the Font column.
You can reactivate any fonts or collections by selecting a disabled item (it will be dimmed to show it has been disabled) and clicking Enable.
Use Fonts in Your Documents
As I mentioned earlier in this chapter, fonts can spice up your documents, and Mac OS X offers dozens of fonts for you to use. Some applications offer font menus from which you can select fonts, and other menus to select size and styles. Microsoft Word, for example, works this way, as does AppleWorks and certain other productivity programs.
Many applications use a font dialog that looks a lot like Font Book, which I presented earlier. (See Figure 14-14.) This dialog lets you work with collections and individual font families, as well as styles, or typefaces , and sizes.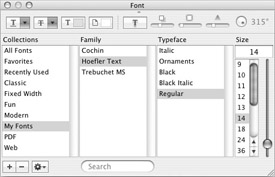 Figure 14-14: The Font dialog, which many Mac OS X applications use
In Figure 14-14, you can see the similarity between the Font dialog and Font Book; any collections that appear in Font Book also appear in the Font dialog, and you can also select from All Fonts, Favorites, and Recently Used fonts. To add a font to the Favorites collection, select a Family, Typeface, and Size, and then select Add To Favorites from the Action button at the bottom of the dialog.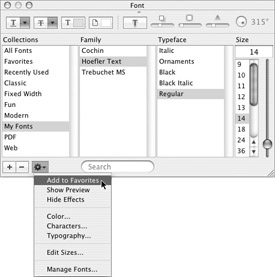 If you click Favorites, in the Collections column, your favorite fonts display in the Family column, showing their font face and style.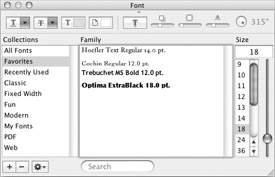 You can then select one of these fonts and apply it to text in your documents with a single click.
Work with Special Characters
Most of the time, you type standard characters in your documents: abc, 123, and so on. But occasionally you need to type special characters, ones that are not letters or numbers . These are either symbols or regular alphanumeric characters such as , , , or » .
There are two ways to access these characters. Many applications offer a Special Characters menu item in their Edit menu. Select this menu item to display the Character Palette. This palette lets you choose from hundreds of special characters in several categories.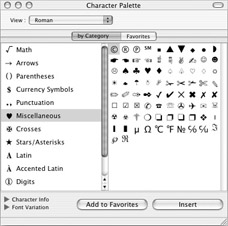 Click one of the categories to display its characters, and then click the character you want to use, in the right-hand section, to select it. Click Insert to insert this character at the current cursor location in your frontmost document.
If you click the View menu, you'll see several groups of characters: Roman, Japanese, Traditional Chinese, Korean, Simplified Chinese, Unicode, and Glyph. If you need characters from these sets, explore the many categories they offer.
When you're finished using the Character Palette, click its Close button to close it.
But not all applications offer access to this character palette from their Edit menu. Because of this, it's a good idea to make this palette accessible in another way. To do this, open the System Preferences, and click the International icon and then the Input menu tab. This displays a list of keyboard layouts, input methods , and palettes that you can add to the Input Menu.
You'll see your selected keyboard checked at the top of this list, and not far below it you'll see Character Palette and Keyboard Viewer—check both of these, and then close the System Preferences.
This displays an Input Menu in your menu bar—you can spot this menu by the icon corresponding to your keyboard layout. If you have a U.S. keyboard layout, you'll see an American flag; other country layouts display their flags, and some keyboards, such as Dvorak, display letters (such as DV for Dvorak).
Click this icon to see the Input Menu; select Show Character Palette to display the Character Palette.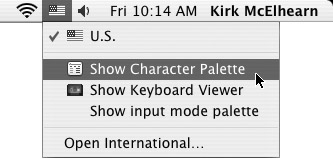 I suggested earlier that you also check Keyboard Viewer in the Input Menu preferences. Here's why. When you select Show Keyboard Viewer from the Input Menu, this palette displays: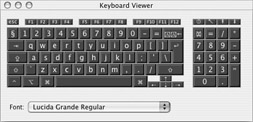 The Keyboard Viewer is a small palette that shows the letters assigned to your keyboard layout. This can be helpful if you are working with a layout you are unfamiliar with, or if you are editing foreign-language texts and need to find how to enter certain characters (though the Character Palette may be even easier to use; it all depends on how often you need to use these characters).
| | | |
| --- | --- | --- |
| | Note | The Keyboard Viewer is the equivalent of the Key Caps application found in previous versions of Mac OS. |
The Keyboard Viewer is most useful when you hold down a modifier key (such as the OPTION , CONTROL , or SHIFT key), so you can see what special characters these keys let you type. Even though you can use the Character Palette, you'll find it easier to learn where some special characters are if you need to type them often (such as the character that I've had to type in the word Expos throughout this book).
Hold down the different modifier keys, first one at a time and then in combination, to see what characters you can access. As you can see in the following illustration, holding down the OPTION key shows different characters than the normal layout: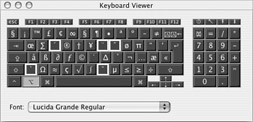 Some of these characters are surrounded by white outlines—these characters work in two steps: first press the outlined key, and then another key to create an accented character. For example, to type the character, you must press OPTION-E , then E . You'll see as you do this that the accent displays in your document with highlighting and then, after typing the E alone, the character displays.
| | | |
| --- | --- | --- |
| | Note | Keyboard Viewer does not display any Unicode fonts (such as Symbol, Zapf Dingbats, or any Chinese or Japanese fonts, and so on). To enter special characters from these fonts without memorizing the keystrokes, you must use Character Palette. If you work with languages such as Chinese or Japanese, there are special input palettes available to help you input text. See the Mac OS X help for more on this. |