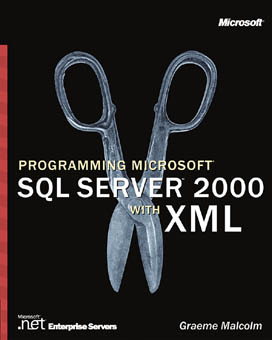 Copyright © 2001 by Microsoft Corporation
PUBLISHED BY
Microsoft Press
A Division of Microsoft Corporation
One Microsoft Way
Redmond, Washington 98052-6399
Copyright ©2001 by Microsoft Corporation
All rights reserved. No part of the contents of this book may be reproduced or transmitted in any form or by any means without the written permission of the publisher.
Library of Congress Cataloging-in-Publication Data
Malcolm, Graeme, 1971-
Programming Microsoft SQL Server 2000 with XML / Graeme Malcolm.
p.  cm.
Includes index.
ISBN 0-7356-1369-9
1. SQL server. 2. Client/server computing. I. Title.
QA76.9.C55 M343 2001
005.75'85--dc21 2001030648
Printed and bound in the United States of America.
1 2 3 4 5 6 7 8 9 QWE 6 5 4 3 2 1
Distributed in Canada by Penguin Books Canada Limited.
A CIP catalogue record for this book is available from the British Library.
Microsoft Press books are available through booksellers and distributors worldwide. For further information about international editions, contact your local Microsoft Corporation office or contact Microsoft Press International directly at fax (425) 936-7329. Visit our Web site at mspress.microsoft.com. Send comments to mspinput@microsoft.com.
ActiveX, BizTalk, Microsoft, Microsoft Press, MSDN, Visio, Visual Basic, and Windows are either registered trademarks or trademarks of Microsoft Corporation in the United States and/or other countries. Other product and company names mentioned herein may be the trademarks of their respective owners.
The example companies, organizations, products, domain names, e-mail addresses, logos, people, places, and events depicted herein are fictitious. No association with any real company, organization, product, domain name, e-mail address, logo, person, place, or event is intended or should be inferred.
Acquisitions Editor: David Clark
Project Editor: Kathleen Atkins
Technical Editor: Julie Xiao
Manuscript Editors: Kathleen Atkins, Rebecca McKay
Web Developer: Charlie O'Donovan
Content Test Editor: Leslie Phillips
Body Part No. X08-05015
This book is dedicated to Charles and Andy, who bet me that I couldn't get the phrase "Turkish oily man wrestling" into a Microsoft Press publication.
Acknowledgments
It's traditional in the acknowledgments section to make the point that writing a book is an enormous task and the author couldn't have done it without the help and support of a cast of thousands, which generally turns the whole section into a kind of Oscar acceptance speech. Of course, this kind of acknowledgment means that the author gets all the credit if the book is a success but supplies a convenient list of scapegoats to take the blame if it all goes horribly wrong.
So I'd like to make the point that writing a book is an enormous task and I couldn't have done it without the help and support of a cast of thousands. First of all, I want to thank my partner, Rose, for her willingness to put up with my part-time life while this book was written and for managing to look suitably interested every time she heard me describe what it was that I was actually writing about. I also want to mention the great team of people I work with at Content Master Ltd. for their tremendous breadth of technical expertise and willingness to share it. Finally, I'd like to thank my editor at Microsoft Press, Kathleen Atkins, for making my passive voice active and coping with all manner of bizarre Scottish colloquialisms, and technical editor, Julie Xiao, for her amazing attention to detail in checking my example code. (Although any errors are of course my fault, not Julie's!) We've worked hard to produce this book, and I hope you enjoy reading it.
Graeme Malcolm