Because so much can go wrong-even with a simple network-designating one person as the network administrator is important. This way, someone is responsible for making sure that the network doesn't fall apart or get out of control.
The network administrator doesn't have to be a technical genius. In fact, some of the best network administrators are complete idiots when it comes to technical stuff. What's important is that the administrator is organized. That person's job is to make sure that plenty of space is available on the file server, that the file server is backed up regularly, that new employees can access the network, and other tasks .
The network administrator's job also includes solving basic problems that the users themselves can't solve-and knowing when to call in an expert when something really bad happens. It's a tough job, but somebody's got to do it. Here are a few tips that might help:
What Have They Got That You Don't Got?
With all this technical stuff to worry about, you may begin to wonder whether you're smart enough to use your computer after it's attached to the network. Let me assure you that you are. If you're smart enough to buy this book because you know that you need a network, you're more than smart enough to use the network after it's put in. You're also smart enough to install and manage a network yourself. It isn't rocket science.
I know people who use networks all the time. They're no smarter than you are, but they do have one thing that you don't have: a certificate. And so, by the powers vested in me by the International Society for the Computer Impaired, I present you with the certificate in Figure 1-2, confirming that you've earned the coveted title Certified Network Dummy, better known as CND. This title is considered much more prestigious in certain circles than the more stodgy CNE or MCSE badges worn by real network experts.
Congratulations, and go in peace .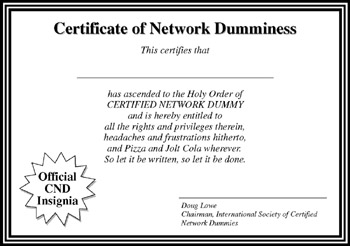 Figure 1-2: Your official
Chapter 2:

Life on the Network

After you hook up your PC to a network, it's not an island any more-separated from the rest of the world like some kind of isolationist fanatic waving a "Don't tread on me" flag. The network connection changes your PC forever. Now your computer is part of a system, connected to other computers on the network. You have to worry about annoying network details, such as using local and shared resources, logging on and accessing network drives , using network printers, logging off, and who knows what else.

Oh, bother.

This chapter brings you up to speed on what living with a computer network is like. Unfortunately, this chapter gets a little technical at times, so you may need your pocket protector.
Distinguishing between Local Resources and Network Resources
In case you don't catch this statement in Chapter 1, one of the most important differences between using an isolated computer and using a network computer lies in the distinction between local resources and network resources. Local resources are items, such as hard drives, printers, and CD-ROM or DVD drives, that are connected directly to your computer. You can use local resources whether you're connected to the network or not. Network resources, on the other hand, are the hard drives, printers, modems, and CD-ROM or DVD drives that are connected to the network's server computers. You can use network resources only after your computer is connected to the network.
The whole trick to using a computer network is to know which resources are local resources (they belong to you) and which are network resources (they belong to the network). In most networks, your C drive is a local drive. If a printer is sitting next to your PC, it's probably a local printer. You can do anything you want with these resources without affecting the network or other users on the network (as long as the local resources aren't shared on the network).
You can't tell just by looking at a resource whether it's a local resource or a network resource. The printer that sits right next to your computer is probably your local printer, but then again, it may be a network printer. The same statement is true for hard drives: The hard drive in your PC is probably your own, but it may be a network drive, which can be used by others on the network.

Because dedicated network servers are full of resources, you may say that they're not only dedicated (and sincere) but also resourceful. (Groan. Sorry, this is yet another in a tireless series of bad computer-nerd puns.)