Camera Raw Interface Revisited
We took a quick run through the Camera Raw interface in Chapter 4,not stopping to discuss every single tool and option. Hopefully, you've been playing with Camera Raw on your own and so have probably discovered a few of its other tools. In this section, we'll explore some of the features that we didn't formally cover in Chapter 4.
To really get a feel for the tools, open an image in Camera Raw and follow along with the descriptions presented here.
The Zoom tools
Most of the time, when you're editing and making adjustments in Camera Raw, you'll want to work with the entire image visible in the preview window. There will be times, though, when it will be better to zoom in to examine a particular part of an image.
Camera Raw provides several zooming options. At the bottom of the Preview pane is a pop-up menu that lets you select a zoom level ( Figure 6.1 ). Offering a range from 6% to 400%, this menu lets you zoom to a closer view with the Preview pane centered on the middle of the image. You can use the + and buttons next to the pop-up menu to step through the zoom levels, and the Fit in View option to squeeze the entire image into the Preview window.
Figure 6.1. Camera Raw's zoom palette lets you select a specific zoom ratio for viewing your image. The zoom remains centered on the middle of your image.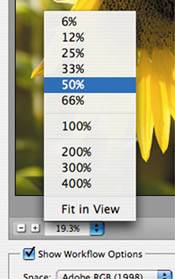 While the ability to quickly zoom to a specific percentage is handy, you will sometimes want to zoom in on a particular area of your picture, not just the center. For this, you use the Zoom tool ( Figure 6.2 ).
Figure 6.2. The Zoom tool lets you zoom in and out by clicking your image. The zoom is centered on the point where you click.

When you click with the Zoom tool, your image is magnified, centered on the point where you clicked. Alt-clicking (Windows) or Option-clicking (Mac) with the Zoom tool zooms you back out of your image by the same increments with which you zoomed in, while double-clicking the Zoom tool in the tool palette automatically sets your zoom level to 100%.
You can also drag the Zoom tool to outline the area that you want to see enlarged ( Figure 6.3 ). When you release the mouse button, the area you selected will be enlarged to fill the entire Preview pane.
Figure 6.3. If you want to magnify a particular part of your image to fill the Preview pane, drag with the Zoom tool to outline the area.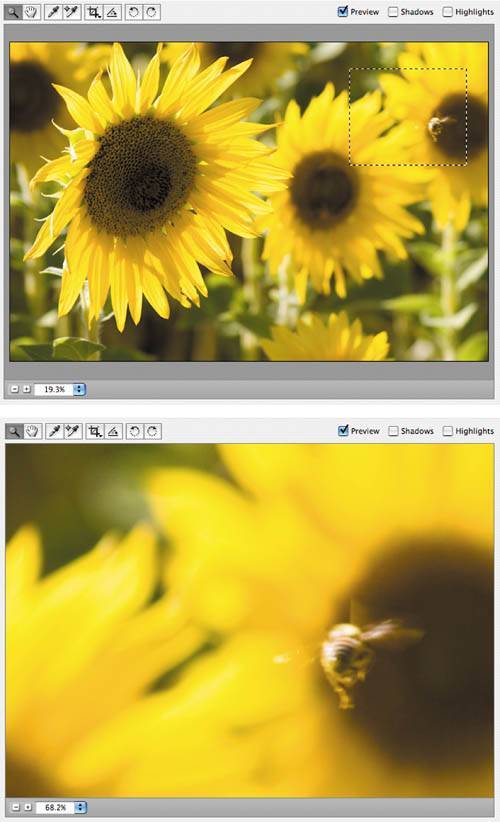 The Hand tool
TIP
Right-clicking the Preview pane with either the Zoom or Hand tool selected brings up a pop-up menu containing the standard zoom choices. On a big monitor, this approach can save you a mouse trip to the bottom of the window.
As you may already have noticed, the Preview pane lacks any scroll bars, so if you want to pan your image, you have to use the Hand tool ( Figure 6.4 ).
Figure 6.4. The Hand tool lets you pan your image once you've zoomed in.

Double-clicking the Hand tool in the Camera Raw toolbar restores your image to Fit in View.
You can use Z and H to select the Zoom and Hand tools, respectively, but a better way to work is to grab the Zoom tool and then press the spacebar whenever you want to pan. The Hand tool will remain selected for as long as you hold down the spacebar. This provides a simple way to quickly switch between Zoom and Hand.
Similarly, you can temporarily switch to the Zoom In tool by holding down the Ctrl key in Windows or the Command key on a Mac. Holding the Alt or Option key temporarily gives you the Zoom Out tool.
You can also zoom in and out with any tool selected by using the keyboard shortcut Ctrl-+ (Windows) or Command-+ (Mac) to zoom in, and Ctrl-- (Windows) or Command-- (Mac) to zoom out. Any time you want to return to Fit in View, press Ctrl-0 (Windows) or Command-0 (Mac). (Incidentally, all of these keyboard shortcuts work in Photoshop as well.)
Note that pressing Z, H, or the spacebar to select a tool won't work if you are currently entering numbers in one of the Camera Raw parameter fields. You'll need to click back in the Preview pane to deactivate the parameter text entry and return your keyboard commands to normal.
Color Sampler tool
Available when running Camera Raw under Bridge, Photoshop CS, and Photoshop CS2, the Color Sampler tool ( Figure 6.5 ) can monitor the color of particular areas of your image while you make adjustments with Camera Raw's parameter sliders. For example, if you want to be certain that a particular highlight doesn't blow out to complete white, or if you want to see how a specific color changes, you can use the Color Sampler tool to monitor it as you edit.
Figure 6.5. Camera Raw's Color Sampler tool lets you monitor the color of specific pixels in your image.

To use the Color Sampler tool, select it from the Camera Raw toolbar (or press S) and then click the part of your image that you want to monitor. A readout of the RGB values for that particular pixel will be displayed above the Camera Raw Preview pane, and a numbered crosshairs icon will appear in your image to indicate the location of the sampler ( Figure 6.6 ).
Figure 6.6. After you click with the Color Sampler tool, an RGB readout for that pixel's color will appear above the Preview pane.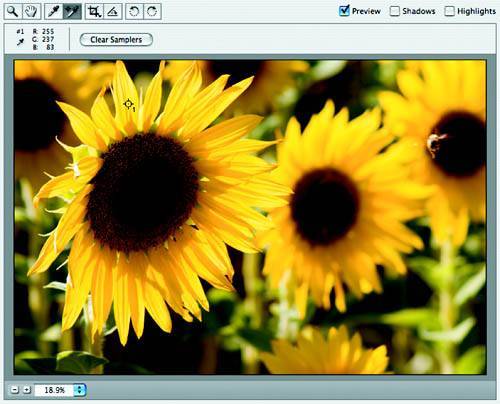 You can define up to nine separate color samplers, which should be more than enough for even the trickiest image. Once you've placed a sampler, you can move it by simply clicking it and dragging. The Clear Samplers button above the Preview pane deletes all of the samplers. You cannot delete individual samplers.
Other keyboard controls
Except for positioning color samplers, you can actually drive Camera Raw entirely from the keyboard. Here are some other handy keyboard shortcuts:
You can switch among the various parameter tabs by pressing 1 through 5 while holding down Ctrl and Alt (Windows) or Command and Option (Mac).

You can rotate an image clockwise or counterclockwise by pressing R or L, respectively. Either uppercase or lowercase letters will work. You can also press Ctrl-] or Ctrl-[ (Windows) or Command-] or Command-[ (Mac), respectively, to achieve the same results.

To temporarily activate the White Balance tool, hold down the Shift key.

You can save the current image by pressing Ctrl-S (Windows) or Command-S (Mac).

To activate highlight clipping, press O. To activate shadow clipping, press U. This is the same as selecting the Highlight and Shadow check boxes to turn them on and off.

To toggle between viewing your original raw file and the current adjustments, press P. This is the same as selecting the Preview check box to turn it on and off.
Multiple undo levels
If you're using Camera Raw in Photoshop CS 2, then you can access multiple levels of undo using the keyboard. Ctrl-Z (Windows) or Command-Z (Mac) undoes your most recent action. If you want to step backwards through even more actions, press Ctrl-Alt-Z (Windows) or Command-Option-Z (Mac). Once you've stepped backwards a few steps, you can redo your actions by pressing Control-Shift-Z (Windows) or Command-Shift-Z (Mac). These same keyboard shortcuts work in Photoshop as well.
The histogram
You learned about histograms in general in Chapter 3, and the Camera Raw histogram in Chapter 4, but there's still one characteristic of the Camera Raw histogram that we haven't yet discussed.
You've seen that Camera Raw displays a separate colored histogram for the red, green, and blue color channels. Although the histogram still indicates clipping just like a normal histogramby showing a white spike on either the right or left side when you've clipped your highlights or shadowsit can also indicate when you've clipped only a single channel .
If your image is only slightly over- or underexposed , then all three channels may not be clipped. If you're shooting a bright red subject, for example, then an overexposure may clip only the red channel, leaving the green and blue channels close to the right edge of the histogram, but not clipping. Camera Raw shows a single clipped channel by displaying a colored spike rather than a white spike ( Figure 6.7 ). The color of the spike indicates which channel has been clipped.
Figure 6.7. Camera Raw's histogram display indicates a clipped channel by showing a colored spike on the edge of the histogram. This image is suffering from a clipped red channel on the highlight end and a clipped blue channel on the shadow end.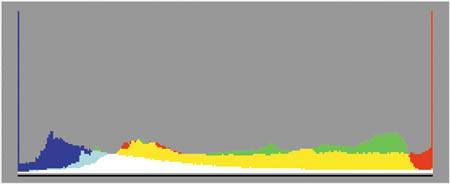 Single-channel clipping is a very important topic in Camera Raw because of some special capabilities of the Exposure slider. We'll get to those later in this chapter.
In Chapter 4, you played with the various highlight and shadow clipping displays that Camera Raw provides. As you saw, when you hold down the Alt or Option key while dragging the Exposure slider, Camera Raw displays your image with a highlight clipping view.
You also saw that this feature doesn't work when you're using some of Camera Raw's other controls, and so Camera Raw provides special Shadows and Highlights check boxes, which also enable clipping displays.
There are differences between these two clipping displays. The Exposure slider clipping display shows clipping in different colors to indicate separate channel clipping, while the Exposure check box simply indicates any clipped channel or combination of channels as red ( Figure 6.8 ). Most of the time, this subtle difference won't matter, and either display will serve as a valuable tool for monitoring and controlling clipping.
Figure 6.8. When you hold down Alt (Windows) or Option (Mac) while moving the Exposure slider, Camera Raw provides a clipping display that highlights individual clipped channels, as well as fully clipped colors. When you select the Highlights check box, channel clipping and full clipping are indistinguishable.